Cardi B Is Stylish Wearing a Houndstooth Print Dress with Huge Patch Pockets — See Her Outfit
Cardi B knows how to rock fashion and music, sharing gorgeous photos on her Instagram account while releasing some of the most popular Billboard hits.
Gifted rapper Cardi B recently took to her official Instagram account where she showed off her knack for style. In the cool and collected post, she wore a houndstooth print dress with huge patch pockets to go.
Covered to the brim in pink, Cardi looked completely unperturbed as she gently lifted her large glasses up and crossed her legs, giving the camera a nonchalant look. It seems that every day is a stylish day for this formidable woman.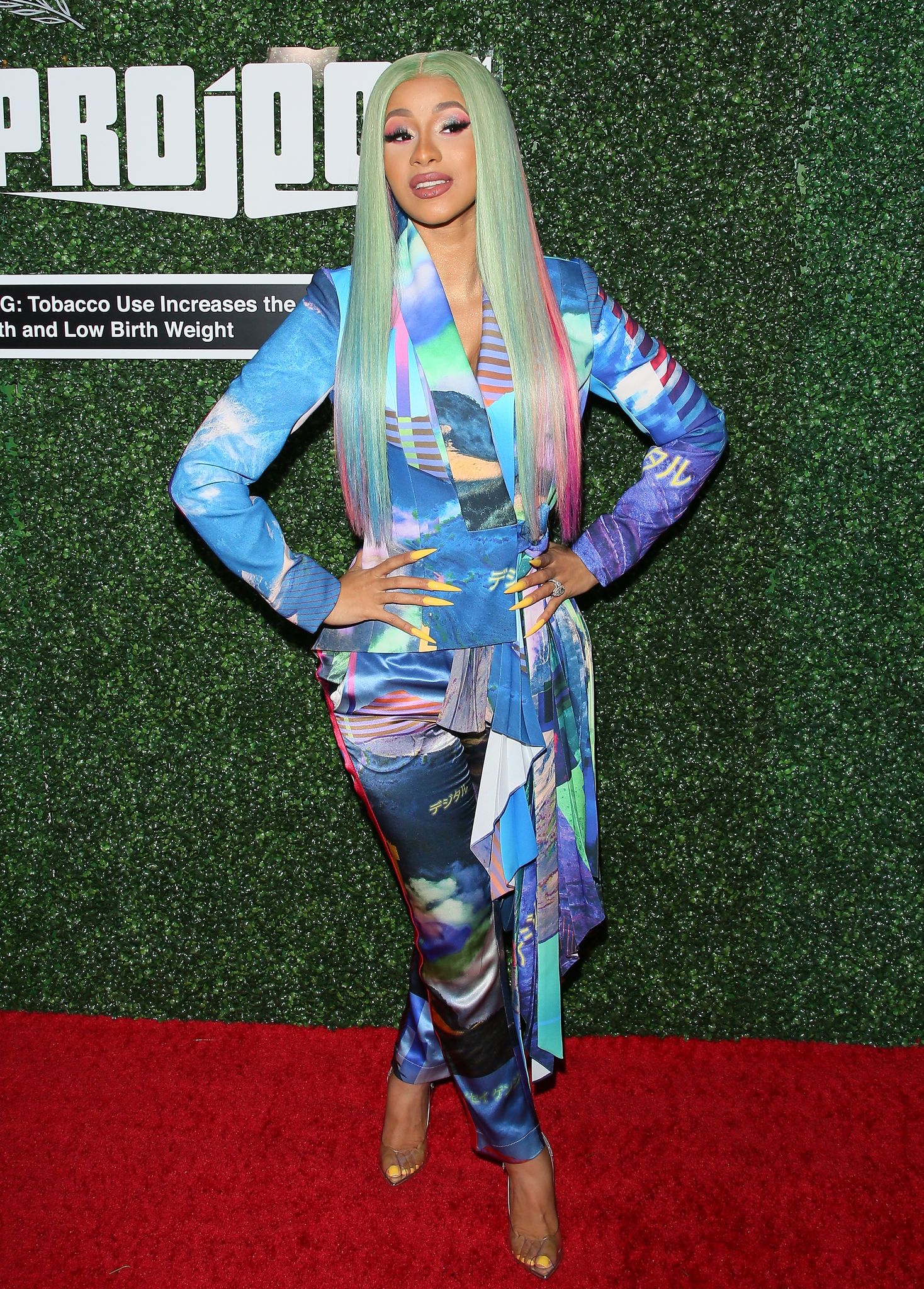 CHUNKY AND PROUD
The dress was a tight fit, accentuating the rapper's gorgeous hourglass shape and giving us a glance at her beautiful thighs. In the caption, Cardi commented on her own figure in what seemed to be a statement of body positivity, writing: 
"My thighs getting big."
The internet absolutely adored the fashionista's style, attitude, and body, with compliments and positive emojis gushing into the comment section. The post has earned over 2 million likes so far, just reaching for 3 million.
VINTAGE PIN UP
Cardi was channeling a vintage and pin-up girl style with a modern twist. The cut of the dress, her pose, the dress hood combined with the large glasses, as well as the matching handbag all represent what looks to be a play-on old-school pin-up.
 [Cardi B's] single "Up" made a huge splash.
The green background accentuated the bright pink and purple colors of her dress. Her red lipstick and nails were the last and gleaming add-ons to truly nail the stylish look into the vintage-modern coffin.
IF IT LOOKS LIKE A DOLL
Cardi doesn't only keep her doll-like pin-up style look for the Instagram world. In fact, she recently released her own doll that looks like her. Dressed in the same houndstooth print dress, Cardi had the following to say about it:
"BARDI GANG!! I'm dropping my own doll TODAY! Inspired by me. Created by me. Designed by me."
Although Cardi expressed that she designed the doll in an effort to widen representation for all women, her fans weren't pleased, demanding she rather releases music. The situation got to the point where the celebrity deactivated her Twitter account.
SURVIVING THE WILD WEST
As one can see from Cardi's fans' reactions to her dolls, the internet isn't always a friendly place, with criticisms coming in from all directions. Cardi herself appears to know how to handle it but she worries that her daughter Kulture may struggle.
The famed rapper said that social media has been a blessing for a career and a way to engage with fans. That being said, Cardi admitted that there is a certain level of toxicity online that can sometimes be hard to navigate.
Beyond all the backlash, this celebrity did receive a positive response, releasing music earlier this year. Her single "Up" made a huge splash, finding its way to number two on the Billboard Hot 100 Chart.
In response to all the support, the rapper took to Twitter to thank all her followers for the love and adoration. The famous rapper said she was surprised to make it onto the Billboard as she thought it was only reserved for women in the pop industry.