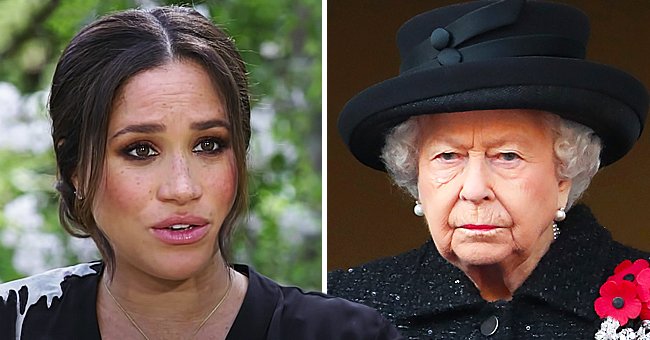 Getty Images / youtube.com/Entertainment Tonight
Us Weekly: Meghan Markle Behaved as Though She Had Rehearsed Saying Nice Things about the Queen
Meghan Markle behaved as though she had rehearsed saying nice things about the Queen during her CBS interview with Oprah Winfrey.
US Weekly reported that Meghan Markle had acted as though she had rehearsed saying nice things about Queen Elizabeth II, Prince Harry's grandmother, during the CBS interview.
During the Sussexes' interview with Winfrey, Harry had revealed that his relationships with some members of the royal family, including his father, Prince Charles, and brother Prince William were not in a good place.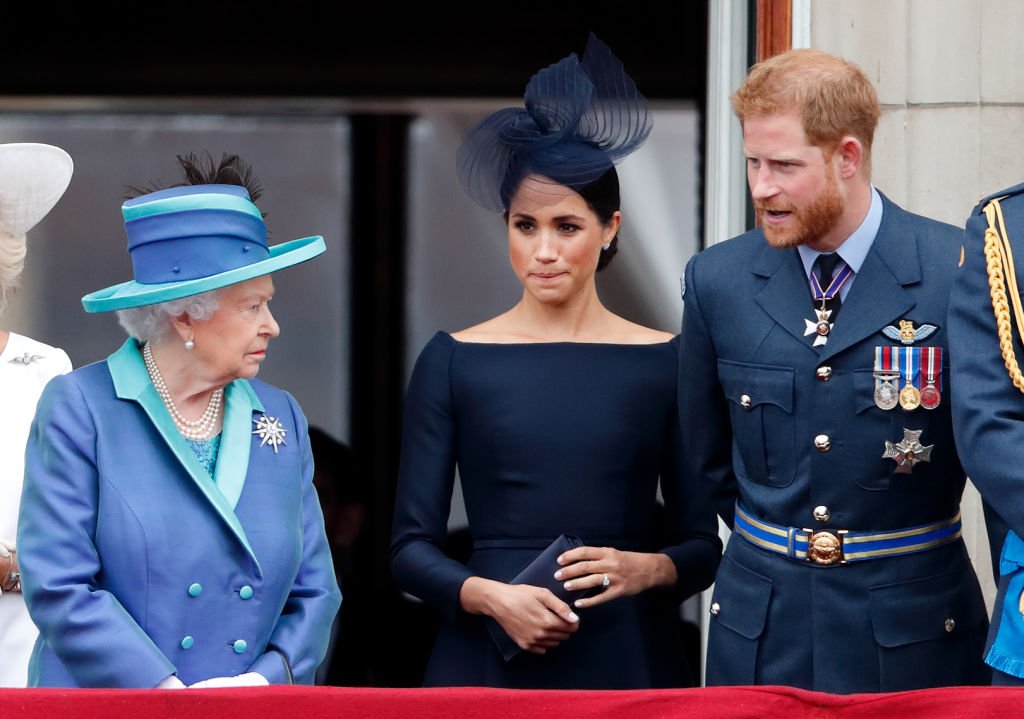 Queen Elizabeth II, Meghan Markle, and Prince Harry pictured watching the flypast to mark the centenary of the Royal Air Force, 2018, London, England. | Photo: Getty Images
However, he shared that the relationship between himself and his grandmother, the Queen, was strong and that they have a good understanding of one another.
Markle shared the same sentiments about the Queen and revealed that she had always been wonderful towards her. She shared that the family and the business were two separate things as she explained:
"It's important to be able to compartmentalize that because the Queen, for example, has always been wonderful to me."
Markle shared an anecdote that the Queen had gifted her a matching set of earrings and a necklace during a royal outing they went on together a few weeks after her wedding to Prince Harry.
She revealed that she really enjoys being in the Queen's company, even remarking that the Queen reminded her of her own grandmother as they are both warm and inviting.
When she spoke about the Queen, her speech was more measured and methodical.
Nicole Moore, a body language expert, spoke exclusively to Us Weekly about what the duchess' body language meant during the interview.
She explained that her "look of steady determination" was a sign that she was telling the truth about the other royal members. Moore then explained how Markle was talking about the Queen:
"From her body language in this moment, it's likely that Meghan did not want to say the wrong thing."
She broke down Markle's movements and explained that before she spoke about the monarch, she had looked left to gather her thoughts and looked down before she spoke.
It seemed like she was prepping herself on what she was about to say, as Moore explained, that right before Markle spoke, she inhaled sharply.
The body language expert revealed that when it came to other answers, Markle was "free-flowing and breezy with her words." However, when she spoke about the Queen, her speech was more measured and methodical.
The 2-hour CBS interview aired on March 7. On the same day, the Queen and the other family members' Commonwealth Day address was released.
Please fill in your e-mail so we can share with you our top stories!