Kyle Larson Is a Proud Father of 2 — inside the NASCAR Star's Inspiring Fatherhood Journey
NASCAR driver Kyle Larson and his wife have been married for less than three years, but they already share two children, son Owen and daughter Audrey. Larson has been candid about being a dad.
Kyle Larson's wife is Katelyn Sweet, the sister of professional race car driver Brad Sweet. They dated for several years before finally tying the knot in September 2018.
Larson announced their engagement on Twitter on December 22, 2017, joking that he knew it was "about time" and adding he couldn't wait to spend the rest of his life with Sweet.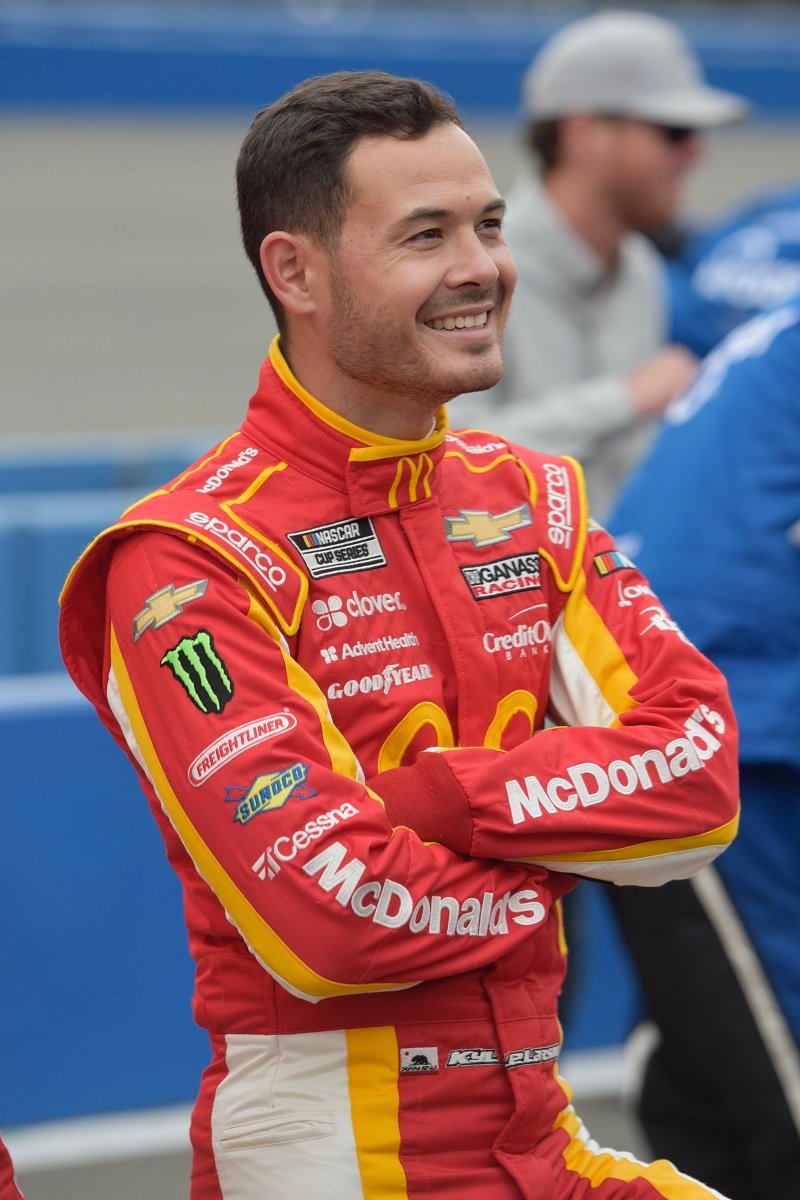 KYLE LARSON'S KIDS
The couple started having children way before walking down the aisle, though. Their first kid, Owen, was born on December 22, 2014. Then, on May 7, 2018, their daughter Audrey was born.
Apart from being a proud mother of two, married to a NASCAR star, and sister of a professional race car driver, Sweet used to be an equestrian (she did it for six years when she was younger).
Kyle Larson's wife is active on social media, and she shared in February 2019 that she had completed her first half-marathon thanks to her fitness trainers.
In October that year, she was recorded celebrating her husband's victory by shotgunning a beer in the victory lane. A couple of months later, the video was played at the NASCAR Awards in front of her.
Instead of shying away, she shotgunned another beer in front of everybody, wearing her evening gown, and received the crowd's applause.
Katelyn Sweet also shares photos and videos of her children on Instagram, including this of Owen wearing a racing suit and this of Audrey dancing with her dad.
LARSON CRIED DURING OWEN'S BIRTH
Speaking of Kyle Larson's kids, he has been quite open when it comes to talking about his children. The professional driver once confessed that he "bawled" his eyes out when Owen was born. He explained:
"I cried right when they told her to start pushing and all that […] towards the end I started losing my emotions again and started bawling my eyes out."
Months after Owen was born, Larson told Parents that he expected parenting to be "a lot harder in the beginning." He explained that people often warn others about newborns, but he considered it was fun waking up in the middle of the night and doing "all the work."
[Larson] never had a "real" job or played other sport.
LARSON GREW UP FASTER
Two years after Owen was born, Larson told Fox Sports that being a father sped up his growth and maturity as a person, particularly because his kids cannot take care of themselves.
Larson added that he'd encourage Owen to get into racing "at some point," especially because both sides of his family have ties to the sport. Still, he'll give his son the chance to do what he wants to do.
The professional driver pointed out that you have to always stay positive with your family and kids, and he learned most of his parenting lessons from his dad, Mike.
One of the things Mike taught him was not to show his emotions when he's mad because people are always watching, and he didn't want to give himself a bad image.
Larson, who never had a "real" job or played other sport, revealed that he never had to tell Mike that he wanted to be a racer because he always knew it was what his son loved.
At the moment, Kyle Larson and his wife are living in North Carolina with their children, and judging by the photos on Katelyn Sweet's Instagram account, Owen is very likely to follow in his dad's footsteps.