Vikings: The Real-life Partners Revealed
"Vikings" often has their viewers hooked and on the edge of their seats as the storyline progresses, keeping fans intrigued about the stars' personal lives. Here's more about the actors behind the characters.
Maidens fighting in wars, kings, queens, love, adventure, and drama, are a couple of the things you get to see in the exciting and addictive show "Vikings." 
We got you covered with today's article as we will be unveiling the real-life couples of our top favorite actors of this fantastic TV show. 
View this post on Instagram
Travis Fimmel as Ragnar Lothbrok 
Good news for the ladies -- the Australian model and actor is single. We know it is hard to believe, but he is! Travis was even labeled as one of the hottest bachelors by People Magazine in 2002, but he is just getting better as time passes, just like good wine.
Fimmel has been associated with several co-stars, but the flings did not last long with any of them to have serious relationships. 
The most recent link was with Paula Patton, his colleague in "Warcraft: The Beginning," since their on-screen chemistry was undeniable. But it was recently known Paula has a boyfriend, so there's nothing between the two.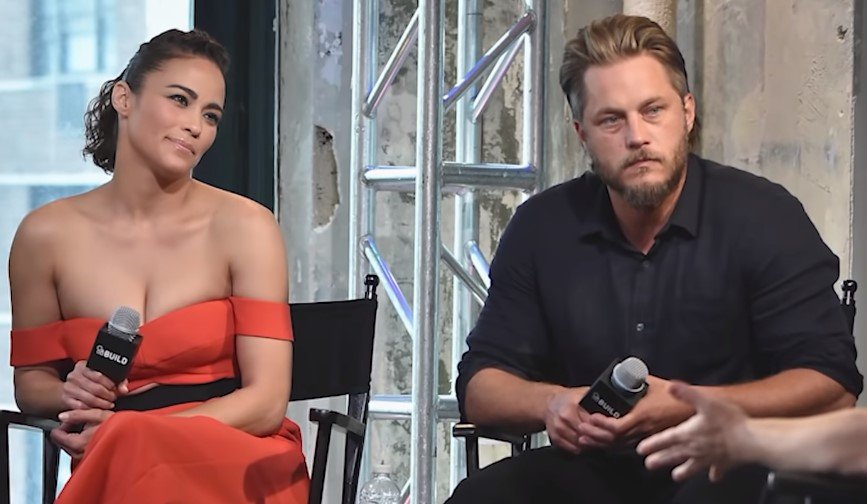 Alexander Ludwig as Bjorn Ironside
Continuing with the show's hotties, we get to the Canadian actor whose charisma and attractive appearance has won the hearts of many women, and his dating record is the best confirmation of that. 
In 2008, when he was only 16, he dated his co-star AnnaSophia Robb, and their relationship lasted three years. 
Others to add to his list are actress Leven Rambin whom he met on the set of "Hunger Games" and model Nicole Pedra, but he now seems very happy with model, dancer, and actress Kristy Dawn Dinsmore and their pictures on Instagram confirm that.
View this post on Instagram
Maude Hirst as Helga
The carefree and wild hippie of the characters captured viewers' hearts, and it is as if Helga was written for Maude. Perhaps, it was, as she is the daughter of Vikings' writer and producer Michael Hirst. 
After her time on the TV show, Maude has focused on physical and mental health by being a yoga and meditation instructor. The sad part is that she is not planning to embark on any new production and is concentrating on her yoga career.
As for her love life, little is known about it. On many occasions, she has been spotted with British singer Bryn Christopher, but it is unclear if they're a couple or just friends.
View this post on Instagram
Gustaf Skarsgård as Floki
Perhaps, you didn't know this, but Gustaf comes from a pretty famous family. His father is actor Stellan Skarsgård, known for "Pirates of the Caribbean" and "The Avengers," and his brothers, Alexander and Bill, are also actors. 
He was in a long-term relationship with actress Hanna Alström from 1999 to 2005. He hadn't had any other romance since Hannah, but that changed in 2019. 
He has been recently spotted with model Caroline Sjöström, and they have very romantic pictures together. We're not sure if it is serious, but it seems like a good start. 
@HistoryVikings FLOKI (Gustaf Skarsgard): Big events coming up on #Vikings. Need a recap? @HistoriaHWA https://t.co/yuCfEMVy6Y pic.twitter.com/MDRF43TLX3

— Patricia Bracewell (@patbracewell) November 27, 2016
Katheryn Winnick as Lagertha
The Canadian actress with Ukrainian roots doesn't let the world know much about her couples. In 2015, she was spotted with Sofia Vergara's ex, Nick Loeb, but apparently, their relationship didn't last long. 
Katheryn might be an intimidating woman for men as she has a black belt in Taekwondo and a bodyguard license. That explains how she can easily interpret Lagertha. 
She also has a good relationship with Alex Høgh Andersen, but given the 16-year age difference, we're pretty sure they're only friends.
View this post on Instagram
Alex Høgh Andersen as Ivar the Boneless
This Danish actor's first acting job was in "Vikings," so he was pretty unknown before the show. Apart from his friendship with Winnick, he doesn't have any recent romance. 
But even without a girlfriend, Alex keeps himself quite busy. When he is not filming the TV series, he's into photography, dancing, singing, fencing, sports, and even stunts. 
View this post on Instagram
George Blagden as Athelstan 
George's figure was a defining character in "Vikings" history, but he was alone until his last days. For George, the story is entirely different as he dated an actress from the show, Elinor Crawley. 
Love sparked on set, but the flame sadly extinguished last year when they broke up. That doesn't mean Blagden is currently single.
According to their Instagram pictures, he's now dating another colleague whom he met on stage, Laura Pitt-Pulford, and they seem to be crazy over each other. George cannot ask for more. He has a girl, a dog, and a rising career. 
View this post on Instagram
Alyssa Sutherland as Aslaug
Alyssa's career started in 2006, but one of her major roles has been in "Vikings." Before the show, she tied the knot with director Laurence Shanet, but the marriage ended only a year after she started portraying Aslaug.
But the Australian hottie is not alone. Alyssa has been dating photographer Benjamin Walsh. Although there isn't any official confirmation, you have to look at their photos on social networks to get the picture. 
View this post on Instagram
Clive Standen as Rollo 
This ruthless warrior was able to find love on the TV show, but how about for Clive offscreen? It is even better as he met his soulmate in 2005, his now-wife, Francesca. 
When he felt it was time to propose, he dressed up as Elvis Presley, Francesca's favorite singer, and sang her a song before popping the question.
View this post on Instagram
The lovebirds tied the knot in 2007, so they have been happily married for 11 years and counting, as you can judge from his Instagram pictures and posts for Francesca. 
They also have three beautiful children, two sons and a daughter. We're so happy for Clive's successful life, both personal and professional. If you enjoyed this article, share it with some friends, and don't forget to tell us your opinion in the comment section. Until next time!