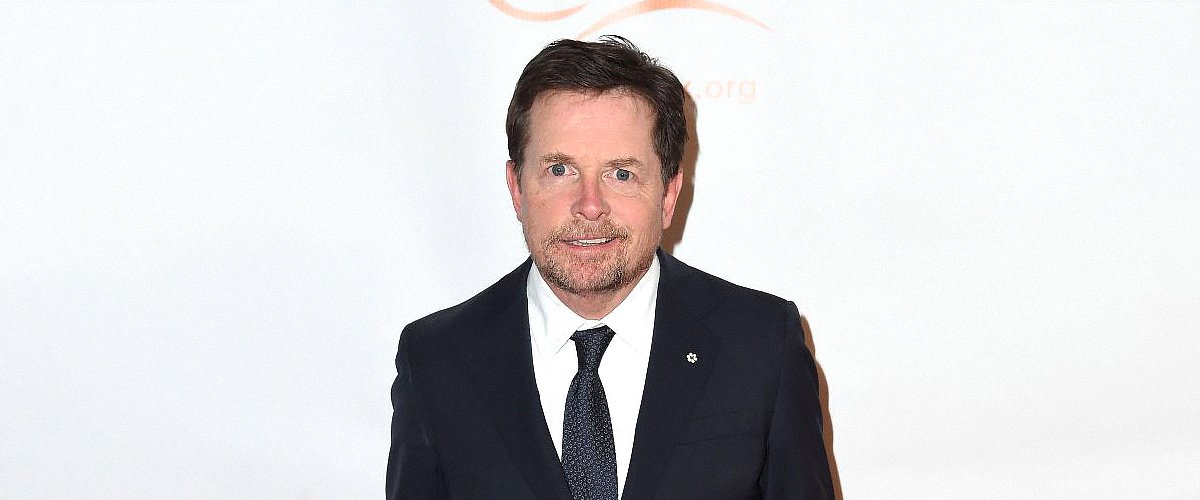 Getty Images
Aquinnah Fox Looks Excited in New Photos Paying Tribute to a Close Friend — Take a Look
Aquinnah Fox is one of the three daughters of "Back to the Future" star Michael J. Fox, and she recently took to social media to pay a heartfelt tribute to a close friend that she recently lost.
26-year-old Aquinnah Fox is one of the four children that the beloved 59-year-old Canadian-American actor Michael J. Fox shares with his wife of more than 30 years, 60-year-old actress Tracy Pollan.
Even though Aquinnah hasn't ventured into show business, the daughter of the "Back to the Future" star has a significant number of followers on social media, where she is very active and open about her day-to-day life.
For instance, on March 9, 2021, Aquinnah took to her Instagram account to pay tribute to a close friend that she just lost named Khaliq. She shared a series of snapshots that documented memorable moments of their friendship in a slideshow.
The first image shows Aquinnah dressed semi-formally in a red-and-black dress as Khaliq, wearing a suit, hugs her from behind. The two good friends don wide smiles as they look at the camera.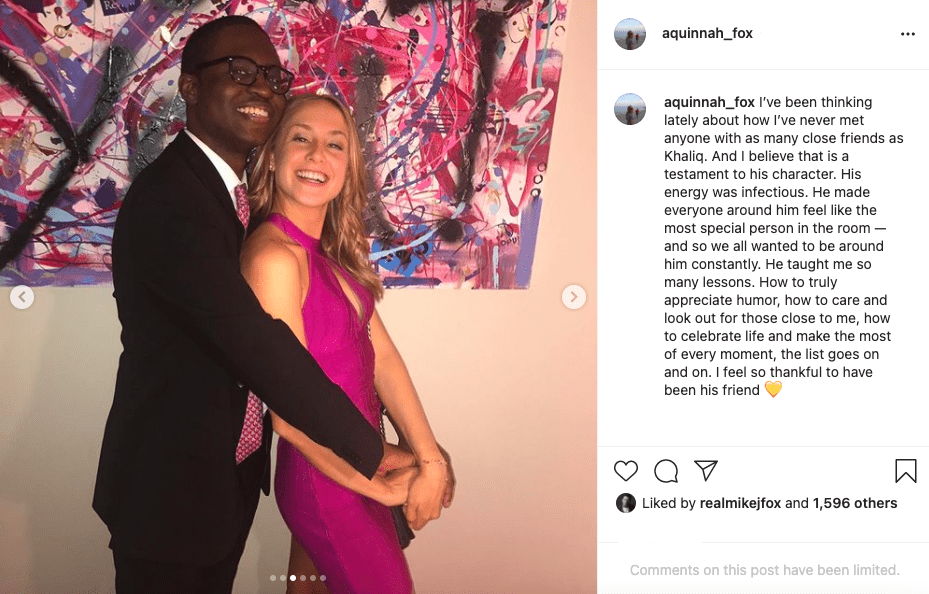 Aquinnah Fox in one of the pictures shared on her social media in March 2021 to pay tribute to her friend Khaliq. | Image: Instagram/ aquinnah_fox.
Another snapshot pictures Aquinnah and Khaliq at what seemed like an even more elegant occasion, considering that he is wearing a black suit and she, a dark pink long dress with a purse. Aquinnah wrote in the caption:
"I've been thinking lately about how I've never met anyone with as many close friends as Khaliq. And I believe that is a testament to his character."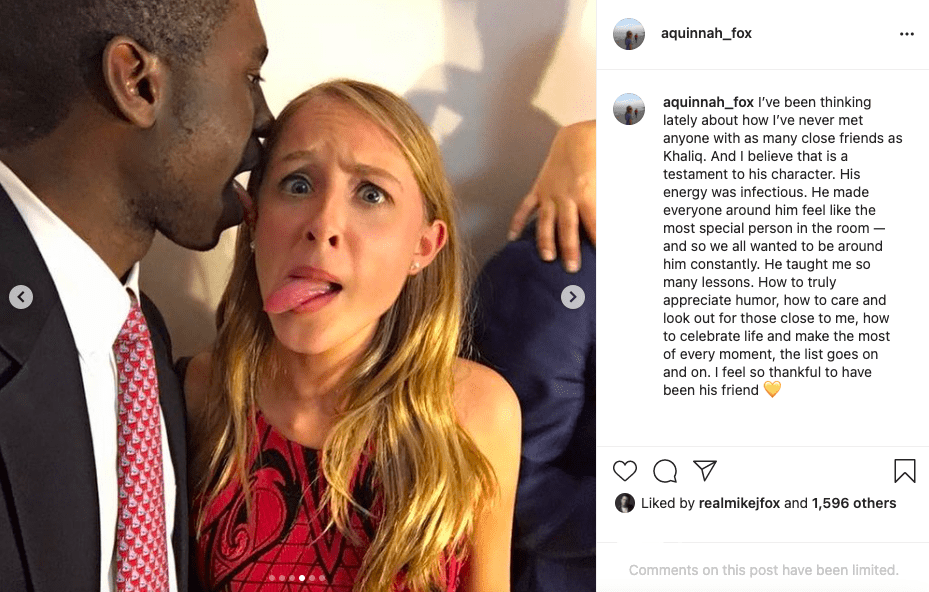 Aquinnah Fox in a picture with her friend Khaliq, as shared on Fox's social media in March 2021. | Image: Instagram/ aquinnah_fox.
Following that introduction, Aquinnah continued praising her friend, sharing that "his energy was infectious" and that he had the talent to make anybody around him feel special.
Aquinnah also acknowledged the "many lessons" that she had the privilege to learn from Khaliq, including "to truly appreciate humor" and how to "make the most of every moment" before expressing her gratitude for their friendship.
As we mentioned above, Aquinnah is one out of four children from Hollywood couple Michael J. Fox and Tracy Pollan. Their first child and only son, Sam Michael Fox, was born in 1989, a year into the marriage.
While Sam didn't grow up to become an actor like his parents, he had his brief moment in the spotlight when he was named Mister Golden Globe in 2013. Now 31, Sam bears a striking resemblance to his famous father.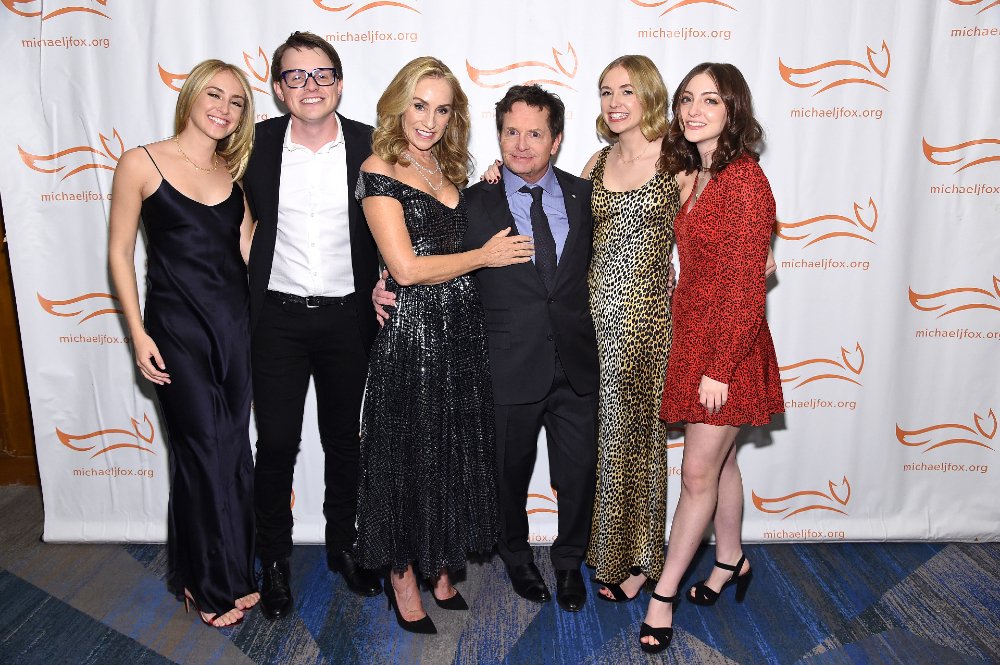 Aquinnah Fox, Sam Fox, Tracy Pollan, Michael J. Fox, Schuyler Fox, and Esme Fox attending "A Funny Thing Happened On The Way To Cure Parkinson's" in New York City, in November 2019. | Image: Getty Images.
Aquinnah and her twin sister Schuyler Frances Fox followed, born in February 1995. Schuyler is more private than Aquinnah, and she doesn't even have any known social media profile.
The youngest child in the household is daughter Esmé Annabelle Fox, born in November 2001. 19 years later, her proud parents revealed to People magazine that Esmé was leaving home to start college.
Please fill in your e-mail so we can share with you our top stories!