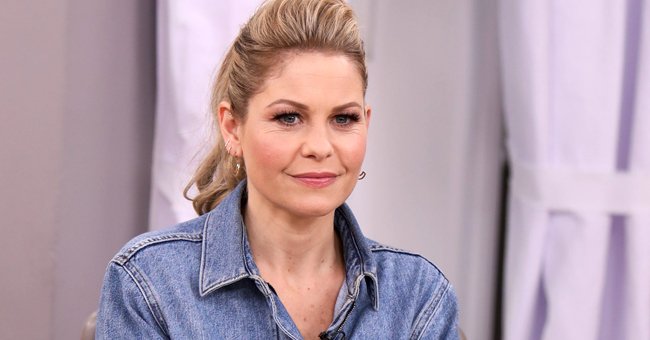 Getty Images
Candace Cameron Bure Debuts New Hair Color for Latest Hallmark Project — See the Bold Look

Candace Cameron Bure debuted her red hair in a fun selfie on Instagram for her latest Hallmark project. Check out the photo below.
Candace Cameron Bure shared a cool selfie with her co-star, Niall Matter, both masked as she showed her red hair color to promote their new Hallmark project.
Bure has traded in her usually gorgeous blond locks for a stunning strawberry shade as she and her co-star have been filming a new movie for the Hallmark series "The Aurora Teagarden Mysteries."
The "Full House" alum has been dyeing her hair the gorgeous shade since 2015. However, she usually reverts to blond when she is not filming.
Fans shared their excitement for seeing Bure in the beautiful shade of red. Many commented that Bure looked beautiful. She captioned the photo, saying:
"Don't be fooled, Niall is smiling and filled with joy under that mask ?"
Bure also shared that their new movie, "Aurora Teagarden Mysteries: How To Con A Con," aired on March 14. The movies are based on the crime novels by Charlaine Harris.
She plays Aurora "Roe" Teagarden, a librarian who loves to solve murder mysteries. Her character gets help from the Real Murders Club to figure out the different situations.
Bure gave some hilarious reactions to the outfits and shared cool insight into the looks.
Bure had to adopt red hair to play the character. However, like fans pointed out, the shade suits her, and she is beautiful as a fiery redhead or as a blond.
The actress seems to be a fan of the color herself. The lovely Kristin Chenoweth commented that she loved the hair, and in response, Bure said it made her feel like a different woman. She commented:
"Thanks pretty lady! I love being a redhead in the Aurora Mysteries! Makes me feel like a different woman!"
During an interview with Glamour, she shared that she loves being a redhead, although it does make her feel like the cartoon Jessica Rabbit or Ariel from "The Little Mermaid."
As the red-headed Aurora, Bure has gained a whole other community of fans that know her for something besides playing D.J Tanner of "Full House" and the revival "Fuller House."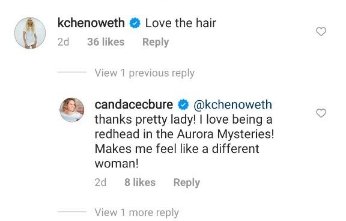 Candace Cameron Bure replied to Kristen Chenoweth comment on her Instagram post. | Photo: Instagram/candacecbure/
Of course, she will also be remembered as the teen from the show, who always had the coolest '80s and '90s looks. Bure recently reacted to a few of her looks for Today.
Bure gave some hilarious reactions to the outfits and shared cool insight into the looks. She revealed she loved one look so much she took it home with her!
Please fill in your e-mail so we can share with you our top stories!