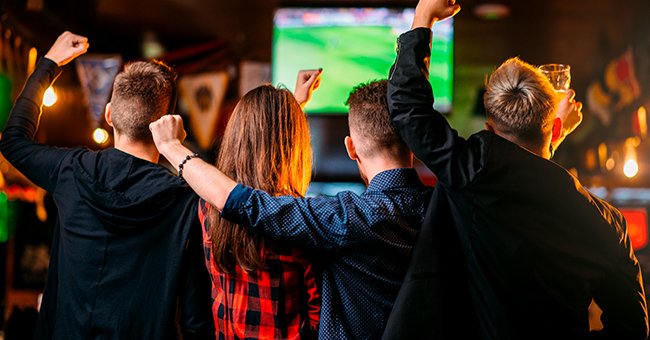 Shutterstock
Daily Joke: A Man Made a Bet with a Blonde in a Bar
A man was in a sports bar having a beer when a blonde sat beside him and bet him $30 about what they were watching.
After a tiring day at work, a 28-year-old man named Jack decided to hit a nearby sports bar to watch his favorite international football team play live. It was nearing 10:00 pm when he decided to stay a little longer to watch the news.
While half-way through his third glass, a blonde woman sat beside him by the bar and also watched the news. On-air was a news anchor covering a story about a man standing at the ledge of a tall building about to jump.
The blonde looked at Jack and asked if he thought the man would jump, to which he replied, "You know what, I bet he will." The blonde negated and said she bet the man wouldn't jump off.
Intrigued, Jack took out $30 and made the bet official. After a few seconds, the man on the building took a deep dive off the building, ending his life. With a pout on her face, the blonde gave Jack her $30 and told him he won.
Jack then said he couldn't accept her money as he already saw the news at 5:00 pm and knew the man was going to jump to his death. The blonde hesitated and pushed her $30 back towards him. She said:
"I saw it too, but I didn't think he would do it again."
Similarly, a multi-millionaire businessman and his blonde wife were watching the news while lounging around their lavish home. The news anchor suddenly announced that six Brazillian people passed away due to a skydiving accident.
Suddenly, the blonde began to sob out loud. Her husband turned to her for comfort and said that although the news was devastating, the men knew that skydiving had dangerous risks involved.
After a few seconds, the blonde woman composed herself and wiped off her tears. Still with a sad look in her eyes, she turned to her rich husband and asked, "How many is a Brazilian?"
Did you enjoy today's jokes? For more laughter, read about another beautiful blonde woman who suddenly got into a car accident. While she was generally fine, she could not understand why her car crashed.
Please fill in your e-mail so we can share with you our top stories!