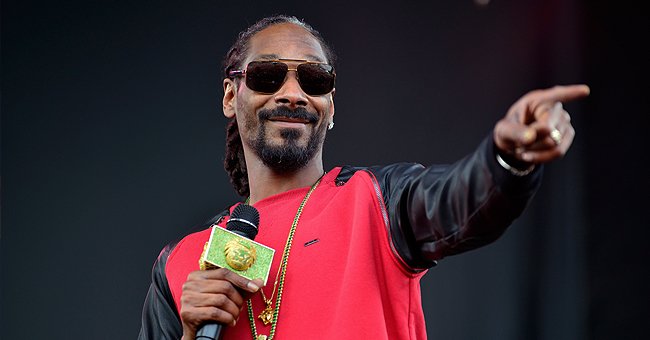 Getty Images
Snoop Dogg's Daughter Cori Poses in Artistic Photos Wearing a Dark Brown Jacket & Leather Pants

Snoop Dogg's only daughter, Cori, is well known for her stylish and flattering wardrobe, and her latest Instagram post did not disappoint. The beauty dazzled in a leather ensemble that looked straight out of a magazine cover.
Calvin "Snoop Dogg" Broadus and his wife, Shante Broadus' only daughter, Cori Broadus, is quickly making a name for herself in the fashion industry with fashion-forward outfits, daring hairstyles, and the perfect model poses to make any outfit stand out.
Cori's Instagram page is teeming with selfies and professional photos taken in various local and exotic locations, all showing off her curvy figure in flattering designer outfits.
Cori Broadus, Snoop Dogg and Shante Broadus at TBS's "Drop The Mic" and "The Joker's Wild" premiere on October 11, 2017 in Los Angeles, California. | Source: Getty Images
In her latest post, Cori shared three professionally taken snaps showing her standing in front of an all-red backdrop while rocking a shiny dark brown jacket with an eye-catching necklace peeking through the open buttons.
Cori paired her stylish jacket with black leather pants and white platform sneakers, while her beauty was enhanced by flawlessly applied makeup with a pop of maroon color accentuating her plump lips.
Rocking her short black hair, Cori exuded confidence as she shifted through different poses and facial expressions. In one snapshot, she drew fans' attention flashing a white smile while leaning on a white ladder prop. She captioned:
"I'D MISS ME TOO."
Cori's outfit was a hit with fans who took to the comments section to express their adoring sentiments. "Wow, just wow," exclaimed one person while another added, "I loveeeee this lip color on you!"
Fans criticized [Cori] for showing off her body and made derogatory comments regarding her weight.
While Cori's latest pic was popular with her fans, her audacious fashion sense has landed her in hot water in the past. One notable moment was when she posted a sexy photo in a black thong, revealing her derriere on Instagram.
Disappointed fans criticized her for showing off her body and made derogatory names regarding her weight. While some fans applauded her for embracing her natural curves, Cori later deleted the photo.
Cori has since bounced back from the incident, which is unsurprising because of her tough character. Even her father, Snoop Dogg, told The Guardian that fathering Cori changed his mindset regarding women. He added:
"Women are getting empowered. The more power they get, the more voice they get to shift certain things around."
Cori is one of Snoop Dogg's four kids. The "Drop It Like It's Hot" hitmaker shares sons Corde, Cordell Broadus with his wife, Shante, while he fathered Julian Corrie Broadus with his former high school girlfriend, Laurie Holmond.
Please fill in your e-mail so we can share with you our top stories!