Brandy Looks Stunning Styled with Straight Hair in a Long Striped Dress & Sneakers (Photos)
Acclaimed singer Brandy wowed fans with her latest post on Instagram. The "Angel in Disguise" hitmaker showed off her straight hair and her chic travel ensemble.
Brandy is known both for her singing prowess and her gorgeous looks. On April 6, the 42-year-old singer stunned her social media followers with three photos she uploaded to Instagram.
In the first two photos, the "Top of the World" hitmaker looked comfortable and immaculate in a long, striped, orange dress and matching hat. For footwear, she opted for sneakers – a wise choice given she was traveling.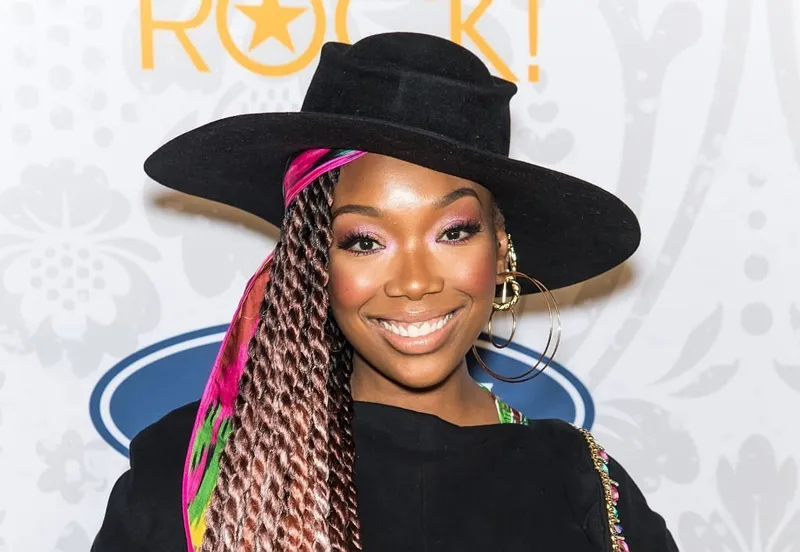 The first two pictures were taken at the airport. While the acclaimed songstress looked every inch a fashionista, what caught her fans' attention was her hair styling. One fan commented:
"It's the skin and hair for me. Both are flawless. 🔥🔥🔥🔥"
While her hat partly covered her hair, she bared it in all its glory in the third picture. The photo showed her holding a child in her arm as both looked at the camera. Brandy wore a floral dress that complemented her glowing skin.
More than 212,000 fans liked the post in just a day, an indication of the singer-actress's enduring fame and star appeal. Several admirers also made their love felt through red-heart and heart-eyes emojis.
Besides a successful career, Brandy is also blessed with a beautiful and talented daughter—18-year-old Sy'rai Smith.
Based on the caption, Brandy was leaving Atlanta for Florida to film the pilot for the ABC musical drama "Queens." The Grammy-winning singer was recently announced as a cast member of the highly anticipated show.
She will play a character named Naomi, an exceptionally talented singer who struggles in her career after leaving her girl band. She will star on the show alongside co-lead stars Eve and Naturi Naughton.
Brandy's success in the entertainment industry, both as a singer and actress, has been incredible. Last year, she delighted fans with the release of her album, "B7." It was her first album in eight years.
Brandy shot to stardom in 1994 with the release of her debut album, "Brandy." The album, certified quadruple platinum, spawned two chart-topping singles - "Baby" and "I Wanna be Down" - cementing her name in the music world.
Her career also reached new heights after she starred in the 1997 version of "Rodgers & Hammerstein's Cinderella" opposite music legend Whitney Houston. Fans recently rejoiced after it was announced that the hit TV movie would stream on Disney+.
Besides a successful career, Brandy is also blessed with a beautiful and talented daughter—18-year-old Sy'rai Smith. Sy'rai is following in her mother's footsteps, releasing her single, "At Your Best," last year.
The mother-daughter duo has been widely admired on social media. Brandy would proudly share their photos, and fans could not help but take notice of the pair's beauty.