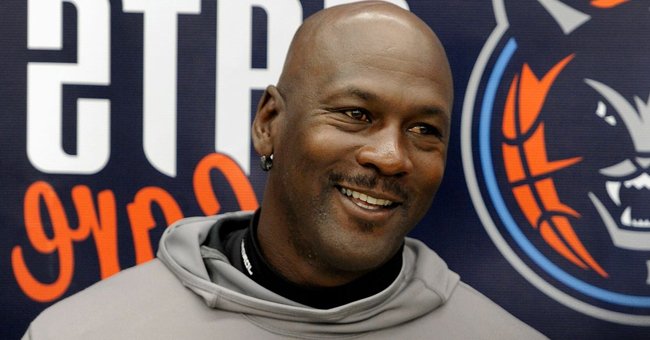 Getty Images
See Michael Jordan's Daughter Jasmine's Taut Abs as She Reveals Her Body Contouring Treatment
Michael Jordan's daughter, Jasmine Jordan, took to Instagram to show off her enviable figure and flat abs as she discusses her fitness journey and body contouring treatment.
Jasmine Jordan, daughter of basketball legend Michael Jordan, let fans in on the secret of her trim post-baby figure. The mother-of-one shared a series of pictures showing off her body transformation in workout outfits.
In one of the shots, Jasmine donned a black tank top over grey tight-fitting leggings as she posed in front of a mirror. Using her right hand, she raised her top slightly to reveal her flat abs and flattering waistline.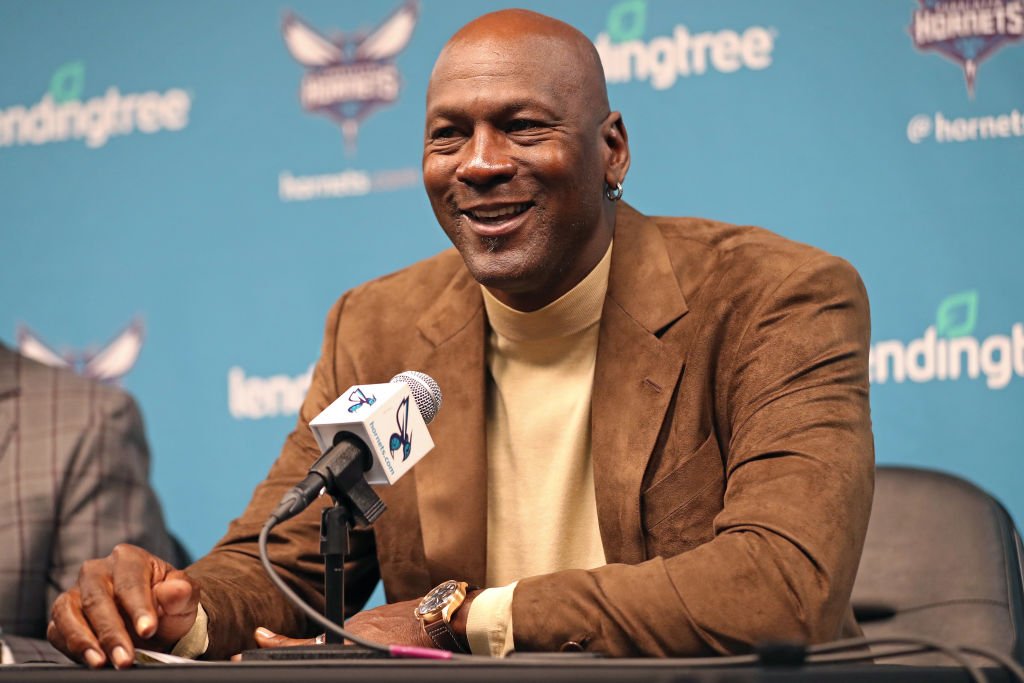 Michael Jordan held a media press conference ahead of the NBA All-Star Weekend Spectrum Center in Charlotte, North Carolina on February 12, 2019. | Photo: Getty Images
Another shot showed the 28-year-old wearing a white pullover over the grey-colored leggings while posing beside a set of gyming equipment.
In the third shot, the star rocked an ergonomic waist trimmer with her blue sports bra holding her bust firmly, further accentuating her figure. Jasmine explained how her disdain for her post-baby weight gain led her to discover body contouring. She explained:
"I started working out 3x a week, became pescatarian, and started to see the pounds drop. However, that lower gut [...] never faded. I decided to check out body contouring."
Body contouring turned out to be the missing piece of her health, the new mom admitted and her fitness journey took a new turn afterward. Before long, she lost the disturbing midsection bulge and achieved her desired figure.
The icon, who stands above 6 feet tall, disclosed that she tried her hands on basketball while growing up.
In another post, Jordan's daughter shared a video of her review after seven sessions of body contouring with @bella_g_beauty_studio.
As the daughter of one of the greatest basketball players in history, being athletic and in shape at all times is an important aspect of Jasmine's life. Although the star is not an athlete like her father, she links to the game as an executive at the Nike Jordan brand.
But not even acquiring a degree in sports management prepared her to carry on the family business like her dad's invaluable lessons. While gracing the cover of Rolling Out magazine in a zip mini dress, the mother of one explained:
"When my dad played in the NBA, he trusted his gut. That translated to business as well. And he definitely instilled that in me. Because if it doesn't feel right, then it is not right."
Despite being more interested in the business side of basketball, Jasmine has experienced her on-the-court moments. Last May, the 28-year-old granted an interview with The Undefeated where she made a curious revelation.
The icon, who stands above 6 feet tall, disclosed that she tried her hands on basketball while growing up. She played the game in grammar school, middle school, and her fourth to eighth grade before giving it up completely in high school.
And when she eventually gave up basketball, her dad embraced her decision, urging her to follow her own path and discover what was meant for her.
Gladly, Jasmine, who was admittedly a fan of basketball, a lover of fashion, and a business-oriented woman, found a means of making a career out of these three passions combined. That's what makes her a Jordan!
Please fill in your e-mail so we can share with you our top stories!