'Star Trek' and Broadway Costume Designer, Robert Fletcher Dies Peacefully at Age 98
Three-time Tony nominee Robert Fletcher died in peace in Kansas City. The designer's cause of death has not been shared. 
98-year-old Robert Fletcher passed away on April 5, 2021. The costume designer is well-known for his work on the four "Star Trek" films that earned him multiple award nominations and accolades. 
Fletcher's spokesperson shared that the costume designer died peacefully without the cause of death being disclosed. The 98-year-old was part of the film and Broadway industry for more than 60 years.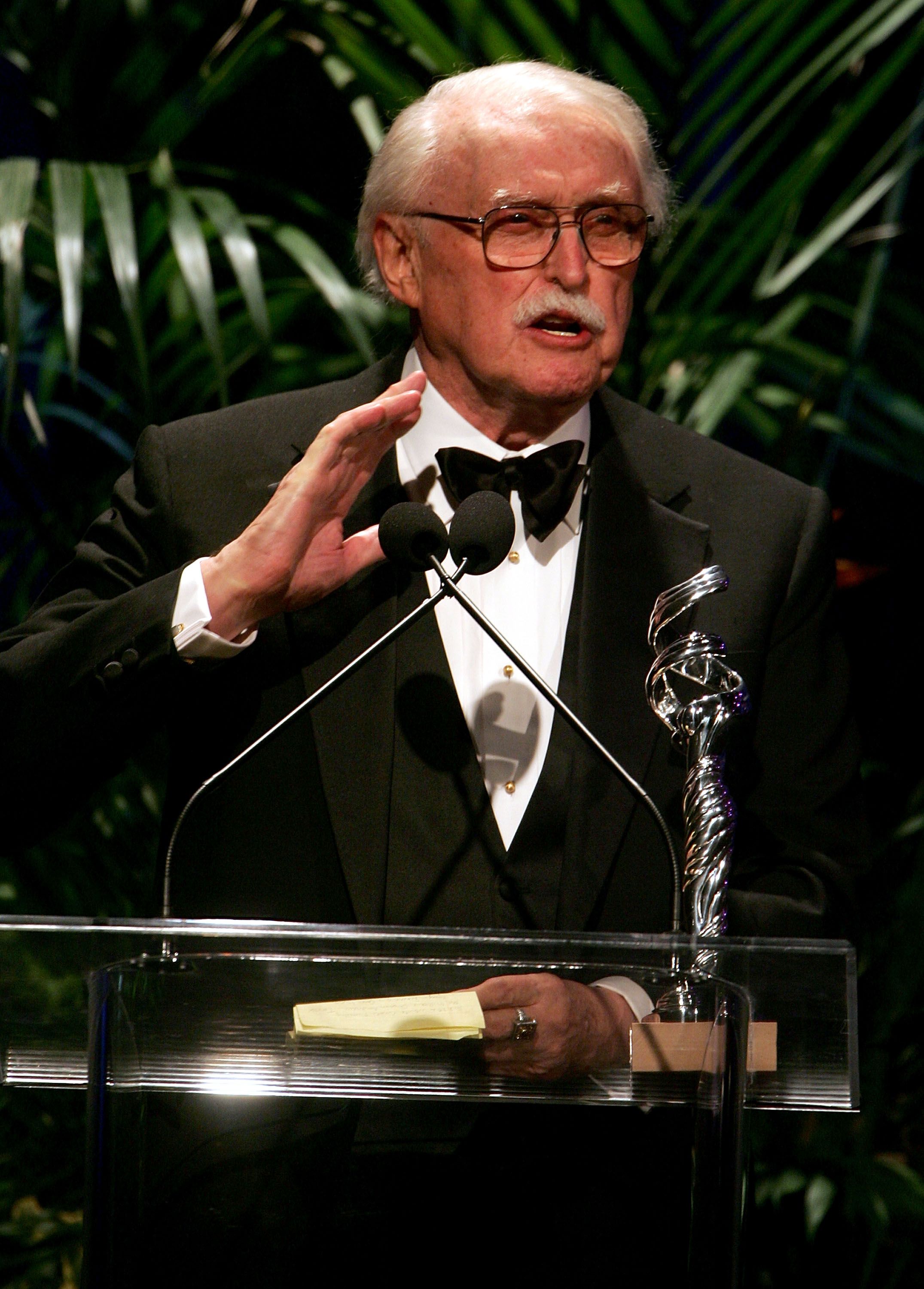 Klingon and Vulcan
The 98-year-old designer leaves behind a legacy of costumes and sets in the productions that remain behind. Fletcher's design of the "Star Trek" characters Klingon and Vulcan are especially iconic. 
Winning over the executives' team for the spaceship film was no easy feat and all the more so because Fletcher had differing opinions from Gene Roddenberry, the creator behind the movie. Fletcher shared: 
"Roddenberry was convinced that the Klingons should not look very foreign or alien but should be just like everybody else, only antagonistic. I disagreed strongly."
#RIP to longtime Hollywood costume designer Robert Fletcher, who helmed the costume department for the first four #StarTrek films and created these iconic looks -- including the 'monster maroon' uniforms for "The Wrath of Khan."https://t.co/wOWZomebY8 pic.twitter.com/R4gk1Gs1W8

— TrekCore.com 🖖 (@TrekCore) April 14, 2021
AWARD UPON AWARD
Having won over Roddenberry with his ideas and designers, Fletcher received three Saturn Awards nominations and reeled in a win in 1987 for the fourth film in the series. 
The "Saved By the Bell" star was diagnosed with stage IV small cell carcinoma.
But it wasn't only the out-of-this-world costumes that Fletcher worked on, as his costumes were seen in ballets and operas. The designer's products were also showcased on the Broadway stage featuring in various musical productions. 
Robert Fletcher, costume designer who worked on the first four #StarTrek movies, dies at 98. https://t.co/4xKYLhKCLP pic.twitter.com/uzZ8ZssyL6

— ComicBook.com (@ComicBook) April 14, 2021
ANOTHER STAR TREK STAR
Fletcher isn't the only artist from the "Star Trek" crew that passed away recently, as the iconic films also had to say their final goodbye to actor Peter Mark Richman. 
Richman was seen in "Star Trek: The Next Generation" and a long list of other television shows and Broadway productions. The actor died of natural causes at the age of 93. 
Robert Fletcher, 'Star Trek' Costume Designer, Dies at 98 https://t.co/FZDKhlmp3a

— The Hollywood Reporter (@THR) April 14, 2021
OTHER CELEBRITIES
Hollywood has lost a plethora of its best celebrities during the few short months that we have been in 2021. Among the stars that have fallen is actor Dustin Diamond who passed away at the young age of 44. 
The "Saved By the Bell" star was diagnosed with stage IV small cell carcinoma and lost his battle to the rare and severe form of cancer three weeks later. 
[R.I.P.] 'Jason Takes Manhattan' Actor Peter Mark Richman Has Passed Away https://t.co/LRmIrH6AXM

— Bloody Disgusting (@BDisgusting) January 15, 2021
The "Big Brother UK" star Nikki Grahame also had a premature death as the young reality star passed away at the age of 38. Grahame struggled with extreme anorexia for many years. 
Grahame passed away on April 9, and her death was announced by "Big Brother UK" on their social media pages sharing how deeply saddened they are by one of their family member's death.