Marissa Mowry Stole NFL Star Trevor Lawrence's Heart — All We Could Find About His Gorgeous Wife
Former Clemson Tigers quarterback Trevor Lawrence is expected to be the number one overall pick for the 2021 NFL draft; however, it's his romance with Marissa Mowry that makes his heart flutter.
Trevor Lawrence is one of the talents to have found his name on the lips of most football fans, and as such, his life is a subject of interest to most football lovers.
2021 has been the golden year for Lawrence for many reasons dear to him. Most importantly, it is the year the quarterback walked down the aisle with the woman who captured his heart, Marissa Mowry. Here's a look at their journey together.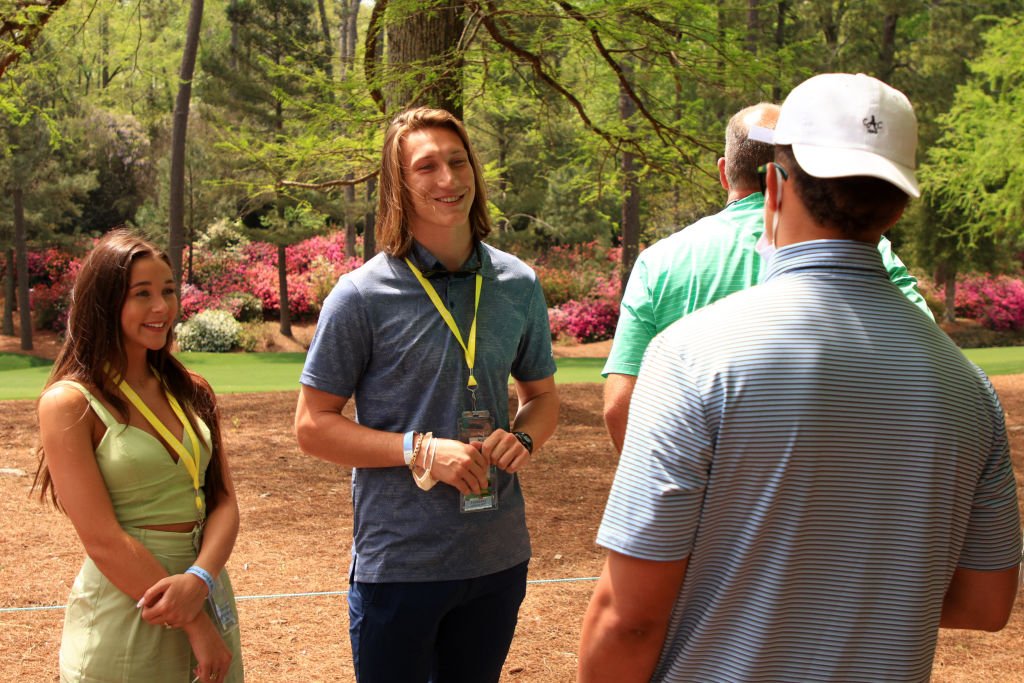 FACTS ABOUT MOWRY
When Lawrence announced his engagement to his heartthrob last year, most fans wondered who it was that stole his charming heart. For some fans that missed out on being the one, knowing who beat them to it was the best thing to do.
Trevor Lawrence's wife, Marissa Mowry, has been in the 21-year-old's life since their high school days. She attended Anderson University and Cartersville High School, where her romance with Lawrence bloomed.
The couple started dating in 2016 and since then have stuck with each other. Lawrence and Mowry constantly share sweet moments on their social media pages, and their bond has been visible for their fans to see.
Mowry, born in 1999, has been a source of support and inspiration to the quarterback, cheering him on his dreams while honing her skills and passion for sports.
Just like her husband, the 21-year-old Mowry is an athlete. Since her childhood, Marissa Mowry's soccer ambition has never been hidden. She is said to play as a forward at Anderson University.
Mowry describes soccer as something she feels is her purpose and is grateful to be surrounded by a team of positive people who see the best in her. Her coaches have high praise for her talent and expect her to go places with the beautiful game.
Lawrence maintained that his commitment to the game was intact, but football is not what defines him.
Closely related to her soccer ambitions, the new bride also has an eye for modeling. According to reports, Mowry is represented by MP Management. However, her Instagram snaps show that not much is going on in that regard.
A PERSON OF FAITH
Mowry and Lawrence seem to bond on many grounds, especially religious views. The 21-year-old is never shy of flaunting her faith on her social media page.
Just like Lawrence, Mowry's social media page is decorated with Christian quotes and scriptures. She has frequently revealed her desire to model a Christian home with Lawrence.
Since his football took a different turn for the best, Mowry has never stopped showing support to the hottest NFL prospect of the year. For Lawrence, all he has to do to correct a bad game is to look to the stands and see the cheering eyes of his sweetheart.
SHE SAW HIS BIG DAYS
Long before Lawrence dreamed of being the most wanted man in the NFL, his then-girlfriend Marissa Mowry predicted his big days would come calling. Trevor Lawrence's girlfriend, Mowry, once told him that he would be a national champion in a few years.
In 2017 when the duo were high school juniors, Mowry shared a sweet post on her Instagram where she predicted her man would be a national champion.
MARRIAGE
The couple had the biggest day of their lives early this month when they walked down the aisle in Bluffton, South Carolina. Lawrence chose the ring he used to propose before the start of what might be a prolific career.
Trevor Lawrence's family and fans were all excited to see him wed his sweetheart. Jacksonville Jaguars fans who are hoping to have Lawrence join them also donated gifts for the couple wanting to entice them home.
DONATIONS AND CHARITY
A big part of Mowry's life is her large heart and love for charity. Lawrence and his new wife are giving fans a glimpse of how supportive they plan to be to their community when they settle in Jacksonville.
Lawrence announced that he and his wife would be donating $20,000 to charities in Jacksonville as a thank you note to the fans for their massive support of his wedding.
Last year, Mowry announced that she was halting plans of raising funds to aid coronavirus relief due to NCAA rules that prohibited Lawrence from being a part of it.
After shutting down the GoFundMe page she had set up, it was soon announced that NCAA did not prohibit athletes from reaching out to the community in times of need but instead encouraged it. Soon after they got a go-ahead, the couple resumed their plans to provide aids for many affected homes.
A GLITTERING FUTURE AHEAD
Lawrence had always courted a passion for the sport from his childhood, so it was no surprise when it became his future. In nearly a decade, Lawrence will be the best quarterback to come into a draft. He comes to the big stage for most commentators with nothing to prove; his records show it all.
The confident 21-year-old recently showed how aware he was of his worth and talent when he replied those who criticized him for saying he does not play with a huge chip on his shoulder. According to Lawrence, he does not need football to make him feel worthy.
Unlike most talents his age, Lawrence does not feel the fields are what shows his value. He also came under fire for saying that there is life beyond football, and most fans felt the statement mirrored his poor commitment to the game.
Lawrence maintained that his commitment to the game was intact, but football is not what defines him. Many fans will be glad to see the bright talent fulfill his potential and enjoy a blissful romance.