Catherine Zeta-Jones Hilariously Trolls Michael Douglas as She Discusses His Dancing Skills
Catherine Zeta-Jones isn't afraid to reveal her husband's strengths and weaknesses, and apparently dancing is definitely not one of his stronger talents. 
Michael Douglas's inability to dance was exposed by his wife, Catherine Zeta-Jones, during an interview on "Late Night with Seth Meyers." The Welsh actress even demonstrated her husband's funny moves. 
During the virtual sitdown, Zeta-Jones and Meyers shared a laugh whilst discussing Douglas's limited catalog of dance moves displayed when he featured in the action-comedy "The Jewel of the Nile" in 1985.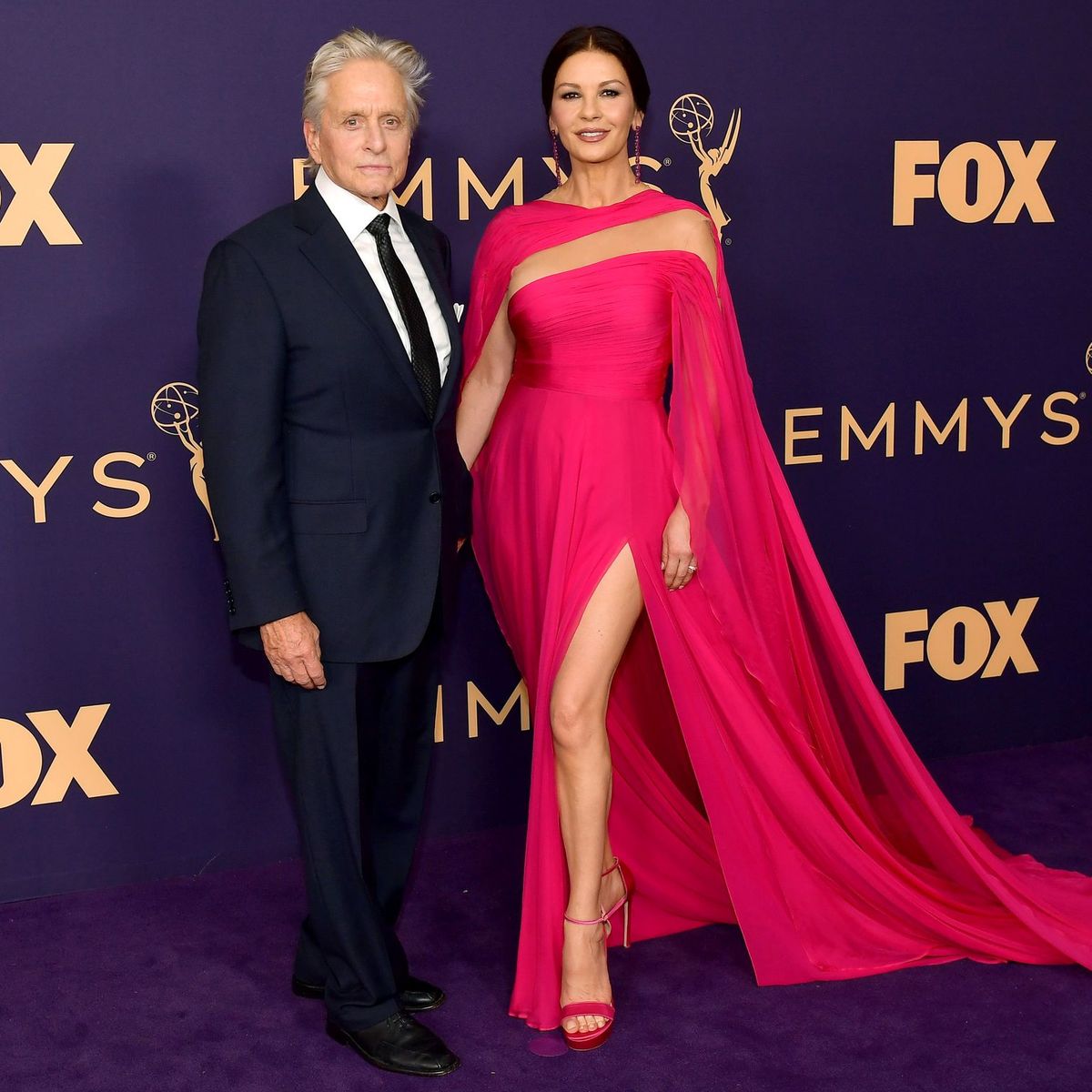 CLICK AND SWAY
The 51-year-old actress giggled as she revealed that her husband's dancing ability doesn't stretch too far. Zeta-Jones shared that her husband is aware of his poor rhythm, saying: 
"It's like he can click in time to the beat. Every now and again, he gets off course, but he's such a great actor."
"The Mask of Zorro" star also threw Douglas under the bus. She brought up his swaying moves seen when he was a background singer in the music video for Billy Ocean's "When The Going Gets Tough, the Tough Get Going."
TWO DECADES IN
Douglas's two left feet aside, Zeta-Jones adores her husband. The acting couple has been married for two decades and is still going strong. They share two children, Dylan and Carys. 
Eight months of separation was enough for Zeta-Jones and Douglas to find their back to each other as they reconciled in April 2014.
The "Chicago" star is twenty-five years younger than Douglas, but regardless of their enormous age difference, they still share a special connection that is kept alive by having fun together. 
RAISING KIDS
Douglas and Zeta-Jones both hit the pause button on their booming acting careers to raise their two children. The family packed their bags and moved to Bermuda, living there for 12 years. 
The actors have since returned to the USA and now call Westchester County, New York, home, where they spend copious amounts of time in each other's company. Zeta-Jones provided some insight into the marriage, saying: 
"My husband and I spend a lot of time together because, unlike so many couples, we've never had a 9-to-5 job where it's consistent."
NOT WITHOUT DIFFICULTIES
Although their two decades of marriage may seem like the ultimate love story, Zeta-Jones and Douglas have also had their fair share of difficulties throughout their time together. 
The "Fatal Attraction" star was diagnosed with stage four throat cancer in 2010, and after overcoming that setback, he split from Zeta-Jones in 2013. The couple worked on their differences and ended up reuniting. 
Zeta-Jones also had a diagnosis of her own to face when she received the news that she had Bipolar disorder in 2011. She went public with it to break down stigmas and share that there is treatment available. 
Eight months of separation was enough for Zeta-Jones and Douglas to find their back to each other as they reconciled in April 2014 and haven't looked back since.