L&HH Star Apryl Jones Flaunts Her Toned Figure in a Backless White Dress in a Gorgeous New Pic
With her own fashion line, "Love & Hip Hop," star Apryl Jones certainly has proven that she has a great palate for style, which is echoed all over her sultry social media presence.
Recently, reality television celebrity Apryl Jones took to Instagram to flaunt her toned figure. She glammed it up while posing in a backless white dress in a stunning photo. 
Jones stood in an almost authentic yet planned-out posture. She appeared to be in the middle of a free-spirited twirl but still gave the camera a perfectly prepared over-the-shoulder look, gracefully holding her hemline.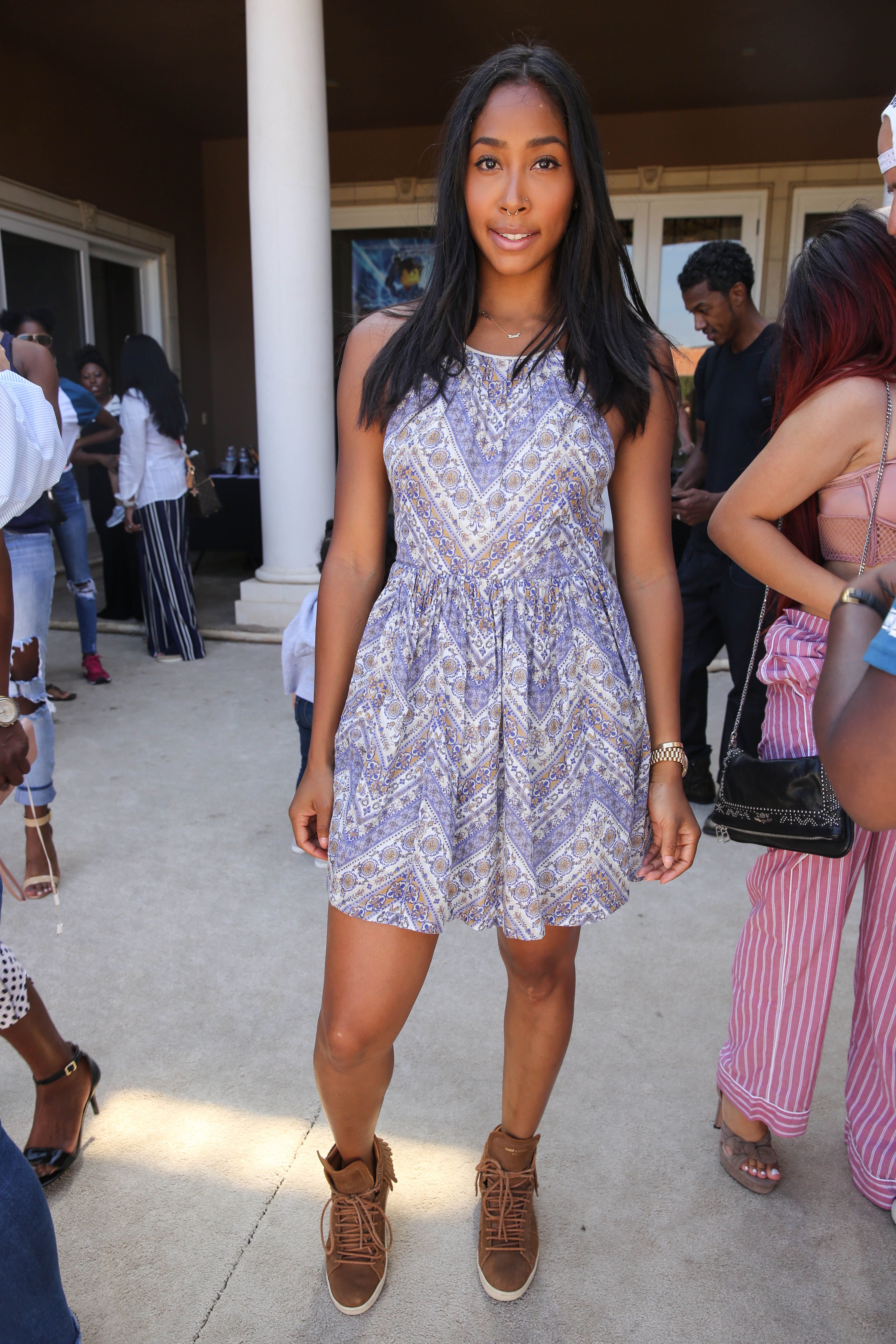 FREE-SPIRITED FASHION
Jones' sultry eyes glistened as she looked back, her wind-blown hair matching the high fashion flower child aesthetic. She took to the caption, writing: 
"See Me....?."
Her white ensemble was glammed up beatnik with netting and flowing material that revealed her body. Viewers got a peek of her sex-positive look, especially via her bareback and the side of her bust spying out. 
BEAUTIFUL BOHO
The rest of her firm body was also slightly visible through the netting. Her shapely legs shone through, as well as her arm, her skin glowing in the soft sunlight. 
She revealed that she is polyamorous.
White string crisscrossed under her neck, emphasizing her feminine back even more so. The trees and mountainous terrain beamed behind her, the perfect atmosphere for a classy hippy. 
SHADES OF WHITE
Jones loves her white shades. Earlier this year, she shared a picture of herself in a white tracksuit paired with pink boots. The outfit, once again, showed off her fit figure. 
It also brought out her generally chic style as she stood on a sidewalk. Although a lover of white, the caption disapproved of this theory, with her exclaiming that pink is her number one color.
STYLE CONSCIOUS
Beyond the evidence in her Instagram, it is clear that she is fashion and style conscious because she runs her own fashion label. The brand is mainly aimed at mothers and kids. 
When it comes to her personal life, lately, fans have become obsessed with the fact that she is dating Dr. Dre. In the past, the rapper has been said to be abusive. 
In terms of past relationships, Jones spoke about her aired partnership with Omarion on "Love & Hip Hop." She said that his team wanted to dispel whispers surrounding his sexuality via the show, expressing: 
"So to show he was in a relationship with a woman and having kids and all that, they thought it would be great."
Regarding her own relationship with sexuality, the star hasn't always walked what many would see as the straight and narrow path. In the past, she revealed that she is polyamorous.