Daily Joke: Three Siblings Gathered to Celebrate Their Parents' Anniversary
Three siblings traveled back home from different parts of the world to celebrate their parents' wedding anniversary. However, they couldn't believe their father's response to their return.
A couple was set to mark their 50th wedding anniversary. Instead of going on a vacation or having a lavish party, they decided on having a simple dinner hangout with all of their three grown children.
The father put a call through to the kids, letting them know that they would love to have them back home to celebrate the golden jubilee. All three, successful and famous, agreed to create time in their busy schedules and be present.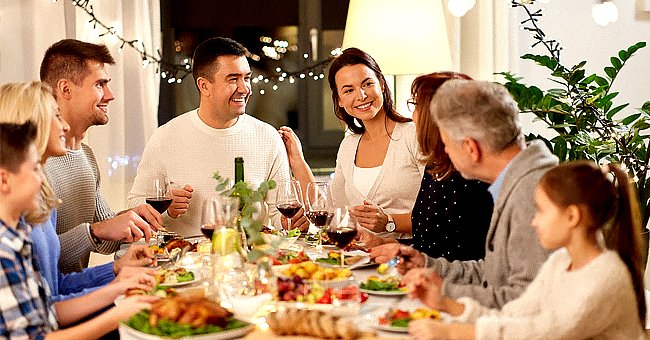 Unfortunately, on the day of the dinner, each of the kids arrived late to the celebration. The eldest son came first. After wishing his parents a happy anniversary, he apologized to them, saying:
"Sorry, I'm running late… I just didn't have the time to get you a present."
The father smiled sweetly at him. He told the son not to worry as the most important thing was that he made it home safely, and the family was once together again. The second son arrived and said:
"Just flew in from L.A. and didn't have time to get you anything." 
With a smile on his face, the father turned to his second son and told him the same message. He told him not to worry about the gift as everyone was just glad to see him after a long time away.
Finally, their only daughter arrived last. As expected, she failed to come with a gift. She apologized to her parents, telling them that she has been out of town for a while and didn't have time to shop for a gift.
Again, the father said that he didn't care about the gift but was thrilled to have all five of them sitting in a room together. Once everyone was seated, the celebration began, and meals were shared.
Hours into the dinner, the father dropped his fork to make a toast. He turned to the kids and told them that he and their mother had a message for them. WIth rapt attention, the kids listened as their father told them his success story.
He recalled how he and their mother migrated to the country with no money but managed to give the kids the best life, sending them to college. However, while working hard, they never had the time to walk down the aisle.
The kids were shocked at his revelation and gasped as they asked their father if that meant they were bastards. With a smile on his face, the dad responded, saying, "Yep. And cheap ones, too!"