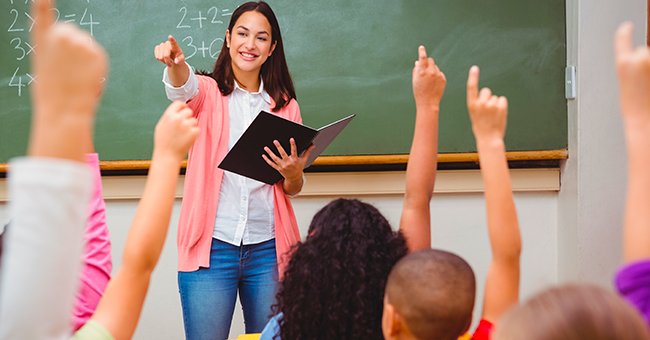 Shutterstock.com
Daily Joke: A Little Girl Shares How Her Brother Was Born
A young girl told a hilarious story about how her brother was born during a presentation at school. She had a vivid explanation of the process that led to her brother's delivery.
A teacher looking to keep his students occupied decided to organize a show-and-tell presentation. Not only is it fun, but it helps the kids to overcome their shyness and learn how to practice public speaking at a young age.
As the presentation began, the kids came out one by one to talk about different things that interested them. Some talked about their pets and others their favorite toys. However, it was one girl's presentation that stood out.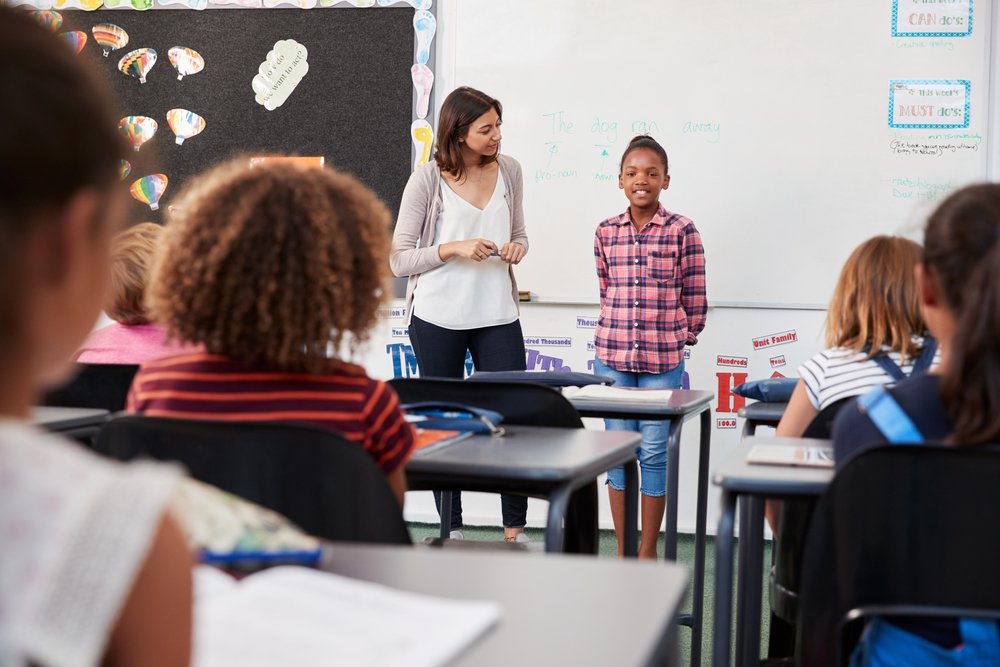 A teacher and pupil in front of elementary school class. | Photo: Shutterstock
When it was her turn, she began telling the story of how her younger brother was born. Young Bella wore a sweater and had a pillow underneath to look like a pregnancy. She held in her hand a picture of her brother Edward and said:
"I'm going to tell you about his birthday. First, Mommy and Daddy made him as a symbol of their love, and then Daddy put a seed in my mother's stomach."
She cradled her stomach playfully and told her classmates that Edward grew in the tummy feeding through their mother's umbilical cord. The teacher watched in astonishment as she continued her story.
Bella said that some Saturdays ago, her mother was working in the kitchen when she began making the sound, "oh, oh, oh." Bella demonstrated what she meant, putting her hand behind her back and groaning like she was in pain.
She said her mother continued making the noise and walking around for about an hour until her father returned home. Once he saw their mother, he proceeded to call the "middle wife." Bella explained who the middle wife was, saying:
"My father called the middle wife. She delivers babies, but she doesn't have a sign on the car like the Domino's man."
The young girl recounted that the "middle wife" told her mother to lie down and proceeded to act it out by lying against the wall. She mentioned that after her mother laid down, she heard the sound of water splashing.
She described the experience, saying that her mother had a bag of water inside her body that was kept for her brother if he got thirsty. Bella recalled the water bursting and spilling over the bed.
The 5-year-old told her classmates that the "middle wife" began to tell her mother to push and breathe as her dad counted down. Before they got to 10, little Edward came out covered in what Bella described as "yucky stuff."
With a smile on her face, she told her classmates that was the end of her story. She gave a dramatic bow, and to the teacher's surprise, every student stood to applaud the little girl for her vivid description.
Please fill in your e-mail so we can share with you our top stories!