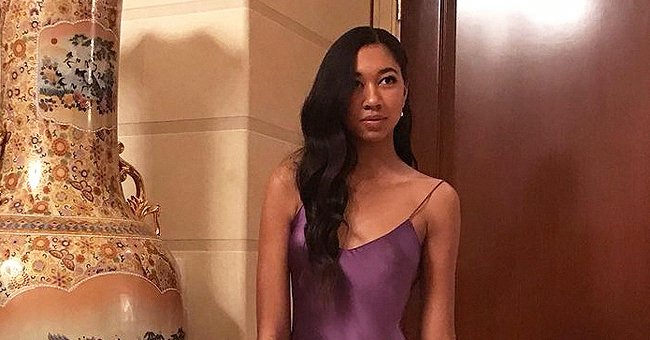 instagram.com/aokileesimmonss
Kimora Lee Simmons' Daughter Aoki Opens Up about How She Felt During Her Prom Amid Prom Season
Accepted into Harvard and with a steaming body, Aoki seems to have brains and beauty. Sadly, however, she wasn't able to see this when she was younger.
Kimora Lee Simmons' daughter Aoki posted a heartful Instagram share. She opened up about how she thought about herself at 15 years old, claiming she didn't feel pretty at all.
Looking at the gorgeous photos she posted from her prom night, one might be flabbergasted to read that this gorgeous woman once thought of herself as ugly. Every single photo sang with beauty.
She left a wonderful message in the caption about beauty, popularity, and self-esteem, saying that she recognizes how pretty she looks now and wishes she could have then. Part of it read:
"In honor of prom season : 15 yrs old and I wasn't even going to go because I was so insecure, because I felt I wasn't pretty or popular."
She continued, stating she bought a department store dress and went to the prom with one friend. She then encouraged those going to prom to have a great time.
In the pictures, she wore a stunning silk-like purple dress that draped over her figure perfectly. Her dark and healthy-looking hair fell over her shoulder, landing gracefully in the front.
Aoki is definitely more than looks, with a brain that helped her get into Harvard.
Fans and followers admired Aoki's bravery and vulnerability, surprised that she could feel insecure just like the rest of humanity. The post received a total of just over 52,000 likes.
Since then, Aoki has gained a lot more positive body confidence. Near the end of last year, she flaunted her fit figure while posing in a gold bikini.
She was absolutely stunning, staring at the camera with her dark and glowing eyes while her natural curly hair fell onto her glowing toned figure. The post has received around 35,000 likes so far.
Of course, with a body like that, it's no surprise that Aoki has been dabbling in the world of modeling. Specifically, she was chosen to model a line of dresses for her mom's clothing brand Baby Phat, Kimora commenting:
"Only today I can say that we are what we set out to be 20-something years ago, which is a heritage brand."
Her sister, Ming Lee Simmons was also involved with this line, with all three contributing to the designing process. The line was revived by Kimora back in 2019.
Aoki is definitely more than looks, with a brain that helped her get into Harvard. She not only managed to be accepted to this prestigious institution but did so at 16 years old.
When she found out about her acceptance, her family and, of course, Aoki herself, was ecstatic. She took to Instagram, posting a clip of her reading the letter and responding emotionally.
Please fill in your e-mail so we can share with you our top stories!