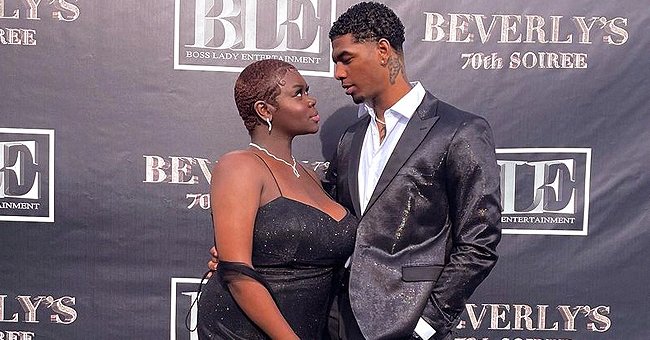 instagram.com/princessbroadus
Snoop Dogg's Daughter Cori Stuns Showing Her Glowing Brown Skin in Glamorous Silk Dress with Slit
Snoop Dogg's young adult daughter, Cori Broadus, looked stunning in a new media share where she flaunted a classy glam for her fashion lookbook. Cori also showed off her love interest.
Snoop Dogg's daughter had the full attention of her Instagram fans in a new post where she showed some skin in an elegant outfit while displaying a romantic image of her and her plus one.
Cori posed on the black carpet during an event, sporting a figure-hugging floor-length dress. The outfit bore a sweetheart bodice and a thigh-high slit that revealed her smooth brown skin.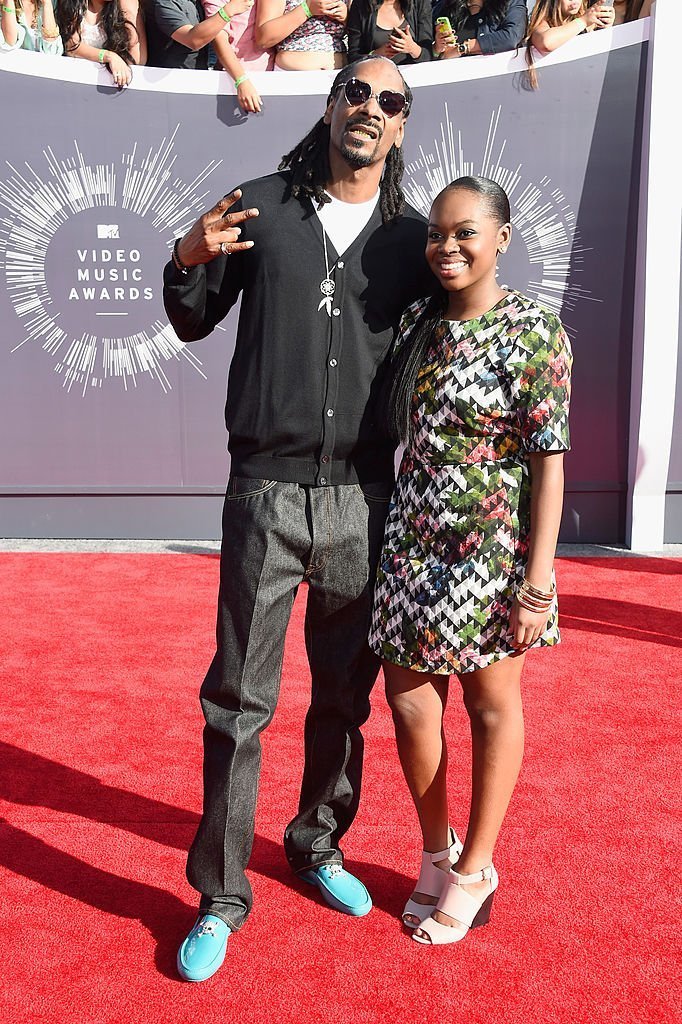 Snoop Dogg and Cori Broadus at the 2014 MTV Video Music Awards on August 24, 2014. | Photo: Getty Images
Cori clad her feet in clear heels and opted for subtle jewelry, sporting a tiny necklace and drop earrings. The starlet displayed a haircut styled with waves.
She stood up close to her boyfriend Wayne, who met her halfway in his stylish tuxedo and immaculate white sneakers. Cori did not hold back on her affection as she captioned:
"One solid [expletive], damn I love you."
Cori is the youngest of three kids that A-list vocalist Snoop Dogg shares with his wife, Shante Broadus, and her dad has shown how proud he is of her several times. One of these was during her high school graduation. She was celebrated in style with all her family members in attendance.
The pair started as high school sweethearts, and these days they are still going strong after weathering turbulent years.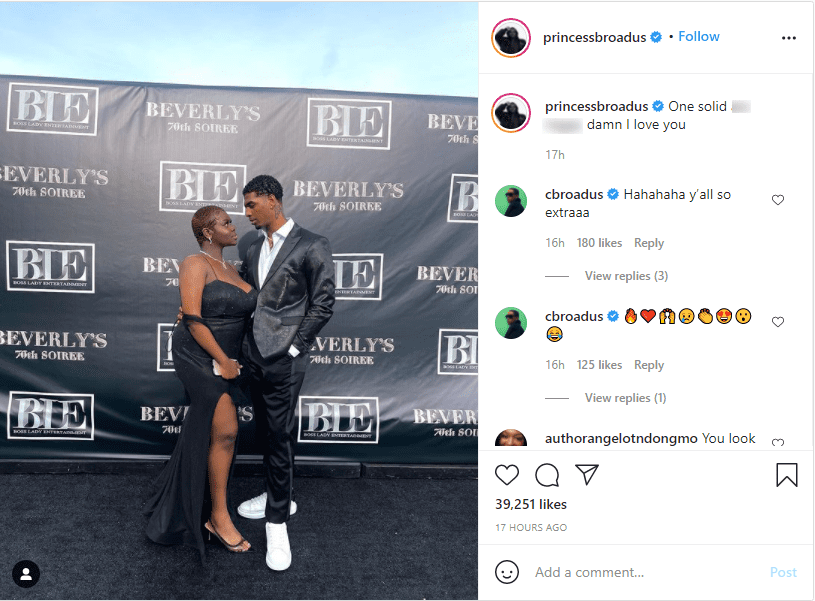 Cori Broadus and her boyfriend Wayne pose at an event | Source: Instagram.com/princessbroadus
As a young adult, Cori has been putting out premium content on self-love after fighting insecurities. Instagram is one of her platforms, and she has put out several posts addressing issues of colorism and finally being comfortable in her own skin.
Besides being the baby of the house, Cori has also inherited her dad's musical genes. The hip-hop heiress has chosen a music path that she debuted in 2018.
During one of his Instagram show-offs, Snoop posted a video of his daughter during her debut performance, and it was not hard to tell that he was smitten by her talent.
Cori is not the only one who is musically inclined in Snoop's household. Her older brothers, Corde and Cordell, are also building a musical portfolio. While the pair are rappers, Cori is into R&B.
Corde is the oldest, born in 1994, four years before Shante and Snoop tied the knot. The pair started as high school sweethearts, and these days they are still going strong after weathering turbulent years in the beginning.
Please fill in your e-mail so we can share with you our top stories!