Athlete Dies during Swimming Portion of Ironman Triathlon Competition in Utah
A participant at an Ironman competition died during the swimming portion of the race, over the weekend at St. George in Utah. 
An athlete passed away during the swimming portion of a half-Ironman triathlon competition over the weekend. The competition was held at St. George in Utah, as reported by FOX 13 News Utah.
The identity of the participant has not been released yet. According to Ironman officials, the participant had shown signs of distress during the swimming portion of the competition.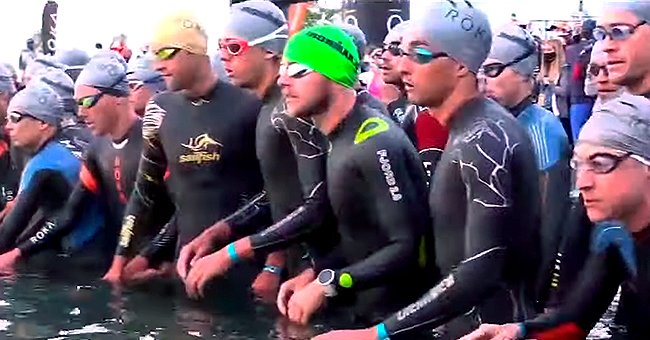 The Ironman Group released a statement and said that as soon as swim safety personnel recognized the athlete was distressed, they provided the athlete with immediate medical attention.
It is currently not clear how the athlete died. The swim portion included a 1.2-mile loop swim at Sand Hollow State Park, followed by a 56-mile bike ride and then a 13.1-mile run.
Athlete Dies During Swimming Portion of Ironman Competition in Utah https://t.co/wNOYI3SHpC

— People (@people) May 3, 2021
According to the Ironman Competition Facebook page, the temperature of the water at the time of the race was 62 degrees Fahrenheit. The Facebook page shared their condolences for the athlete's family. 
Their message also stated that the "well-being of our competitors is paramount," and they thanked the safety personnel and first responders, who had worked to provide the athlete with medical care. 
Andrew Baker had just finished the Jacksonville's 15k Gate River Run when he "suffered multiple cardiac arrhythmias."
This event was the Ironman 70.3 North American Championship, which took place on Saturday, May 1, 2021. The athlete displayed distress in the first portion of the event. 
 Unfortunately, this is not the only athlete to be critical injured during an athletic event in the last month. At the end of March 2021, a 26-year-old University of North Florida graduate collapsed after a 15K in Jacksonville. 
Andrew Baker had just finished the Jacksonville's 15k Gate River Run when he "suffered multiple cardiac arrhythmias" in front of the event's medical tent and collapsed. 
His family has set up a GoFundMe for medical expenses, while Baker fights for his life after he was resuscitated multiple times following the severe and terrifying cardiac episode.
He was taken to UF Health Jacksonville. Through testing, doctors revealed that he suffered a traumatic brain injury, swelling in his brain, and rhabdomyolysis, which is a breakdown of the skeletal muscle tissue.
His family shared on the GoFundMe page that doctors put Baker on a ventilator and on dialysis to help him recover from his injuries. The family wrote that his road to recovery would be a long one.