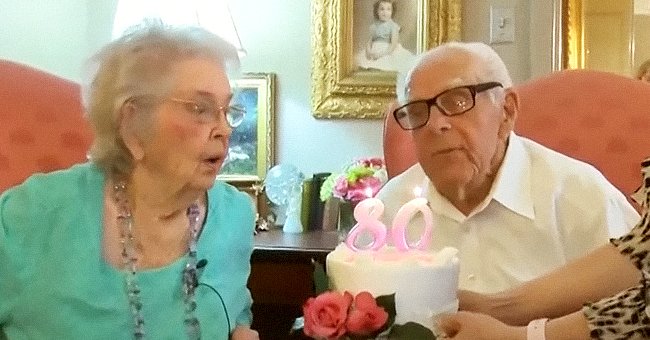 YouTube/KCAUTVSiouxCity
Arkansas Couple Of Centenarians Celebrate Their 80th Milestone Wedding Anniversary
Uvie and Leroy Evatt, two senior citizens from Arkansas, made it to the news and have become a point of inspiration as they recently celebrated their 80th anniversary.
Uvie and Leroy Evatt are a couple from Arkansas who recently went viral after celebrating their 80th marriage anniversary. While Leroy is 103 years old, Uvie is 101.
This pair not only celebrated long life but also celebrated a long-standing union. When asked about the secret to being together for ages, the couple mentioned the need for healthy living.
Leroy and his spouse emphasized the need for good communication and suitable teamwork. These days the pair watch her grown kids give them grandkids as well as great-grandkids.
The couple grew up together in Arkansas and have been married for eight decades. According to Uvue, she and her husband knew each other way longer than their years of marriage. She summed it all as "forever."
Leroy made it known that he was the head of the family while Uvie was the neck, and according to him, she controls the head. To this effect, Uvie was asked if she was the leader, and she chimed, "That's what he said."
Virginia and Jack Bryne made it to "World News Tonight" after they reunited for their 72nd wedding anniversary.
When asked how family life was, Uvie fawned over her grandchildren and great-grandchildren. The matriarch noted that there was nothing in the world like the little ones. One of their great-grandchildren also referred to the couple as "sweet."
Another couple Virginia and Jack Bryne made it to "World News Tonight" after they reunited for their 72nd wedding anniversary. The pair initially lived apart for over a year at the start of the pandemic.
While Jack, 94, lived at a memory care facility, his wife stayed at home, and the COVID-19 restrictions hindered them from seeing each other. On March 19, they had a sweet reunion at the McKnight Place Assisted Living and Memory Care in Missouri.
Speaking about seeing her husband again, Virginia mentioned that the light in her life went up again. She gushed, adding that his eyes equally sparkled like the way they did in previous years.
Anne Douglas and Kirk Douglas at the 4th Annual Kirk Douglas Award for Excellence in Film for the Santa Barbara International Film Festival on October 22, 2009 in Santa Barbara, California | Photo:Getty Images
One Hollywood couple who has a similar long marriage and love story is Kirk Douglas and his wife, Anne Buydens. The pair are late now, but their love happened at first sight, and they were together for over six decades.
Please fill in your e-mail so we can share with you our top stories!