Josh Duggar Released and Allowed to See His Kids with Supervision from Wife Anna as He Awaits Trial
Josh Duggar has been released from jail into the care of third-party custodians, Lacount and Maria Reber. He must remain in their home and is watched with GPS tracking. 
Josh Duggar, previously seen on the reality show "19 Kids and Counting," is out of jail a week after being taken into custody for owning inappropriate images of minors. He was arrested on April 29, 2021. 
The oldest of the 19 Duggar children left the Washington County Detention Center in Fayetteville, Arkansas, on Thursday, with local news outlets swarming with the camera crews surrounding to capture him on tape.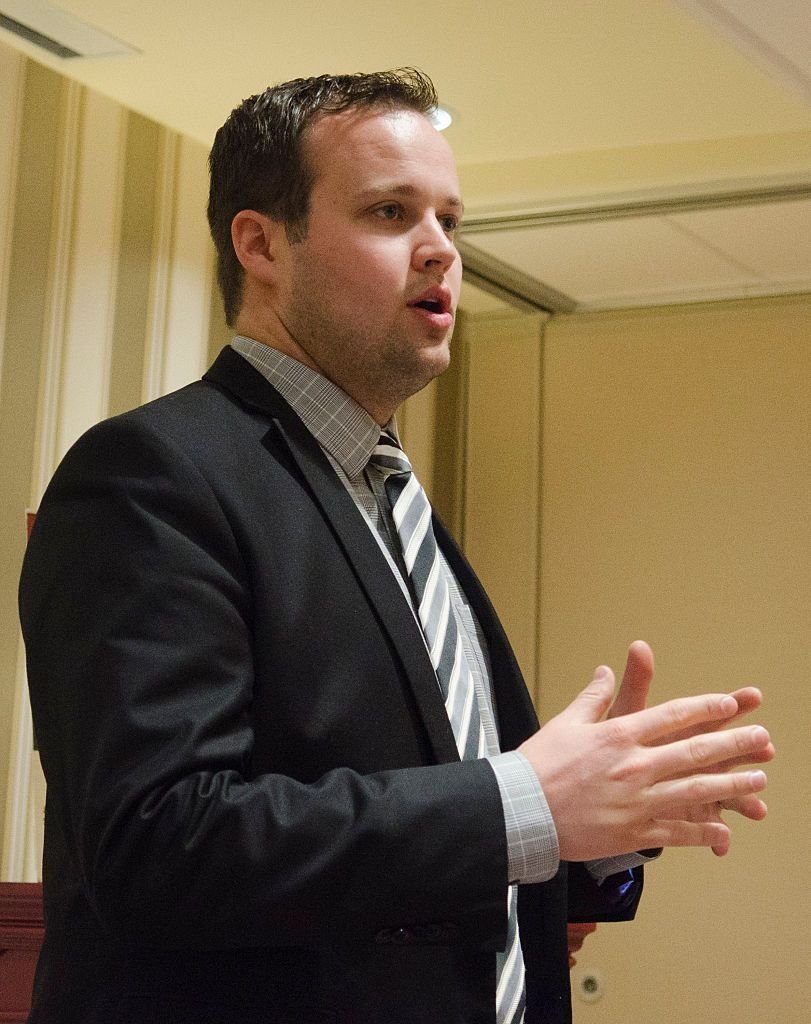 VIRTUAL HEARING
Josh had his first virtual hearing on Wednesday, where a judge ruled that he would entrust him into the care of custodians, Lacount and Maria Reber. He is not allowed to leave their home and must wear a GPS tracker. 
In 2015 it was alleged that Josh had abused minor girls, some of whom were his sisters. 
While the judge granted that Josh could see his six children when his pregnant wife, Anna Duggar, is present, he cannot come into contact with any other minors, including his other family members. 
Josh Duggar was granted release in a Zoom detention hearing on Wednesday.https://t.co/BmVgjRkIpx via @WSPA7

— Amy Wood 7 News (@TVAmy) May 7, 2021
RELEASED ON BAIL
Josh put forward a bond motion in an attempt to wait for his trial in the comfort of a home instead of in the confines of a prison cell. Duggar's request was that the authorities: 
"Release him on bail subject to a combination of conditions of release that will reasonably assure his appearance at trial and the safety of the community."
The 33-year-old pled not guilty to the charges of receiving and possessing inappropriate content of children. His pre-trial hearing date is set for July 1, with the trial beginning on July 6. 
Josh Duggar, whose family became the subject of a TLC reality show in 2008, was charged with receiving and possessing child pornography in Arkansas on Friday. https://t.co/H9OMKmMVT4

— NBC News (@NBCNews) May 1, 2021
FAMILY STATEMENT
With the famous Duggar family's firstborn son facing such serious charges, his parents finally spoke up. Jim Bob and Michelle Duggar released a statement about their son's situation, saying: 
"The accusations brought against Joshua today are very serious. It is our prayer that the truth, no matter what it is, will come to light."
Should Josh be found guilty of the charges he is facing, he will be facing up to 20 years in prison paired with a $250,000 fine for each charge he is convicted of. That could result in up to 40 years in jail and a half a million-dollar fine. 
Joshua Duggar, the oldest son from TLC's "19 Kids and Counting" show, is arrested and indicted on child pornography charges https://t.co/k8T0ITwgye

— CNN Breaking News (@cnnbrk) April 30, 2021
NOT THE FIRST TIME
This is not the first time that the Duggar firstborn is facing serious allegations connected to the abuse of minors. In 2015 it was alleged that Josh had abused minor girls, some of whom were his sisters. 
Josh was serving on the Family Research Council at the time, and the reports of his abuse resulted in him stepping back from his position as Executive Director of FRC Action. 
Former reality TV star Josh Duggar was released from an Arkansas jail Thursday as he awaits trial on federal charges that he possessed and downloaded child pornography.https://t.co/ocgWGxzZfb

— ABC 33/40 News (@abc3340) May 7, 2021
The Duggars are not the only celebrity family who have had their fair share of scandal and conflict play out in the public eye. Woody Allen's family has faced the challenge of him being accused of abusing his children. 
His daughter, Dylan Farrow, and son Ronan Farrow came forward alleging that they were the victims of their father's abuse as children. The director's children also accused him of attempting to bribe them in exchange for remaining silent.