Magic Johnson, All His Kids & Grandkids Pose with His Wife Cookie in Joint Mother's Day Photos
Magic Johnson celebrated the women in his life on Mother's Day with photos he shared via his social media page. One of the snaps featured him with his kids and grandkids, and it warmed many hearts. 
Magic Johnson is a family man through and through! He proved this once again on Mother's Day when he took to his personal Instagram page to share tributes dedicated to the women in his life, including his wife, mother, and mother-in-law.
His first post featured a shot that captured Magic posing alongside his family members. The caption began with him wishing his "amazing mother" Christine, his "beautiful wife" Cookie, and his mother-in-law Cora Kelly a Happy Mother's Day.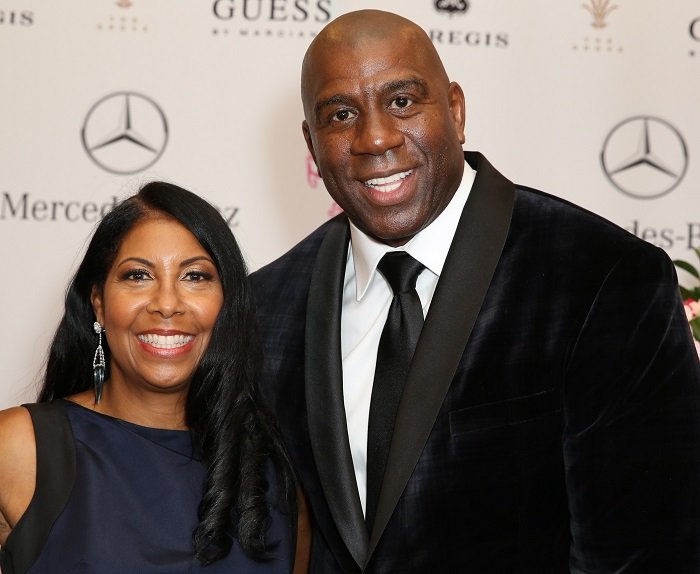 He went further to quote a verse from the Old Testament in the Christian bible— Exodus 20:12, which enjoined saints to honor their parents to live long, fulfilled lives. 
As the caption lengthened, Magic thanked his mother for her "dedication and sacrifice" to their family. He also praised her for raising both himself and his siblings properly while teaching him all he needed to know. 
The post was heartwarming, and quite a number of the retired basketball athletes' fans flocked to the comment section to make their feelings known, but he was not done yet. 
Shortly after the first post, Magic shared another one, this time solely honoring his wife for her role in his life. He referred to her as "the best thing that's ever happened" to him and his family and thanked her for the "love and kindness she showed daily."
The media went wild when the news became public knowledge but luckily for him, his parents did not.
He ended the tribute with a declaration of love for his wife, "a true woman of God." Cookie also joined in the celebration by sharing family photos of them and expressing contentment at how the day unfolded in her caption. 
She and her husband have been together for nearly three decades now; they celebrated their 28th anniversary with romantic eulogies shared via social media.
From what was said, it is clear their love for one another remains as strong as ever. Between them, they share three kids, two of which they had together and one, a product of his father's past relationship. 
Their family is a close-knit one known for throwing some pretty interesting parties, especially in celebration of one another's milestones. 
They are also famous for the way they support one another. When one of their kids, EJ, came out, the media went wild as the news became public knowledge, but luckily for him, his parents did not and they stood by him. 
It strengthened him, and he went on to make his own name in the Hollywood entertainment industry on E! 's "Rich Kids of Beverly Hills." It turns out Magic was right when he implied that all parents could do is support their children in their decisions.