Mary J Blige Stuns in a Glittering Green Jumpsuit with Low Neckline, Exposing Her Tattoos
American singer-songwriter Mary J. Blige celebrated her induction into Apollo's Walk of Fame with an appreciation post on Instagram. She shared a picture of herself in the stunning dress she wore for the event. 
Singer and songwriter Mary J. Blige is one of America's most celebrated musicians still alive and has many songs, awards, and honors to prove her talent. 
She recently added another achievement to that list after being inducted into the historic Apollo Theater's Walk of Fame. While speaking to reporters on the day of her induction, Blige thanked fans for always supporting and noted that it would never have been possible without them.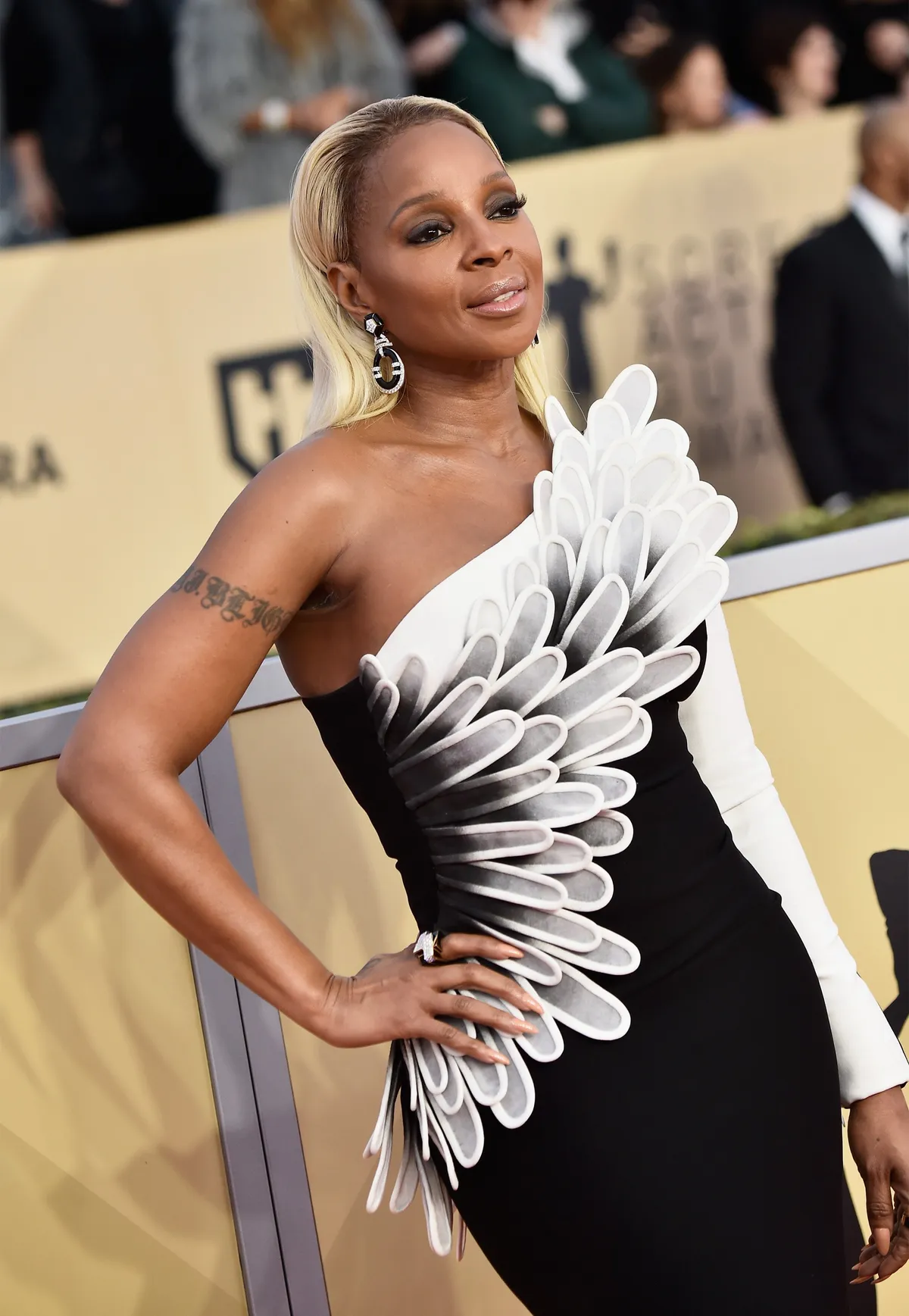 The singer also posted an appreciation message on her Instagram page in celebration of her induction. Accompanying the post was a picture of her in the dress she wore for the induction ceremony. 
The 50-year-old wore a glittering green-and-black patterned jumpsuit which exposed the tattoos on her upper arms. She accessorized her look with multiple pieces of jewelry on her neck, fingers, and wrists. She also wore hoop earrings and rocked blonde hair. Her caption read: 
"Thank you so much @apollotheater for this amazing honor for the Walk of Fame... #apollowalkoffame." 
Blige is most deserving of every award and honor she receives, and her fans and co-stars know that. Therefore, it was not surprising to see many of them congratulating her in the post's comment section. 
Rapper and record producer Busta Rhymes, LL Cool J's wife and Blige's friend, Simone Smith, photographer Robert Ector, and Kim Fields were few of the celebrities who congratulated her. 
She revealed she cried like a baby on her birthday because she had been through a lot in her life.
Blige has been behind some of the greatest hits and albums in the music industry in her exceptional career. One of her most critically acclaimed albums is her 1994 album "My Life." 
On June 25, Amazon Prime Video will debut a documentary titled "Mary J. Blige's My Life," in honor of African American Music Appreciation Month. The documentary will shed light on the album and the process of making it. 
In an exclusive chat with People, Blige said her "My Life" album really bonded her with her fans who have remained with her throughout her crazy ride of a music career. 
She further said that going back and reliving the time she made the album, and the music in it was like an "out-of-body" experience that humbled her. 
Blige turned 50 in January and celebrated her birthday by posting a selection of photos from a beach vacation. During an appearance on "The Ellen DeGeneres Show" in February, she revealed she cried like a baby on her birthday.
Her reason was that she had been through a lot in her life, and turning 50 was beautiful. Blige has rocked different looks over the years and walked Ellen DeGeneres through some of her best looks.
She revealed that her stunning look at the 2005 Radio Music Awards, where she rocked Goddess braids, was a powerful queen look for her that showed she was in control of her life and destiny. 
Regarding her love life, Blige was married to Kendu Isaacs from 2003 to 2016 when she filed for divorce citing irreconcilable differences. The divorce was finalized in 2018.