Daily Joke: A Wealthy Merchant, 84, Married a 25-Year-Old Model
Today's #jokeoftheday is about an 84-year-old merchant who got another chance to taste the sweetness of love in the arms of a 25-year-old fashion model. However, their blooming romance wasn't all it appeared to be.
Love is blind as it is unbiased, such is the case of a wealthy merchant, who at the age of 84 years managed to find love again with none other than a stunning fashion model who was 59 years his junior.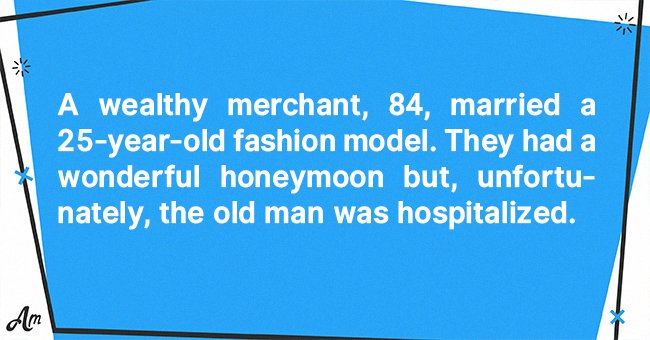 Despite the unconventional age gap between the pair, the lovebirds were determined to be united in holy matrimony and marked the celebration of their marriage with an expensive honeymoon in Aruba.
However, their blooming romance was cut short by the cruel hand of fate and the inescapable effect of old age as the 84-year-old merchant suffered a heart attack and needed to be hospitalized.
Although it seemed that this could be the end for the pair, nonetheless the tragic incident wasn't enough to stop the old man's love for his wife as he had arranged a special gift for the model.
On the day the young model came to visit, the 84-year-old revealed that in the event of his death, his wife's future was secured. The merchant planned to leave his massive fortune to his wife including his home in Palm Springs and a ranch in Texas.
The list also consisted of his Mercedes as well as a $250,000 allowance per year. Upon hearing that she would never have to worry about money again, the model couldn't hold back her tears.
The 25-year-old confessed that she couldn't stand to hear her husband talk about his demise. She stated that he had been so good to her, his death would leave her devastated. She said to him:
"Oh, there must be something I can do to help you. Please….tell me what I can do?"
A moment of silence fell between them as the old merchant turned to face his wife with a serious look on his face and said "Well," he began, "you can quit pinching the inlet tube to my oxygen."
Source: ViralGF Health