Daily Joke: Little Girl Is On the Phone with Daddy
Today's #jokeoftheday is about a young girl who had a phone conversation with her father. It turned out that the information they exchanged caused unexpected harm.
A young girl named Emily was playing around in the living room when she heard the family phone ring. She dropped the toy and ran over to pick the call. Over the line was her father, and he said to her:
"Hi, honey. This is Daddy. Is Mommy near the phone?"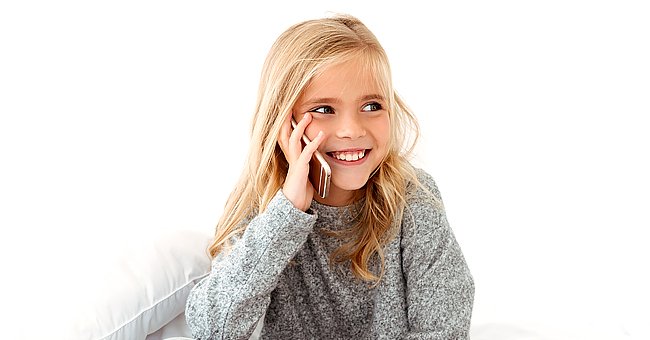 Emily replied that her mother was upstairs in the bedroom with her uncle, Paul. There was a moment of silence between the pair before the dad answered, saying that she had no uncle Paul.
However, the little girl disagreed, saying that she had an uncle named Paul and he was busy with her mother upstairs. Again, there was a moment of silence before her dad said he had a set of instructions to follow.
She listened to her dad with enthusiasm as he told her to drop to phone and head upstairs to the bedroom. He instructed her to knock on the bedroom door and tell her mom that his car just pulled into the driveway. 
Emily did just dad, screaming out that her mom that her dad just arrived home. Once she was done, the young girl went downstairs and took the phone to tell her father that she followed his instructions and got results.
Emily eagerly narrated how she saw her mom get scared, jump from the bed without her clothes, and begin panicking. She noted that as her mom ran around the room, she tripped on the rug, hit her head on the dresser, and wasn't moving.
In a frantic voice, the father yelled, "Oh my God!!! What about your Uncle Paul?" In the same energetic tone, she told her dad that uncle Paul jumped out of bed naked and dived out of the bedroom window into the pool.
She explained that uncle Paul probably forgot that they emptied the pool last week and dived right in to hit the concrete and now isn't moving. There was a long pause before the father said, "Swimming pool? …. Is this 486-5731?"