Al Roker's Daughter Courtney Married Wesley Laga — Inside Their Wedding
Al Roker's daughter Courtney and her now-husband Wesley Laga finally celebrated their wedding, their ceremony filled to the brim with the warmth of family and love. 
Al Roker's daughter and chef Courtney recently tied the knot with actor, teacher, and director Wesley Laga. The ceremony bore cream and white shades, Courtneys' tulle dress sparkling among the room. 
Her family took to Instagram to share and celebrate the special day. Courtney, along with her stepmother, Deborah Roberts, and her dad, shared posts that included a picture of the first dance.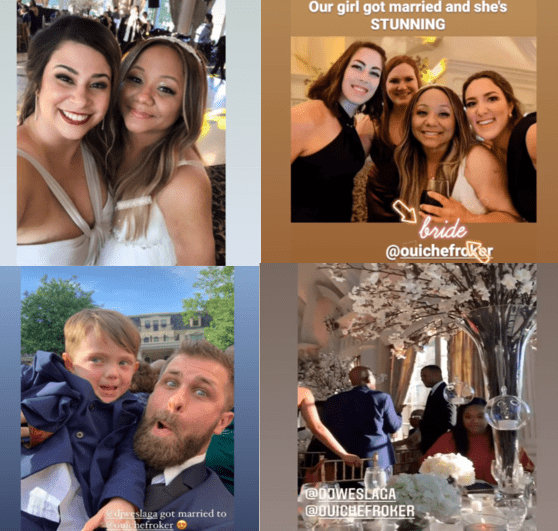 A LOVE FOR THE AGES
In her post, Courtney and her now-husband wrapped their arms around each other and stared into each other's eyes. Taking to the caption, the weatherman's daughter expressed: 
"Last night was beyond anything I could ever imagine. I celebrated my love for my husband, and felt the love from everyone."
She shared another post of her and Laga simply smiling at the camera while dressed in their wedding attire. On top of this, she shared on Instagram story many beautiful moments from the night. 
SNAP HAPPY
Roker's post also included a picture of his son Nick standing with the bride and his 22-year-old Leila, who was the maid of honor. Roberts shared the same picture in another post. 
The two were supposed to be in Paris on the night of the proposal, but it didn't happen due to COVID-19.
In her caption, Roberts expressed her pride and jubilation over the wedding and marriage. She sent Courtney and her new husband her well-wishes as they move forward together. 
TOO EXCITED
The couple couldn't resist taking more photos, smiling for the camera the day before their wedding while looking gorgeous. Courtney stunned in a white dress while posing with her then-fiancé.
Her dress was mini, unlike her large and eye-catching wedding gown. She paired it with leather heeled sandals. Laga donned a blue two-piece suit and matched it with blue shoes. 
WHEN IT ALL BEGAN
The couple announced their engagement in April 2020. Although Courtney has never been one for publicity, the announcement made headlines. 
The two were supposed to be in Paris on the night of the proposal, but it didn't happen due to COVID-19. Laga brought the ambiance home, recreating Paris with music and a live cam shot of the Eiffel tower. 
Roker had a few things to say before his daughter and future son-in-law walked down the aisle. He humorously stated that he was nervous about the weather, alluding to his profession as a weather forecaster.
He also took to Instagram to share a family picture of his wife and Leila with a loaf of banana bread. He cutely wrote in the caption that this was specifically made for the future bride and groom's wedding.
Beyond his pride towards his daughter for tying the knot, Roker has also commended Courtney for following her dreams and becoming a successful chef.  He expressed that she always paves her own path.