Kirk Franklin's Wife Flaunts Her Legs in Floral Mini Dress While He Poses in a Gucci T-Shirt
Kirk Franklin's wife, Tammy Franklin, recently shared a post on Instagram where she stunned in a purple dress and posed next to her husband. Fans gushed over the couple.
Tammy Franklin, the wife of American choir director, songwriter, and author Kirk Franklin, warmed the hearts of many after she took to Instagram to share a post recently.
The snapshot featured her posing side by side with her husband, and the duo looked like the perfect couple. Tammy glowed in a beautiful purple floral dress that ended mid-thigh.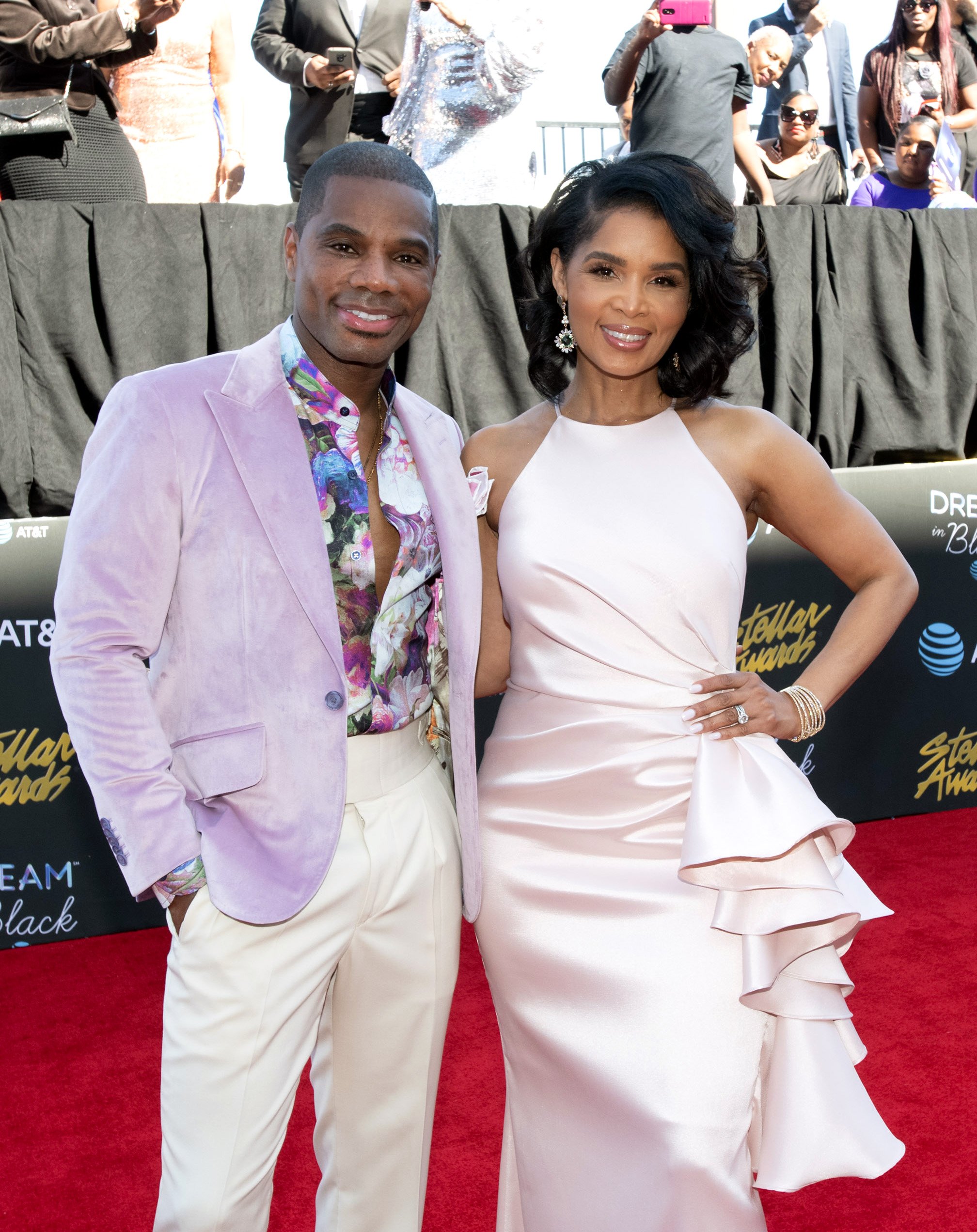 Kirk's wife's mini dress drew attention to her shapely legs, which she tucked perfectly into a pair of black wedged heels. She topped off her chic look with a plain brown hat that completed her look adequately.
Beside her, the 51-year-old looked dapper in a black Gucci T-shirt and a pair of plain brown pants. The singer accessorized with a pair of transparent glasses.
Kirk's pants were folded just enough to reveal his socks which had a similar color. The singer finished off his look with a pair of multi-colored sneakers. Tammy gave the post a caption that read:
"Baye requested wedges, but I made sure I had my flats in the car😉💕! Raise ya hand if ya man does the 🙋🏽‍♀…. Minessss says it lifts everything lol 😂🙄😂"
In the comments section, fans and followers declared their love for the couple alongside many other admirers who could not help but feel humbled by their love for one another.
[H]e shared a video where he apologized for his terrible behavior.
A user complimented Tammy's shoes, tagging them cute. Another follower revealed that the couple was a source of inspiration. Celebrities also dropped comments in utter admiration.
The husband and wife tied the knot on January 20, 1996, and celebrated 23 years of marital bliss in 2019. To commemorate the occasion, the Grammy Award-winner surprised his wife with 23 dozen roses. 
Tammy took to Instagram to share the beauty of the flowers with her fans. In the caption, the former makeup artist explained that her husband continues to blow her mind with his thoughtfulness.
The duo's marriage is blessed with two children, Kennedy and Caziah. Apart from them, Tammy is also a mother to a child named Carrington, who Kirk adopted. The choir director also fathered a son, Kerrion, in a past relationship.
The gospel singer's estranged relationship with Kerrion made headlines when a conversation between them was made public. Kirk could be heard using several expletives, which earned him multiple backlashes from fans. 
However, he shared a video where he apologized for his terrible behavior. Since then, the father and son have moved on and are enjoying their lives. 
Kirk's life became even better after he welcomed his first grandchild last year. He shared the news of his daughter's pregnancy on Instagram. The songwriter and his wife are the best grandparents their grandchild could ever ask for.