Ree Drummond Is All Smiles in a Rare Photo with Her Look-Alike Sister Betsy
Ree Drummond poses in an all-smiles beautiful photo with her look-alike sister, apologizing to her giving her a hard time, and making her carry her water up to their hike, then quitting halfway through.
Anne Marie "Ree" Drummond, star of "The Pioneer Woman," wife to Ladd Drummond and mother of four, Alex Drummond,24, Paige Drummond,22, Bryce Drummond,19, and Todd Drummond, loves being a mother and spends plenty of time with her family. 
She posted a beautiful photo of herself with her beautiful sister, Betsy Lee Smith, after coming from a hike up Berry Picker trail. She says she's sorry for carrying with her too much water, then making her sister carry it, only ten yards into the hike.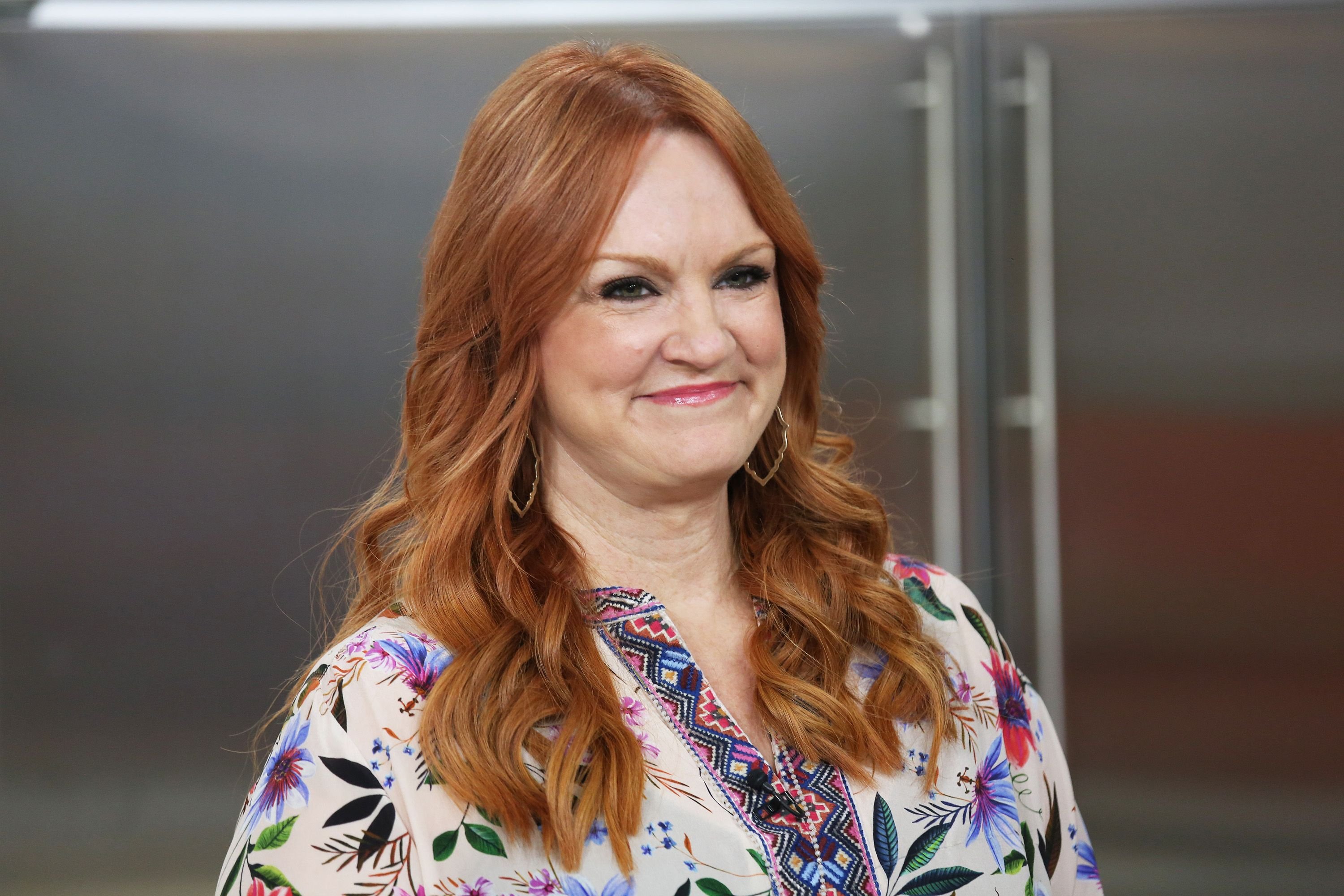 She confesses to quitting on her sister halfway through the hike and making her walk all the way back using a longer route. She, however, rewarded herself, and her sister, with delicious tacos for dinner.
In the Instagram post, alongside the beautiful photo, she warns her fans, saying that if you are looking for a partner full of adventure, endurance, and fitness, that would definitely not be her. She continued to say:
"Altitude is hard. But tacos are delicious."
The food writer loves family and she took an interview with "Perfect Woman" to discuss her sister in a segment they named Perfect Sister. The post describes her sister as a beautiful loving and caring woman.
The article included pictures of her sister with captions under them, ranging from when she was a baby up until she became a mother herself. She says as a child, she had a friend that called Smith perfect because she was always smiling.
He trained to play quarterback for his team.
The food enthusiast recently shared photos of her daughter Alex's wedding to now-husband Mauricio Scott, at the family's ranch in Oklahoma. She shared a close-up of a
kiss
the bride shared with her husband during the wedding. 
In yet another post, Drummond shared a video of Alex slow-dancing with her father in the father-daughter dance. She says she will continue to share more photos, cheekily stating:
"I couldn't wait to post one of my very favorites. All the siblings together."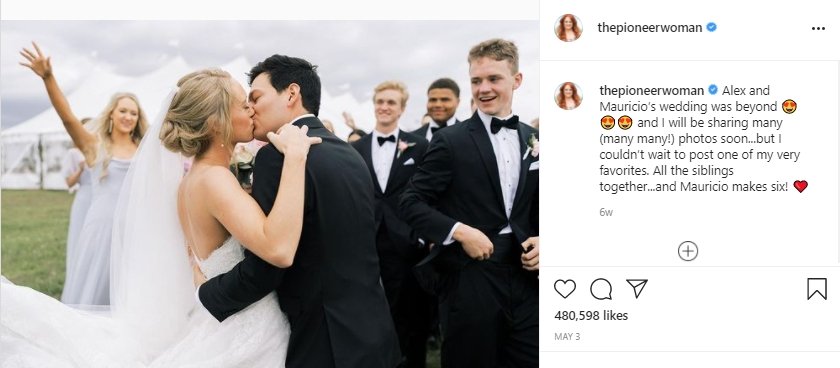 With the eldest daughter married off, we give you a peek into the other Drummond children. Paige, the second born attends the University of Arkansas. She makes appearances on her mother's social media every now and then.
Bryce, the family's third born can often be found at the ranch with his parents when he is not at college. He has shown an interest in football, which he played at his high school. He attends the University of North Texas.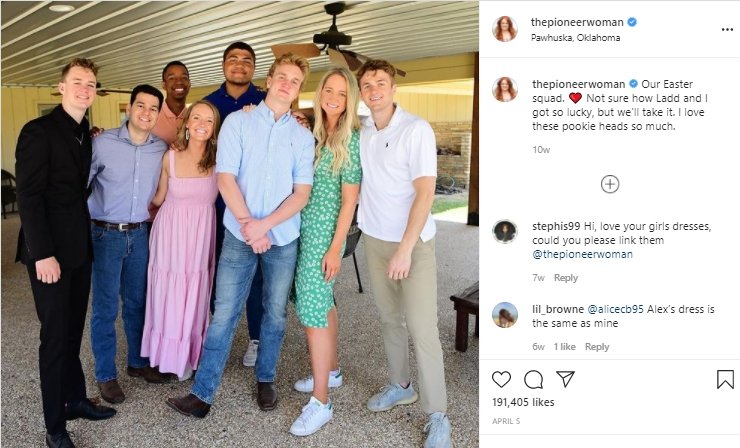 He trained to play quarterback for his team. His proud parents say that Alex and her husband Scott helped Bryce move to Dallas,  to settle down for college, as they already live there themselves. 
Not much is known about the baby of the family, Todd, who is currently 17 years old, but we hope to hear more from the family on his future. He certainly is as bright as all his siblings.