Countess of Wessex Steals Hearts in a Floral-Print Outfit & Hat with Feathers at Royal Ascot
Countess of Wessex channeled a captivating look during her appearance at the Royal Ascot. The royal had no hair out of place with her vibrant fashion sense. 
The Countess of Wessex turned heads during her attendance at the day two event of the Royal Ascot. The countess who never runs out of style ideas did not disappoint.
The photo ops taken of Sophie Helen Rhys-Jones presented her looking radiant as she opted for a floral-inspired glam. Her sunny smile matched the bright afternoon.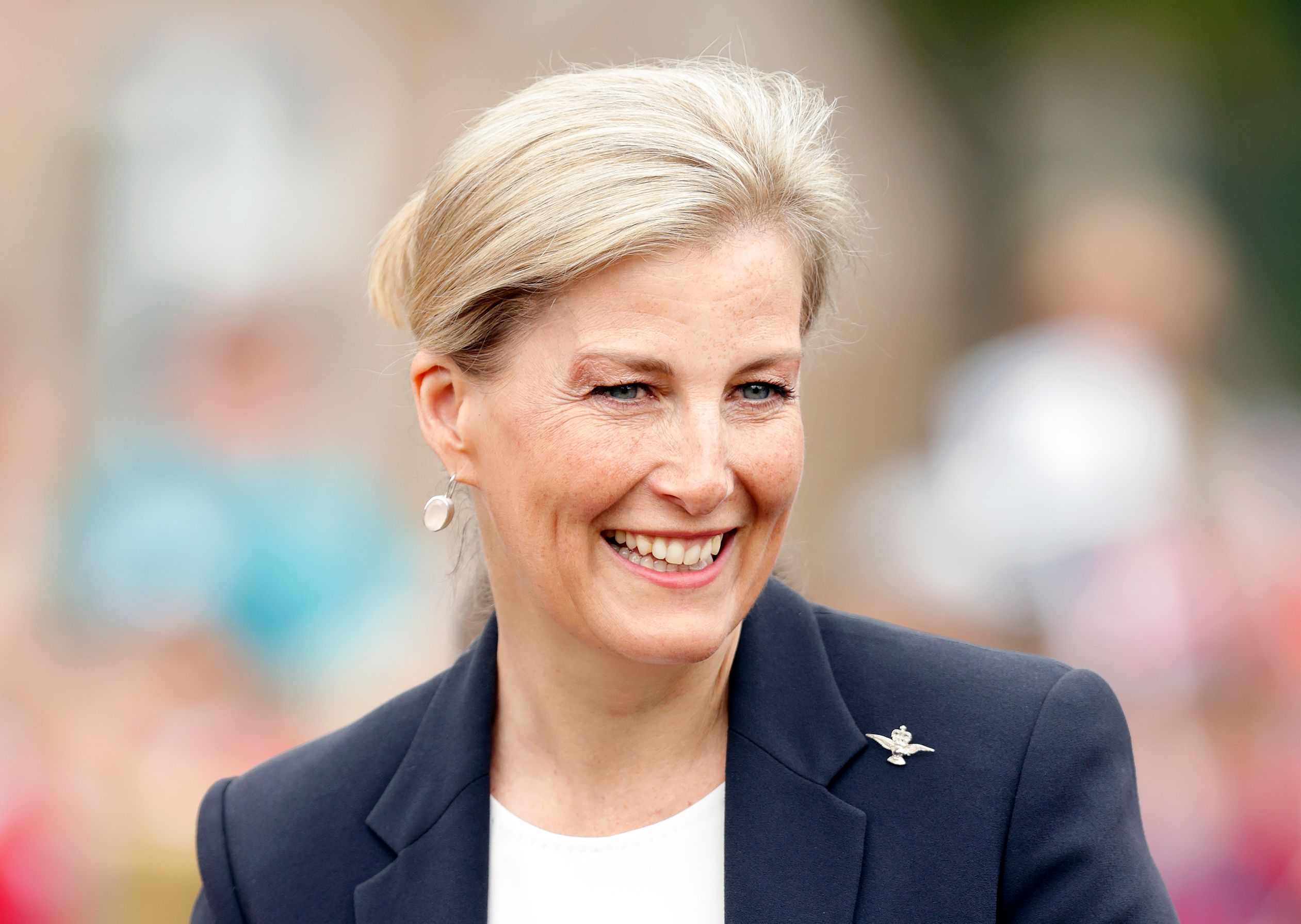 She donned a white v-neck blouse and tucked it into a wide-brimmed skirt with large lavender and purple floral patterns. The Suzannah outfit matched her statement feathery hat by Jane Taylor.
The Wessex royal clad her feet in Prada blush suede stiletto heels while keeping her glam updated with a clutch purse from Sophia Habsburg. The vee of her blouse was accentuated with a gold necklace.
As expected, the countess joins many other royals in attending functions, and most often than not, she favors style choices from Suzannah, and it is safe to say that the brand does a good job.
For decades, the Royal Ascot event has had many dignitaries showing their trends.
The Earl and Sophie Countess of Wessex arrive at #Ascot for Day 2 #Royals #RoyalFamily #SophieWessex #CountessofWessex #PrinceEdward pic.twitter.com/4shOKEQ5Hr

— Rookie (@royalfocus1) June 16, 2021
During her attendance at the 2018 racecourse on Ladies Day, the countess rocked a shirt-style dress with deep pleats on the skirt. She donned the same hat from Royal Ascot as well.
Sophie also pulled an excellent fit from Suzannah when she attended Prince Harry and Meghan Markle's wedding in 2018. Over time, the countess of Wessex has been dubbed one of the most stylish British royals.
The huge blooms on Sophie's skirt are perfect for summer #RoyalAscot 🌷 https://t.co/GEWlgRUXNu

— HELLO! Canada (@HelloCanada) June 16, 2021
And their outfits and glams have proved this through years of public appearance. The mom-of-two often opts for floral designs and soft colors, with Suzannah and Emilia Wickstead being her choicest designers. 
The countess' look for Royal Ascot was an exquisite display of elegance, and this is the theme primarily associated with the racing occasion. For decades, the Royal Ascot event has had many dignitaries showing their trends.
The Golden Age of Ascot: how race-day dressing has evolved https://t.co/zxWdLbAkR5 pic.twitter.com/URZaGMNeDL

— BazaarUK (@BazaarUK) June 21, 2018
However, there are rules bounding the racetrack occasion. One of such is that ladies in attendance should wear skirts or dresses that are knee-length and below. Every lady must also have a hat while at the affair.