Kenan Thompson's Wife Christina Flaunts Her Stunning Body in Black Swimsuit & Hat Posing on a Hammock
Kenan Thompson's younger wife, Christina Evangeline, flaunts her killer body in a black swimsuit and wide beach hat while showing off a model pose in a hammock.
Actor Kenan Thompson, 43, has been inseparable from his leading lady Christina Evangeline, 32, since 2011, after he tied the knot with her in Georgia, in an aquarium.
While Thompson thrives in the entertainment business, his wife is successful with her interior decorating career after venturing into acting and modeling for some time.
They are one of those partially private couples who never put their business out in the open, have their marriage issues under wraps, yet, still sometimes share sneak peeks of their united family.
Recently, Thompson's wife treated her 17.1k followers to a stunning image of her enjoying the cool breeze of a beach as she posed in a hammock rocking a black two-piece swimsuit and wide beach hat.
In the image shared via her Instagram story, Evangeline's closet style would not have been diva-worthy if she did not add some model flair while posing.
She rested both knees on the hammock, tilting her waist to show off her killer figure and toned abs, while a large part of her cleavage was put on display. 
The pair has always found a way to have as much fun as any happy couple, as lovers and as a family.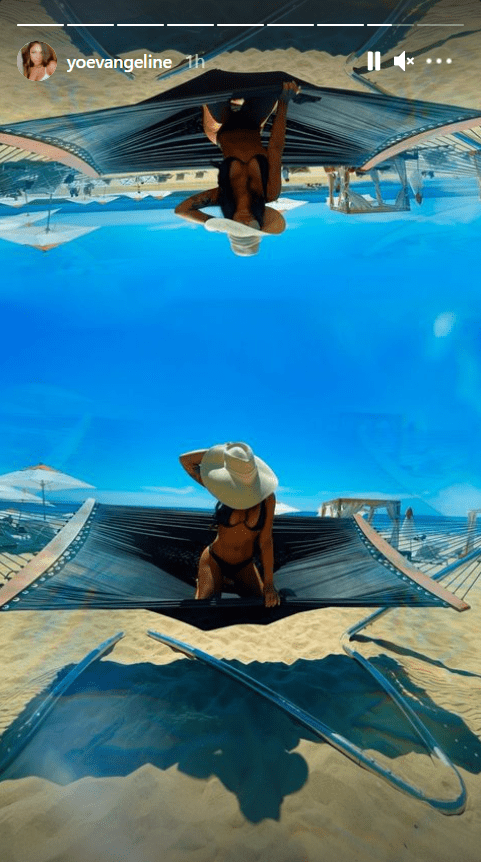 Evangeline's figure might appear fit and trimmed, but fans of the interior designer know that it is not without some work put in by the former model who already has two kids—Georgia and Gianna, with her husband.
Following the birth of their children, the first in 2014 and the youngest, four years later, Thompson confessed that adjusting to the role was somewhat tasking.
However, having two kids made him realize the need to become a responsible parent. This did not come with a glitch as the actor fit into the role perfectly. He even joked that being a dad made him less of a cool person.
Thomspon's Instagram handle does not have many photos of his family. But when he posts, the father-of-two goes all out to dote on his lovely and perfect family.
The kids are not the only ones to witness daddy's love. During an interview, the actor joked about his wife's thoughts concerning a widower role he plays on NBC's comedy show.
She did not love the idea of her husband's onscreen spouse being dead; and questioned him on why she—his real-life wife, was assumed dead in a movie role. 
The pair has always found a way to have as much fun as any happy couple, as lovers and as a family. They team up to parent their kids and share similar values even though their age difference is more than a decade apart.