Kate Hudson's Daughter Rani Rose, 2, Sings ABC Song under Mom's Piano Accompaniment
Kate Hudson had an exciting peak of her vacation to Greece with her family when her lovely daughter sang the ABC song while mum played the piano for her. 
Renowned actress Kate Hudson has been vacationing in Greece with her daughter, Rani Rose, mother, Goldie Hawn, and her mother's partner, Kurt Russel. This week, she ecstatically celebrated her daughter's prowess at singing the ABC song on Instagram.
In her caption, Hudson reminded everyone that that is exactly how the ABC song should be sung. This excited many of her fans as the video had thousands of views in a few minutes.
The comment section went into a frenzy with people congratulating the little girl on just how well she could sing. Among the first people to comment was her grandmother, Hawn. She said: 
"I have no words only inordinate amounts of love."
Other celebrities and fans also dropped their comments with most of them being smitten by the young girl's prowess in singing and how adorable the two sounded together.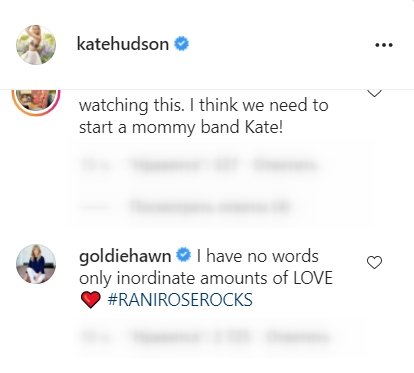 Hudson herself comes from a slightly estranged family.
This is not the first time the child has done some singing that has excited people on social media. During Hudson's 42nd birthday, she posted a video of her daughter singing happy birthday to her whilst with her father, Danny Fujikawa.
Hudson's caption on the video expressed just how she felt about her three kids. She said she could already feel the love from the text messages and video calls she got from all of her children.
The actress currently has three children from three different fathers. The youngest, Robi, is 2 years old and according to her fans, is the singer of the siblings.
She also has 2 other children: 17-year-old Ryder Robinson, from her ex Chris Robinson, and 9-year-old son Bingham with ex Matt Bellamy from the famous Musa band. 
When asked about co-parenting during an interview with "Sunday Today with Willie Geist" earlier in the year, Hudson joked and said she had multiple kids and multiple fathers. Either way, she said she was looking forward to focusing on family.
Hudson herself comes from a slightly estranged family. Her father, Bill, has not actively been in the picture since he split with their mother in 1982. In 1983, her mother met Kurt Russel and they have been together ever since.
During their podcast "Sibling Revelry" with her brother, Oliver Hudson, she expressed a keen interest in meeting her half-siblings from their father. She commented:
"We've got four siblings we don't spend any time with, and I was thinking about how everybody's getting older."
With many works in the pipeline for the Hollywood actress, her children constantly steal the show, especially the youngest of them all who many of her fans refer to as the singer.
If the fans' reaction is anything to go by, then the family singer, who has lots of fun with mummy, keeps most of them excited and glued to the screen for her next grand performance.