Savannah Chrisley Puts Her Toned Legs on Display in Tiny Blue Tie-Dye Shorts
Savannah Chrisley is flaunting beautiful photos this summer, and it is driving her fans crazy. The "Chrisley Knows Best" star just dropped her cosmetic line and is all smiles, chic and classy.
Savannah Chrisley,23, took to her Instagram to post photos of a shoot she did when launching the SASSY by Savannah cosmetic line. She had on a blue tie-dye top and matching shorts and was showing off her beautiful legs.
She also went ahead to post yet another photo in a glittery printed minidress with loose flowing sleeves and a cinched waistline. She was in full-face makeup and her signature blonde hair.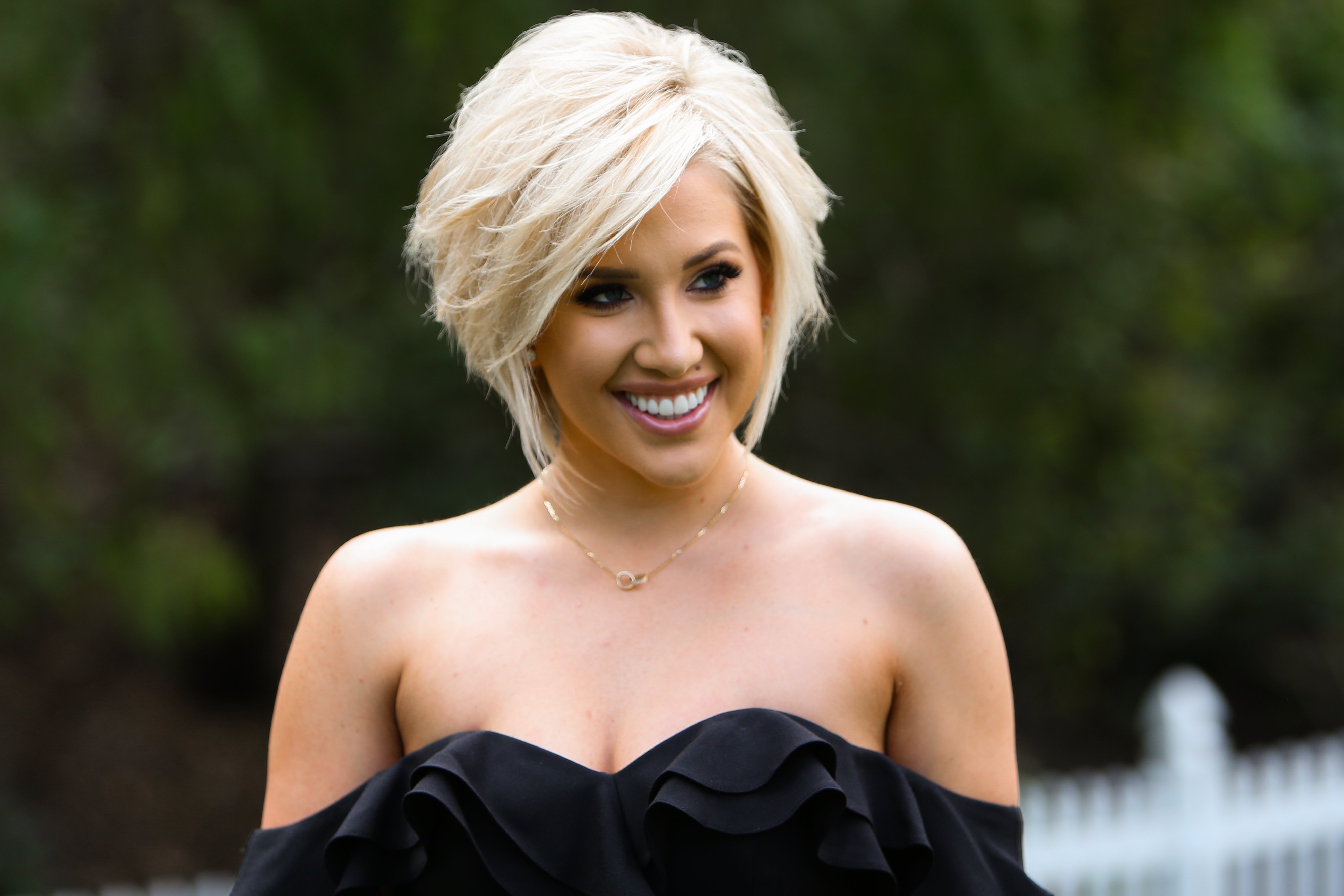 Slung on her shoulder was a beautiful Louis Vuitton bag, which fans were complaining is already sold out. She was in snazzy bracelets and a watch. The selfie followed a makeup tutorial that featured her mother, Julie Chrisley.
She was dressed to impress and announced that she was going out to dinner with her mother. She also quoted the iconic Marilyn Monroe in her caption, saying: 
"I'm very definitely a woman and I enjoy it - Marilyn Monroe."
Chrisley, fresh from a second drop from her SASSY makeup line, flaunted her body in yet another bathroom selfie with the hashtag keeping it tropical.
The 23-year-old, who fronts Body Revolution and South Beach Diet, has been working really hard at her makeup line and is giving herself a break and celebrating it as she should.
She rocked the casual look a day after announcing her pregnancy.
Chrisley wowed her fans in yet another Instagram picture for Memorial day, on the back of a yacht, in a green bikini. She flaunted her fit frame in the beautiful holiday photo.
She displayed her beautiful skin as she played around with her friends smack in the middle of the ocean. She shared a note to her fans, telling them to celebrate their bodies in whatever way and shape they come in. She wittily captioned the picture:
"How to get a beach body- Step 1: Have a body. Step 2: Go to the beach."
Chrisley and other celebrities in the music, movies, and film industries have been known to make a fashion trend go viral, and one such trend that has been spotted on many is tie-dye clothes, and it is taking Hollywood by storm. 
Kendall Jenner rocked a striped tie-dye top with olive green leggings. She was spotted coming from the gym in Beverly Hills and was in a mask and white sneakers.
Nicki Minaj also came out in casual baggy bright tie-dye sweat shorts with tie-dye drawstrings, a matching sweatshirt on her arm, and a black tie-dye T-shirt. She rocked the casual look a day after announcing her pregnancy.
Nina Dobrev, 31, was seen in a multicolor tie-dye sweatshirt matching a pair of tie-dye multicolor shorts. She accessorized the look with round sunglasses and slip-on sneakers.