Dog the Bounty Hunter's Daughter Bonnie Shows Her Curves in Black Shorts & a Matching Shirt
Bonnie Chapman, daughter of reality TV superstar, Duane Chapman, commonly known as "Dog the Bounty Hunter," recently showed off her curves in a cool matching outfit of a black shirt and shorts.
A photo on Instagram that gained attention quite quickly, excited many of the fans of both the reality TV superstar, Duane Chapman, and his daughter, Bonnie. Many could not hold back their excitement as there were thousands of likes after very few minutes.
The caption on the photo reiterated Bonnie's love for eco-friendly clothing. In it, she reminded her followers why they should always focus on outfits that are free of harsh chemicals and dyes.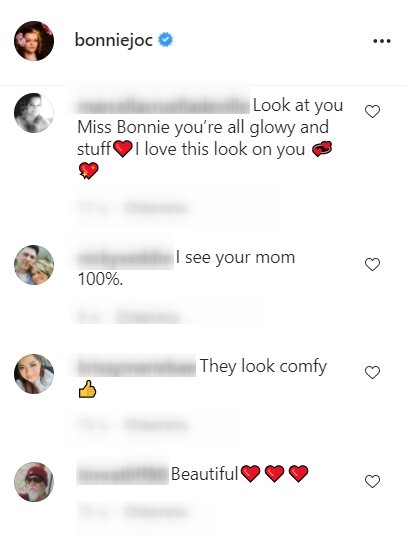 The comments came in quickly with most of her fans celebrating just how good she looked in the outfit. To add to that, the fans were smitten by how curvaceous she actually looked in the photo. 
One of the most liked comments, however, was not based on her outfit, or her curvaceous look. The fan could simply not get over her striking resemblance to her late mother, Beth. The fan commented:
"I see your mom 100%."
Bonnie is one of three kids of her father and their late mum. She has two siblings, Cecily and Garry, and a number of step-siblings. They are just 3 out of 12 children in their father's larger family.
Both Cecily and Bonnie have a close relationship with their step-siblings. They spend a lot of time together while with their father and also meet up alone quite often to spend time without the rest of the family.
Their TV superstar dad married their mum in 2006 and they were together until Beth lost her battle to cancer in 2016. When the trio met to commemorate their mother's death, they reminisced over all the good times they shared. 
11 months after their mother died, "Dog the Bounty Hunter" got engaged to his new partner, Francie. As usual, his fans had a lot of opinions on the issue, and this elicited reactions from all corners.
His daughter, however, came guns blazing in defense of her father. She pleaded with the fans to kindly respect him and his decisions. She insisted that Duane had gone through a lot and he needed some peace. She also commented:
"Please just let my father live in peace. Let him be happy, please for the love of god let him be."
Fans have expressed their interest in seeing more of her in her father's reality TV show beyond just social media.
Bonnie, who also appeared in her father's show in 2019, has a number of siblings, owing to her father's multiple marriages. He has been married 5 times and has had kids with most of his wives.
He started having kids while he was 15 years old in the 1960s and that has allowed him to have quite a large family. His fame has also spiraled some of his ex-wives and kids into the limelight with some also having their fair share of fame.
More than just her smile, or her curvaceous body, or even her striking resemblance to her mother, Bonnie has proven to her fans that she is a force to reckon beyond just her last name. 
Fans have equally expressed their interest in seeing more of her in her father's reality TV show beyond just social media. This will depend on the two but I am sure they are both looking forward to keeping their fans happy.