Sharon Osbourne Posts Double Kiss Snap with Husband Ozzy & Son Jack
Famous TV personality Sharon Osbourne shared a cute photo on her Instagram account where she was sandwiched in kisses on her cheeks by her son Jack and her husband Ozzy. 
Sharon Osbourne, who stood between the two men, Jack and Ozzy, in a recent Instagram post, captioned the video with a heart emoji followed by a two times symbol which symbolized the fact that she really felt the love.
The TV personality was all smiles in the picture as her husband held both of her shoulders. Fans felt that this was quite an intimate moment and they were excited to be right in the middle of it.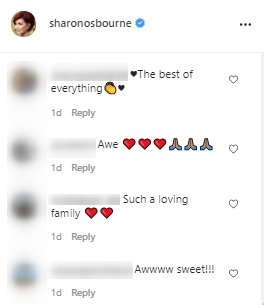 The fans were quick to congratulate the three on their ever blossoming relationship, with Jack looking dapper in a suit and tie, sporting trimmed hair and beard on the other side of the long-haired metal icon.
Many responses filled the comment section from her more than 1 million Instagram followers, most of whom were very disappointed by her unceremonious exit from "The Talk." The sweetest comment being:
"Such a loving family"
He told them that she is probably the least racist person he has ever come across. 
Mrs. Osbourne, who is also nicknamed Mrs. Os, suddenly left the CBS show, "The Talk," after a controversial episode on March 10th. The episode, which got pretty heated, was largely based on racism.
Sharon later apologized on Twitter to anyone she may have offended. In a lengthy post that she shared as a photo, she pointed out that she does not condone any form of discrimination meted against any individual.
March 12, 2021
The controversy was brought about by Sharon's defense of her longtime friend Piers Morgan who had come under criticism for allegedly making very racial comments about Meghan Markle. This sparked a very heavy argument between her and the other co-hosts.
Her exit from the show did not go well with most of her fans, however. Many individuals who watch the show and follow her on social media expressed their disappointment with her exit. The show hit an all-time low rating after her exit.
Her husband was quick to defend her amidst the occurence. On his Sirius XM show known as "Ozzy's Boneyard," the famous heavy metal singer defended his wife to his audience. He told them that she is probably the least racist person he has ever come across. 
The Osbournes have always been a tightly knit family. In all their social media accounts, it can be seen that they often spend a lot of time together. Ozzy and Sharon were married in 1982 after Ozzy ended his first marriage to his first wife Thelma Riley.
He has a total of 6 kids from all his relationships. One of the most outspoken and famous children of the two is Jack. In a recent photo he posted on Instagram while vacationing with girlfriend Aree Gearheart, children, and parents, he appreciated the family vacation by captioning:
"Vacation vibes. #summer2020"
The family has attracted lots of attention from fans through the years. In their longtime marriage, fans have been elated as they defended each other through seemingly tough times.
Even as the Sharon and the heavy metal musician, together with their kids and grandkids, go on with everyday life, their followers on social media constantly express their love and interest to know more about them.