Regina King Dazzles in a Black Fringed Versace Dress Showing Her Killer Legs in New Fashion Shoot
Award-winning actress and director Regina King looked stunning as she showed off her killer legs in a black fringed Versace dress as seen in new pictures.
Having a great sense of fashion is a plus, and knowing what works for one's body makes it easier to rock certain looks and outfits.
Award-winning actress and director Regina King was recently featured on Fashion Bomb Daily's Instagram account, where they compared her look with that of a model who rocked a black fringed Versace dress similar to hers.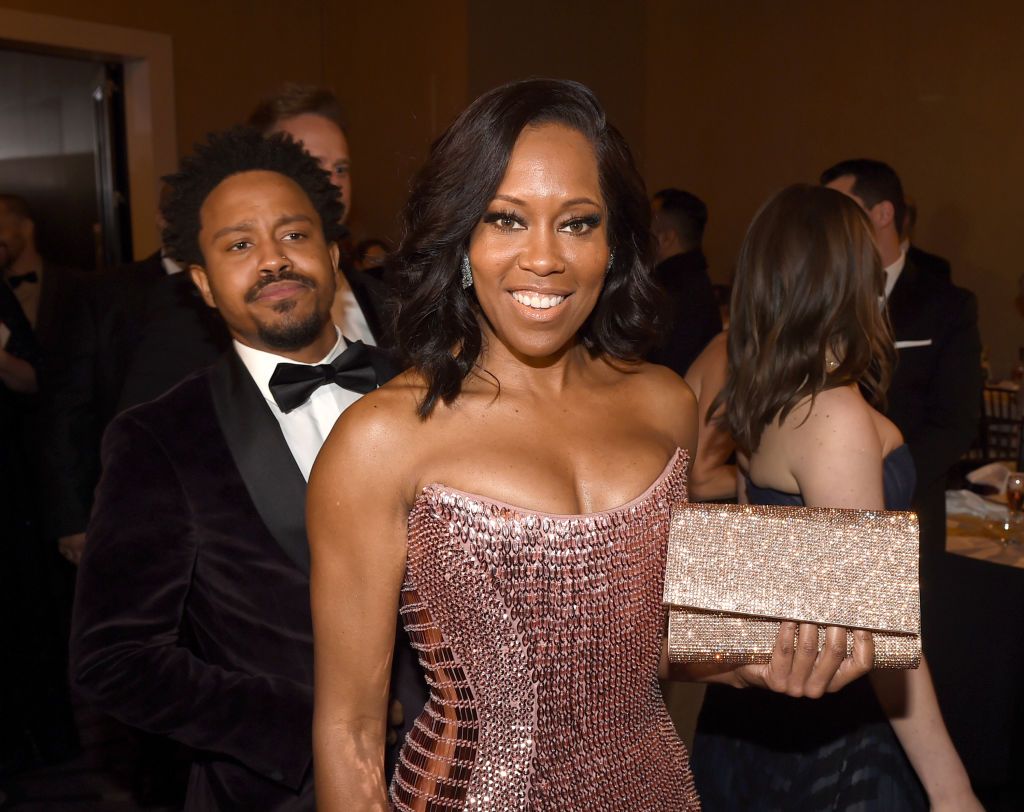 In the post, King looked regal in the black dress which reached her mid-thighs and had an off-shoulder cut that showed off her silky dark skin.
Her fit killer legs were on display and she paired the outfit with long drop earrings and her braided hair packed atop her head. The caption of the post read:
"#ReginaKing wore #Versace SS21 Couture to the 2021 #MothBall, styled by @waymanandmicah. Hot! Or Hmm...?"
The model, on the other hand, combined her dress with long black leather stockings that reached above her knees. Her hair was left to fall down the side of her face, and it reached the nape of her bust.
Many people took to the comments section to share their opinion while answering the question posed by the account. 
At the Oscars, King's directional debut movie "One Night in Miami" got her nominated for numerous categories.
Some opined that the model wore the dress better, while some said King did a better job at pulling the look. Some added that she was hot and had the right stature for the dress.
The post had over 2,000 likes and hundreds of comments from fans and fashion enthusiasts who could not help but compliment King on her bold fashion choices. Someone said:
"Love the dress!!! Both styles are PERFECT!!!🔥🔥🔥"
This is not the first time King is making a bold statement when it comes to fashion. For her Oscar 2021 attendance, she looked like a sparkling butterfly in her icy-blue gowns that took over 140 hours to make.
Work on the dress started from as far back as January, and while the designers approached it from a fashion standpoint, King was more concerned with the technicality of the dress which had over 62,000 sequins and 4,000 crystals.
At the Oscars, King's directorial debut movie "One Night in Miami" got her nominated for numerous categories that showed off her range as a great director.
For King, who believes she is more interesting now than she was at 25, the movie was a reflection of what happened to Blacks in America, and although some stories had been told, there was a need for more stories.