Fans Throw Shade at Tristan Thompson for His Tribute on Khloé Kardashian's B-Day Amid Their Split
Tristan Thompson has allegedly been disloyal to Khloé Kardashian on many occasions. No wonder her fans are throwing shade at the birthday message he dedicated to her.
Tristan Thompson took to Instagram to wish his now ex-girlfriend Khloé Kardashian a Happy Birthday. Many of her fans were unimpressed by the gesture. 
The Boston Celtics star shared three photos in a post dedicated to Kardashian's 37th orbit around the sun. The first and second were his ex-girlfriend and him, while the third included their 3-year-old daughter True.
Thompson wrote a heartfelt tribute where he expressed his love for her, but her followers didn't believe a word. One took to the comment section to express: 
"Not sure love is the word for it dawg...u walked over her very blatantly."
His caption stated that she is an excellent mother, partner and possesses a kind heart. The basketball player thanked Kardashian for being with him through thick and thin. 
Many of the Good American founder's admirers simply wanted Thompson to leave Kardashian alone. Some went further, with one referring to him as a "nightmare."
 Near the end of 2020, there were whispers that Kardashian and Thompson were engaged.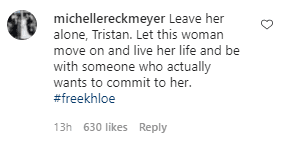 There was some positive feedback, with a few followers sending heart emojis through. However, this was far and few between, with many claiming he doesn't deserve her. 
This post follows comments from a source claiming that the duo has gone their separate ways. Around a week ago, they stated that the two:
"Are not together right now."

This purportedly occurred after the sports star was spotted with numerous women while in Los Angeles.  Another unknown individual alleged that Kardashian is incredibly disappointed in Thompson's claimed disloyalty.
Thompson has a history of being unfaithful to the mother of his now ex-girlfriend. It all began in 2018 when it was reported that he had been cheating on her while she was pregnant. 

Kylie Jenner's best friend Jordyn Woods also reportedly kissed him in 2019. However, it seemed that things were on the mend when Kardashian and Thompson purportedly got back together in August of 2020.
Hopes were even higher when near the end of 2020, there were whispers that Kardashian and Thompson were engaged. This came after she was spotted with a shiny piece of jewelry on her ring finger. 

This was seen in public when the ex-couple and their daughter True were on a family outing together. The "KUWTK" star wore a winter outfit that could easily have hidden the ring away, but it was still visible.