Tamron Hall Flaunts Ample Cleavage in Chic Dress Posing on Boat with Her Rarely-Seen Husband
Tamron Hall showed off her cleavage in a new Instagram picture with her husband Steve Greener, and fans could not help but swoon over her beauty. 
Television host Tamron Hall had heads turning in a new Instagram post that saw her donning a white floral dress with a plunging neckline revealing her cleavage.
Hall accessorized her outfit with a pair of silver hoop earrings while also sporting a big silver ring on her finger. She wore her hair in a slicked-back style, accentuating her facial features.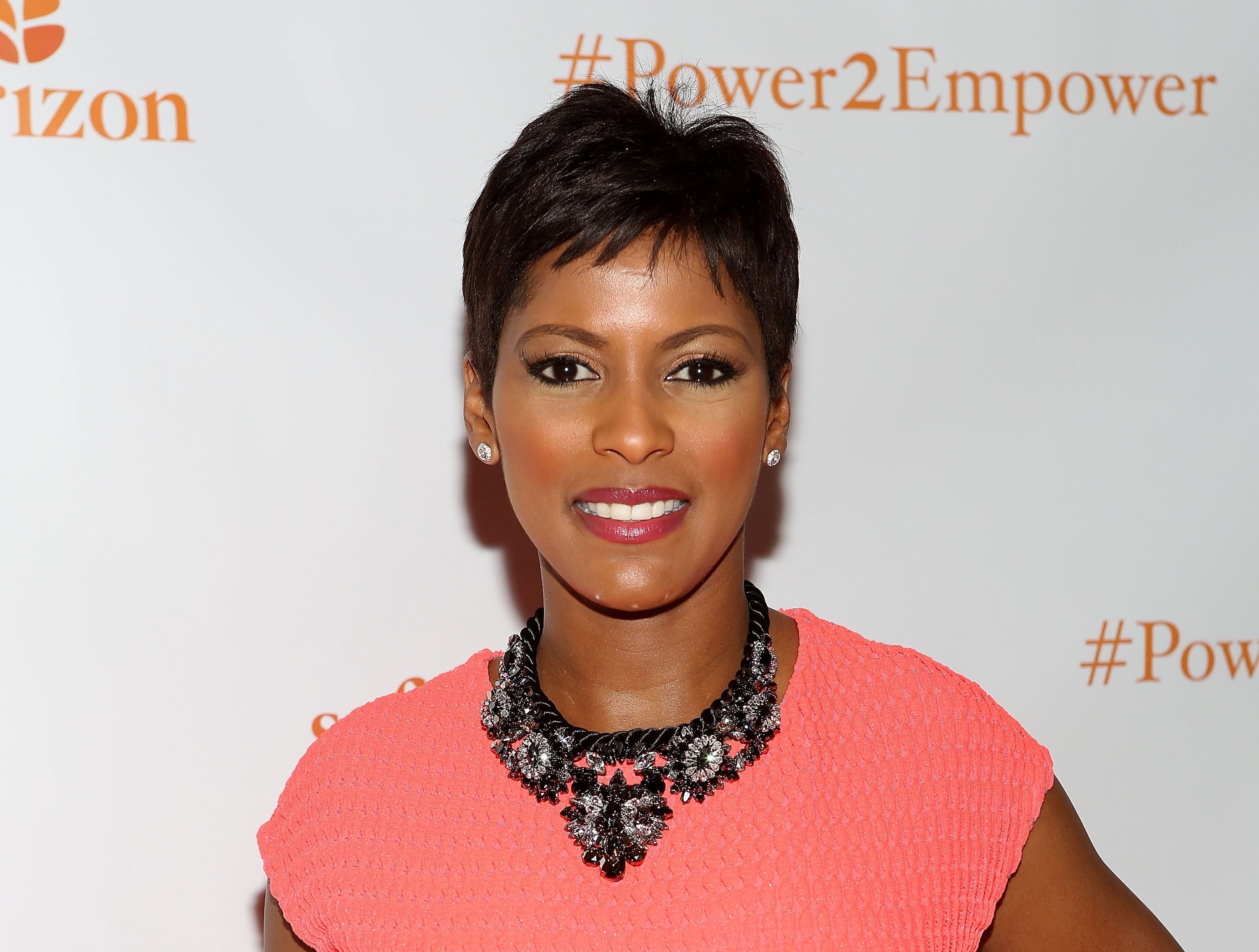 The gorgeous photo captured Hall snuggling up against her husband Steve Greener, who donned a striped polo shirt and khaki pants.
Hall accompanied the image with a caption wishing Greener a happy birthday while referencing the love and friendship between them. She sweetly wrote:
"Sharing special moments is great but sharing love, friendship and laughs means so much more...Happy Birthday Steven ❤️💋"
Expectedly, the snapshot garnered reactions from several of Hall's fans who took to the comments section, gushing about how adorable the couple looked.
The television personality has also said of her interracial marriage that her favorite part is realizing she is exactly where she ought to be.
One user called Greener the luckiest man in the world, while another called the couple beautiful and blessed. Many others simply wished him a happy birthday.
Hall's latest post is not the first time she is showing off her love for Greener in recent times, as it comes only a few months after she paid a Valentine's Day tribute to him.
Taking to Instagram, Hall shared a throwback picture of herself and Greener, accompanied by a caption thanking her husband for their years together. She wrote:
"Happy Valentine's day to you ... The ride is always unpredictable but the person next to you can help make the bumps easier to take."
Greener and Hall reportedly first met in 2013 and continued bumping into each other for many years. They eventually started dating in 2017 and got married two years later.
Since getting married, it is not uncommon to find Hall and Greener giving a glimpse into their marriage and gushing about each other in interviews.
Hall once described her husband as her deepest and greatest love, while Greener has also described his wife as the most authentic and loving person he knows.
The television personality has also said of her interracial marriage that her favorite part is realizing she is exactly where she ought to be.
But while Hall and Greener are not afraid to let the world know just how much they mean to each other, the couple has also managed to keep their marriage out of the spotlight.
The television personality explained that she chose to keep details of her personal life private to protect her husband and their relationship.
After announcing in March 2019 that she and Greener had secretly tied the knot, Hall also revealed that they were expecting their first child together.
About a month later, Greener and Hall welcomed their first child Moses in April 2019, and ever since, the pair have enjoyed nothing more than raising the tot.
While parenthood has been blissful for Hall, the same cannot be said of her pregnancy which doctors described as high risk, seeing that she was already in her late forties at the time.
But despite the difficult pregnancy, Hall has shown interest in having more kids. Six months after welcoming Moses, the television personality revealed she was considering having her second baby via surrogacy.
Hall admitted to this during an episode of her show, sharing that people had been asking if she and Greener planned to have another baby.
Though the Greeners are still a family of three, it will come as no surprise if, sometime in the future, Hall and her husband have many more babies.