Ne-Yo's Ex Monyetta Shaw Congratulates Him & Wife Crystal Smith with Adorable Baby Presents for Their New Daughter
Actress Monyetta Shaw congratulated her ex-boyfriend, R&B singer Ne-Yo, on the birth of his third child with his wife, Crystal Smith. She also sent their newborn baby adorable gifts. 
Actress Monyetta Shaw sent a heartfelt congratulations message to her ex-boyfriend, R&B singer Ne-Yo, after he welcomed his newborn daughter, Isabella Rose, with his wife, Crystal Smith. 
Shaw, who is also an entrepreneur, shared two photos on Instagram Story expressing her love for the couple. The first snap showed Smith showing her baby to her stepsiblings Madilyn and Mason.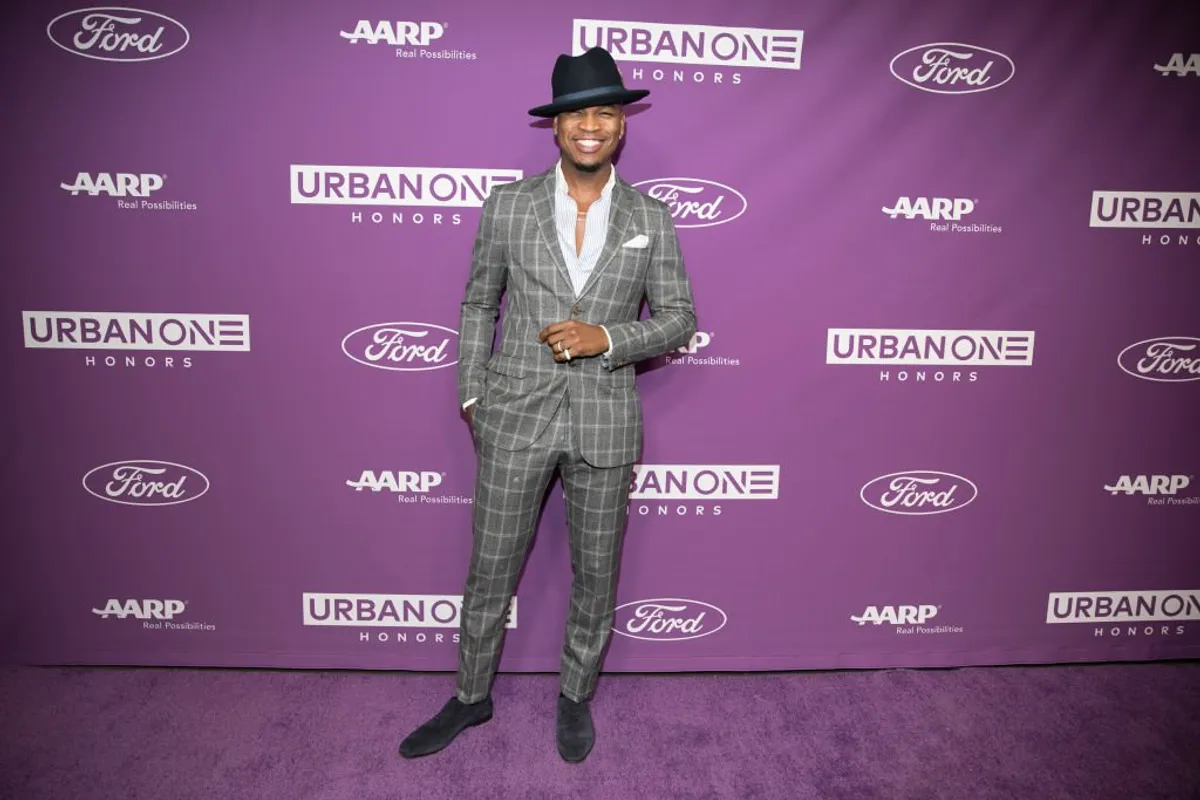 Madilyn, 10, and nine-year-old Mason, are Shaw and Ne-Yo's children together. Their children gave a look of amazement when they saw their little stepsister, who was born on June 25. Shaw wrote:
"Beautiful baby Bella." 
The 38-year-old "Atlanta Exes" star gushed about the couple's adorable baby, who was wrapped in a pink blanket. She also described Ne-Yo's daughter as one of the family's "blessings." 
Shaw and her children did not only send warm messages for Ne-Yo and Smith; they also sent cute gifts for Isabella. She re-shared Smith's picture of a monkey stuffed toy and bouquet of roses. 
Smith thanked the trio for their sweet gestures, writing a message accompanied with a rose and heart images. Shaw posted a "You're Welcome" note below her lovely photo.
Having Isabella makes Smith a mother for the third time. Besides her daughter, the former vixen shares two beautiful children with the "So Sick" crooner - Roman, 3, and five-year-old Shaffer Jr.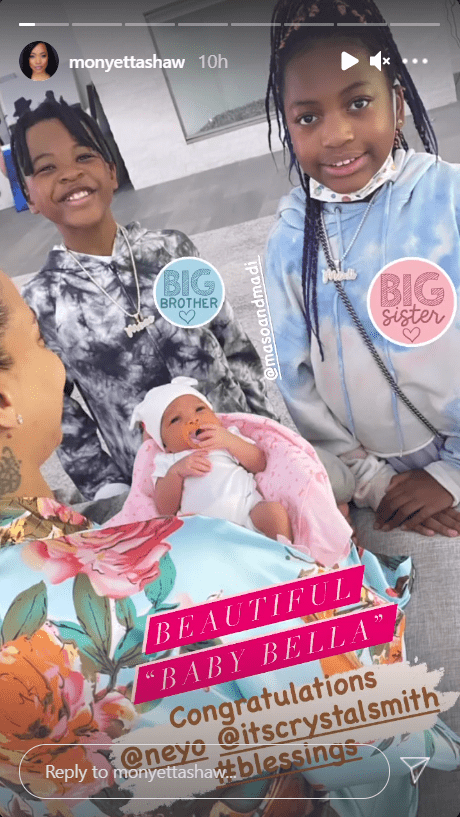 Fans have admired Shaw's seamless relationship with the "Miss Independent" singer. Co-parenting peacefully was made possible through some strategies they created. 
She said sharing parental responsibilities with Ne-Yo improved during the pandemic because the 41-year-old doting dad would spend the weekend with their kids after the latter's virtual schooling at home.
According to Shaw, Madilyn and Mason loved how they were able to bond with their dad.  The "Soul Men" actress noted that these challenging times had been a blessing in disguise.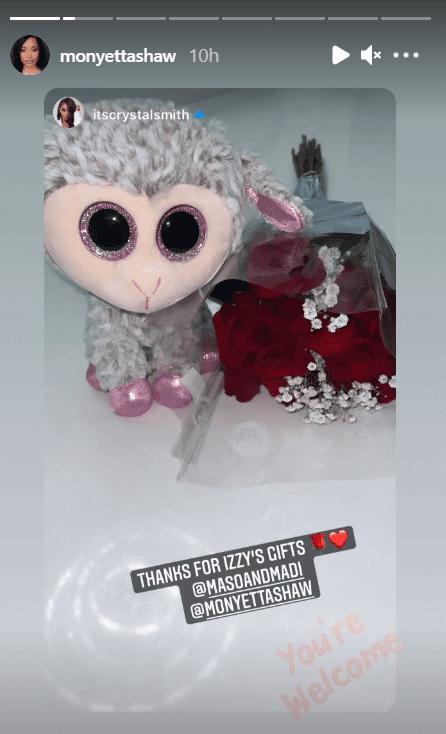 Ne-Yo and the "Video Girl" actress broke up in 2013. They have now managed to maintain an amicable relationship, but the former couple faced controversies while they were still together.
She even had her fallopian tubes tied, a decision she made with Ne-Yo, whom she thought would also have a vasectomy.
Observant fans found reasons why the couple, who were engaged and set to marry at that time, split up. Shaw did not seem to have caused the separation.
Ne-Yo revealed he was not ready to make a lifetime commitment. He also confessed about his unfaithfulness; the singer-songwriter decided to end the relationship because he does not want to lie anymore. 
The former couple's split left Shaw hurt and devastated, considering that they were about to tie the knot. Her dreams of having a long-lasting marriage were shattered.
She even had her fallopian tubes tied, a decision she made with Ne-Yo, whom she thought would also have a vasectomy. They decided that having two kids was enough for them.
In 2014, Shaw learned that Ne-Yo dated Smith and even welcomed their first child. She regretted her decision to tie her tubes since she cannot have children anymore. 
Shaw has since moved forward with her life and has found joy in raising her children. She is happily engaged with her fiancé, Heath Carter, a businessman.
Ne-Yo has been married to Smith since 2016 and they separated in early 2020. Although they filed for divorce, the pair rekindled their relationship amid the lockdown late last year.