Twitter Users React to Harry & William's Reunion at Princess Diana's Statue Unveiling
Prince William and his younger brother Prince Harry reunited recently for their late mother, Princess Diana's statue unveiling ceremony in England on July 1. 
Twitter users reacted to Prince Harry and Prince William's reunion at Princess Diana's unveiling. The Cambridges shared the auspicious moment of the siblings looking at the statue.
"Today, on what would have been our Mother's 60th birthday, we remember her love, strength, and character – qualities that made her a force for good around the world, changing countless lives for the better," they tweeted.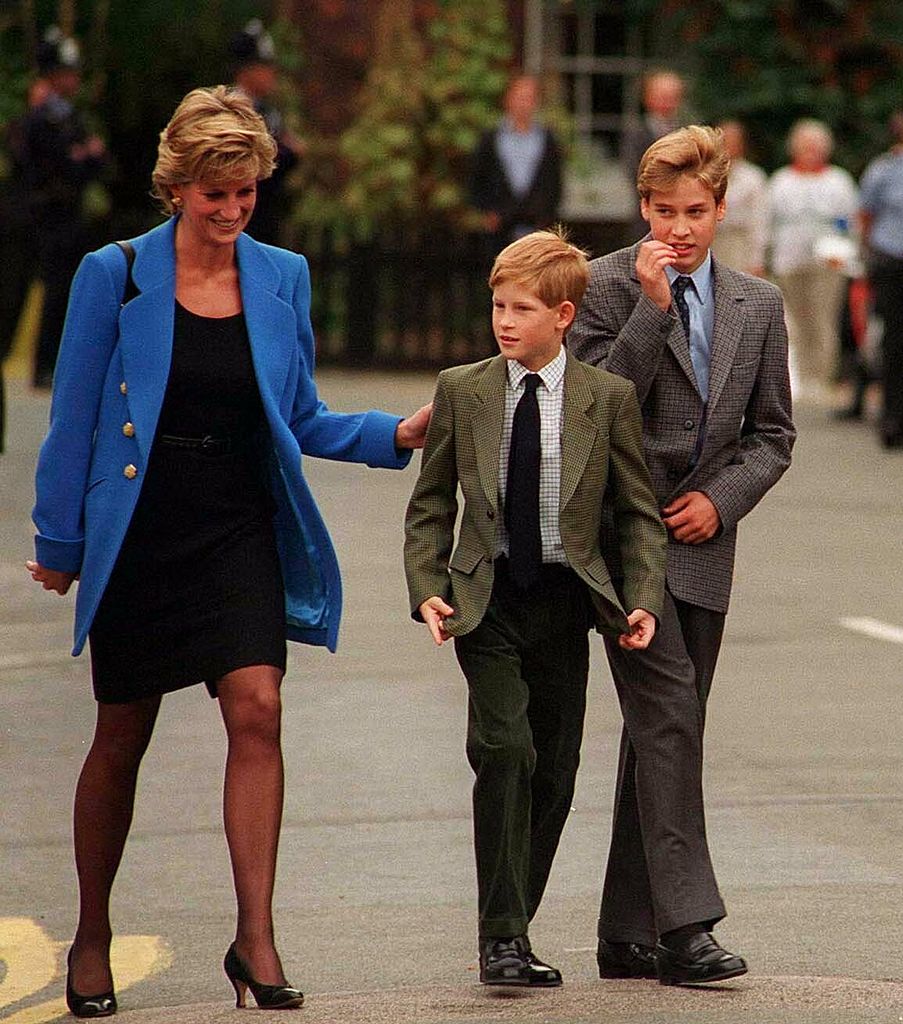 Twitter users took to the comments section to commend the royal siblings on their reunion to remember their mother. "What a moving moment. I love Diana and William and Harry. God bless them and their families," said one user.
One person retweeted, "Sooo beautiful! I am here for William and Harry to be close brothers again. Period." A third said the princess would have been proud of "you two boys and the children."
Another royal fan shared that he hopes Prince Harry and Prince William can put their differences aside and become close again.
Today, on what would have been our Mother's 60th birthday, we remember her love, strength and character – qualities that made her a force for good around the world, changing countless lives for the better. pic.twitter.com/jsZXyUsG7q

— The Duke and Duchess of Cambridge (@KensingtonRoyal) July 1, 2021
One fan said it was a marvelous tribute to their mom and added wherever she is, she must be proud of them. "May her spiritual energy bring William and Harry emotional healing," said one user.
One other person said the siblings would resolve their problems whenever they want to and not because people want them to. Another praised Prince William while bringing down Prince Harry in the process.
Marvellous tribute to your mother. I'm sure wherever she is, no doubt she's proud of you, her eldest son who becomes a happy married man with three amazing children and how you are taking seriously your duties. You've got our back! Bless you Prince William ❤️

— Lady Ingrid (@LadyIngrid_123) July 1, 2021
"We are stuck with each other for the rest of our lives," that's what the Duke of Sussex said in 2018 when asked about his relationship with Prince William. 
However, since then, many things have affected their relationship, and they may be brothers by blood, but they are currently divided.
Although they put up a united front for their mother's unveiling, the pair's relationship is broken. Sources revealed communications have been minimal – with deep upset and mistrust on both sides.
May her spiritual energy bring prince William and Harry emotional healing. As beautiful as this statue is you can almost see the sadness in her eyes for her sons. #williamandharrybrosforever #DianaStatue #PrinceHarry #PrincessDiana #PrinceWilliam #4giveness #PrincessOfWales

— Design and Dine Catering (@designdinecater) July 1, 2021
The princes set aside their differences to unveil a statue as a permanent memorial to their mother on what would have been her 60th birthday and declared: "Every day, we wish she were still with us."
The royal siblings were pictured shoulder-to-shoulder before revealing a statue created in the Princess of Wales' honor by Ian Rank-Broadley and placed in the remodeled Sunken Garden, a place of solace and safety for her before she died in 1997.
While Prince Harry appeared rather joyful at the ceremony, Prince William was far more serious as they barely spoke to each other after 18 months.
For those who say that Harry is happier to be in London than LA with his wife and two children, you are wrong. W and H will solve their problems when they want, not when the crowd wants.
They have différents preoccupations and destines.

— fay (@fay_faiiii) July 1, 2021
The pair previously reconnected at their grandfather Prince Philip's funeral in April. Since then, the Duke of Sussex and his wife Meghan Markle have welcomed their second child, daughter Lilibet Diana.
With the latest addition to the Royal Family, the brothers are attempting to reconcile. "They didn't mend the bond at the funeral. But since the baby, they want to move forward," said an insider while noting:
"Both brothers are ready to move past the rift and have a good relationship again."
Well done William - you carried yourself like a king poor Harry with his usa belly couldn't even button up - but still at least that is done relatively peaceably - no woman from usa trying to do her oneupmanship - as yet!

— zero (@ZeroRKD) July 1, 2021
However, a royal expert, Angela Levin, believes otherwise and has claimed Princess Diana's statue could drive feuding siblings further apart.
Levin suggested the event could cause further heartache for the brothers, with Prince Harry trying to "take ownership of his mother's legacy" with his recent behavior.
However, Paul Burrell, 62, begs to differ and has said Kate Middleton will play as "peacekeeper and "holds the key" in bringing the princes together for their mother's unveiling.
The former butler added that if the pair are not unable to reconcile on the "poignant day," then they "never will." Prince Harry has flown to England from his home in California to mark his mother's birthday.
The Duke joined his brother at the Sunken Garden at Kensington Palace for the ceremony. The garden has been redesigned with Princess Diana in mind.
Over 4,000 new flowers have been planted in the garden, including 100 forget-me-nots, her favorite bloom. The redesign began in October 2019, with five gardeners working for a total of 1,000 hours.  
A source told the Guardian that today's statue unveiling was a small event and a very personal moment for the Royal Family, with plans downsized because of the ongoing pandemic.