Chase, Savannah Chrisley & More React as Actor Daniel Mickelson Dies at 23
Model Meredith Mickelson took to her Instagram page to share the shocking news of her brother, Daniel Mickelson's death at 23. This led to an outpouring of reactions from Savannah Chrisley and other stars.
Although he has not featured in many movies and showcased his talent, 23-year-old Daniel Mickelson is considered a rising star in Hollywood, with many anticipating great things for him.
Such hopes were quickly turned to grief and sadness after his sister and model Meredith Mickelson took to her Instagram to share the shocking news of her brother's death.
DANIEL MICKELSON DIES AT 23
In her post, Meredith shared a lovely childhood photo of her and her brother alongside a touching tribute which she wrote as the caption. She expressed her shock and sadness, noting that she was heartbroken by the loss. She said:
"There wasn't a person i loved more on this earth. theres no words that can do him justice that i could write."
She called Daniel her best friend and another half of her heart, expressing her love for her late brother. Meredith described him as the happiest and most cheerful person she knew, noting how proud she was to have been his sister.
STARS REACT
Shortly after the post was shared, many other celebrities joined Meredith's fans in consoling the model and sending their love and prayers to the grieving family.
Jordyn Woods wrote, "Praying for you" and "Cosmetic" star Savannah Chrisley sent her love to Meredith in her comment on the post writing,
"I love you guys. Daniel had one of the BEST hearts….. Praying so hard for you guys."
Her brother Chase Chrisley also penned down his condolence to the grieving model. Taking to the post's comment section, he noted that he was praying for Daniel's sister, Meredith.
Prior to his death, Daniel reportedly had a girlfriend, Maddie Haley, a student nurse at Auburn University.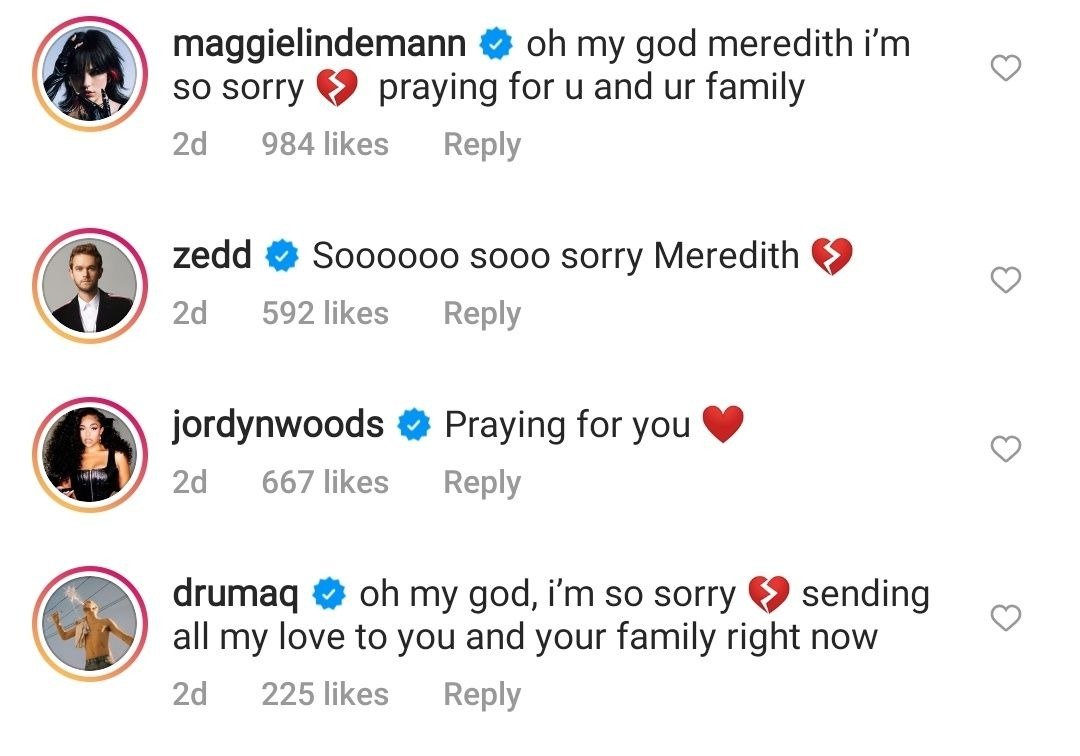 Kaia Gerber joined the other stars to pay tribute to her friend Daniel in an Instagram Story message. In her message, she recalled the lovely times they shared and ended her post expressing her love for the late 23-year-old.
Paris Hilton described the late actor as a light in a post she made on her Instagram Stories. Actor Patrick Schwarzenegger and Lottie Moss, Kate Moss's sister, were among those to send their love to Daniel and his family.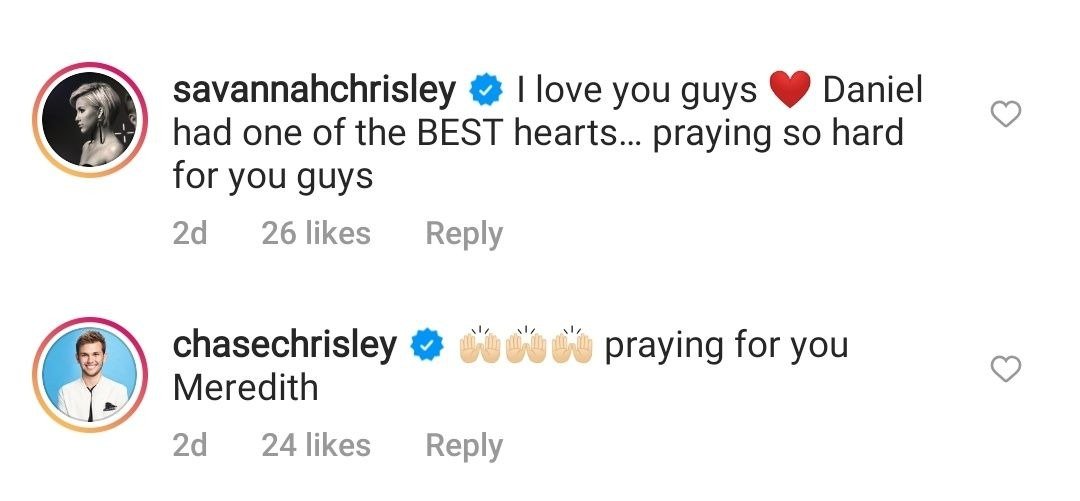 DANIEL WAS TALENTED AND HOPEFUL
Daniel Mickelson was a budding talented actor who only appeared in the 2019 film "The Killer Clown Meets the Candy Man" and the series "Mani." Still, his genius was already visible to his fans and others in the industry.
Aside from acting, Daniel also branched into the fashion world and is reportedly the brand owner, Kids Back Home, which he said he hoped would help spread good vibes around.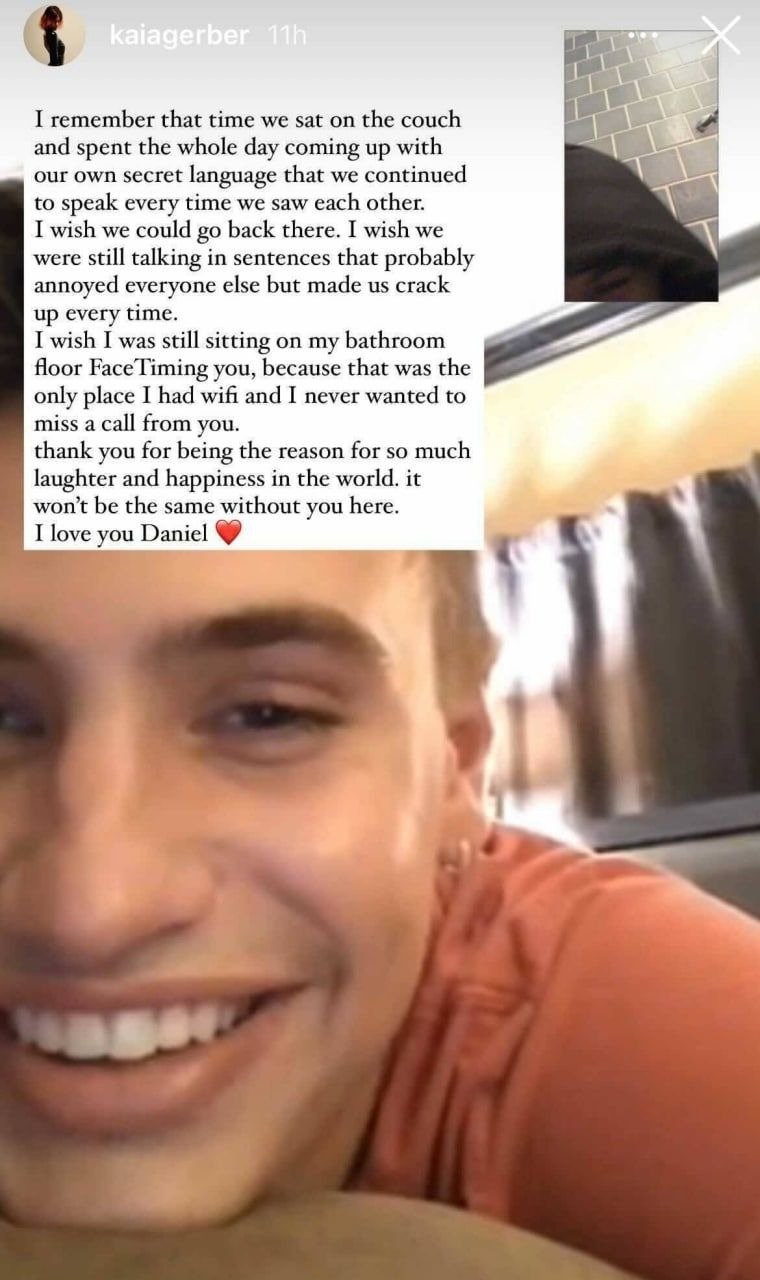 He assured fans of his new brand in a post, stating that it would make them comfortable and ensure they look good. His sister Meredith helped model the first run of outfits for the brand.
Before his death, Daniel reportedly had a girlfriend, Maddie Haley, a student nurse at Auburn University. He often featured pictures from their moment together on his Instagram, gushing over his love for her.
While the news of his death is both painful and shocking to his fans and friends, the cause of his death remains unknown at the moment. Fans are still waiting for further details from his family about the cause of his early demise.