Chrisleys' Fans Debate Possibility of Chase Proposing to Girlfriend Emmy after Ring Is Displayed
Fans were elated when Chase Chrisley displayed a ring on an episode of "Growing Up Chrisley."  Was Chase finally proposing to his girlfriend Medders?
Chase Chrisley is the younger brother to Savannah Chrisley and her co-actor in the family reality show "Chrisley Knows Best" and its spinoff "Growing Up Chrisley." Fans of the shows often follow up on the lives of their favorite actors, curious to know what goes on in their lives.
When the actor posted a clip of the all-new episodes of "Growing up Chrisley," showing an engagement ring he had purchased to his mom, fans were excited, hoping that Chase would be proposing to Medders.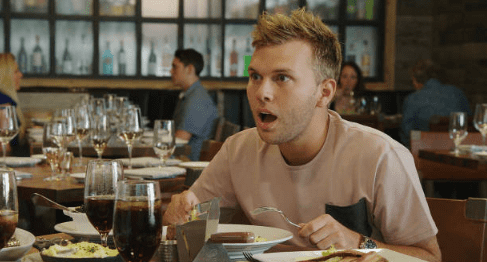 One fan wrote an emotional message saying how perfect it was that Chase was finally getting engaged to Medders, adding that she was indeed his perfect lady. Fans were also hopeful that Savannah could be getting back with Nick.
Another fan could not wait to express just how invested she was in Chase and Medders's union. One fan confessed that she was really waiting for the show to air saying:
"Can't wait! I only pay cable so I can watch you guys!"
Not everyone was excited about the impending engagement, as another fan commented, hoping that Chase had not really proposed to Medders and asking him to take things slow to avoid ending up like Savannah and Nick, who had called off their engagement.
The fan asked them to get to know each other first before they could decide to get engaged. Others expressed just how eagerly they were waiting for the new episodes.
 She, however, hoped that it was just a little fight.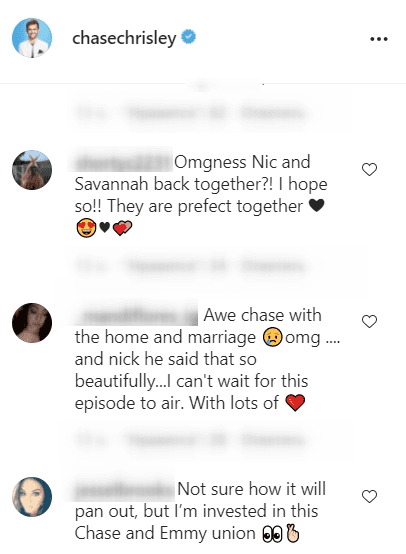 Fans were ecstatic when they heard that there was a Chrisley wedding and could not help but wonder who of the Chrisley siblings exchanged nuptials. Some thought it would have been Chase, following their engagement rumors.
It later came to be discovered that Kyle Chrisley had said "I do" to his girlfriend Ashleigh Nelson in a secret wedding on March 29, where they obtained a marriage license. In an Instagram post, Kyle wrote about his new wife:
"So thankful for you."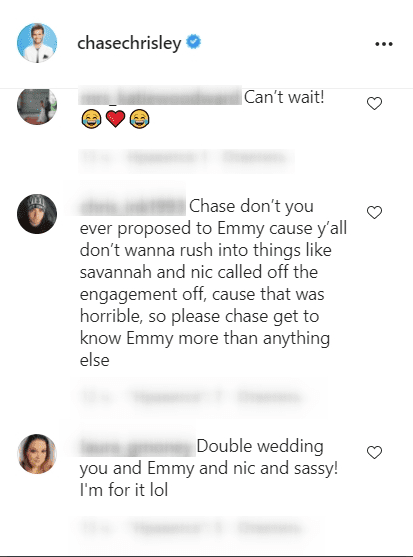 The two then secretly wed at St. Augustine and without any witnesses. They, however, had an after-celebration where Kyle invited his father, Todd.
Towards the end of April, a fan of the Chrisley Knows Best Unite page on Facebook wrote on the comment section, saying that she thought the young couple had broken up.
She said that Chase and Medder had split, adding that the two lovebirds had deleted pictures of them together off of Instagram, and they no longer followed each other. She, however, hoped that it was just a little fight.
It wouldn't be the first breakup for Chase. In an episode of the show, the actor opens up about his split from his first girlfriend, Brooke Noury, to his mom and dad, Julie and Todd. He says that he had been heartbroken over the breakup.
Asked why they split, he says that things did not work out. His dad would later reveal to Chase that he was pleased with the breakup as no one in the family liked Noury.
In 2019, Chase was quite open about dating Lindsay Merrick, and just when their fans were anxious to know what he'd be posting for Valentine's Day, Chase posted a photo making a tribute to himself and saying that he would be buying himself a great gift.
He also posted a beautiful pic of a heart stuck on a card from his niece Chloe, Kyle's daughter. Fans probed further into the alleged breakup, saying that all photos of the couple together had been taken off Instagram.
Some said they probably did not want to announce their breakup, as Merrick was set to appear on the show. At the time, Chase had already unfollowed Merrick, even though his family still followed her on Instagram.