Tamela Mann Flaunts Slimmer Hourglass Figure in Tight Black Velour Dress with Long Trail in Stunning New Photo
Recently, singer Tamela Mann has constantly flaunted her slimmer figure on social media. Yesterday, the star left her Instagram fans speechless after sharing a snapshot of herself, and it was all shades of beautiful.
The 55-year-old singer Tamela Mann is one of America's best in gospel music. While the singer who doubles as an actress has made waves and inspired people with her incredible voice, she has also motivated her lovers with her amazing weight loss journey.
While others struggle to maintain a healthy lifestyle by keeping fit and losing weight, the gospel artist has been on a rollercoaster ride of fitness, constantly showing off body goals on social media. Let us take a look at Tamela's recent Instagram post.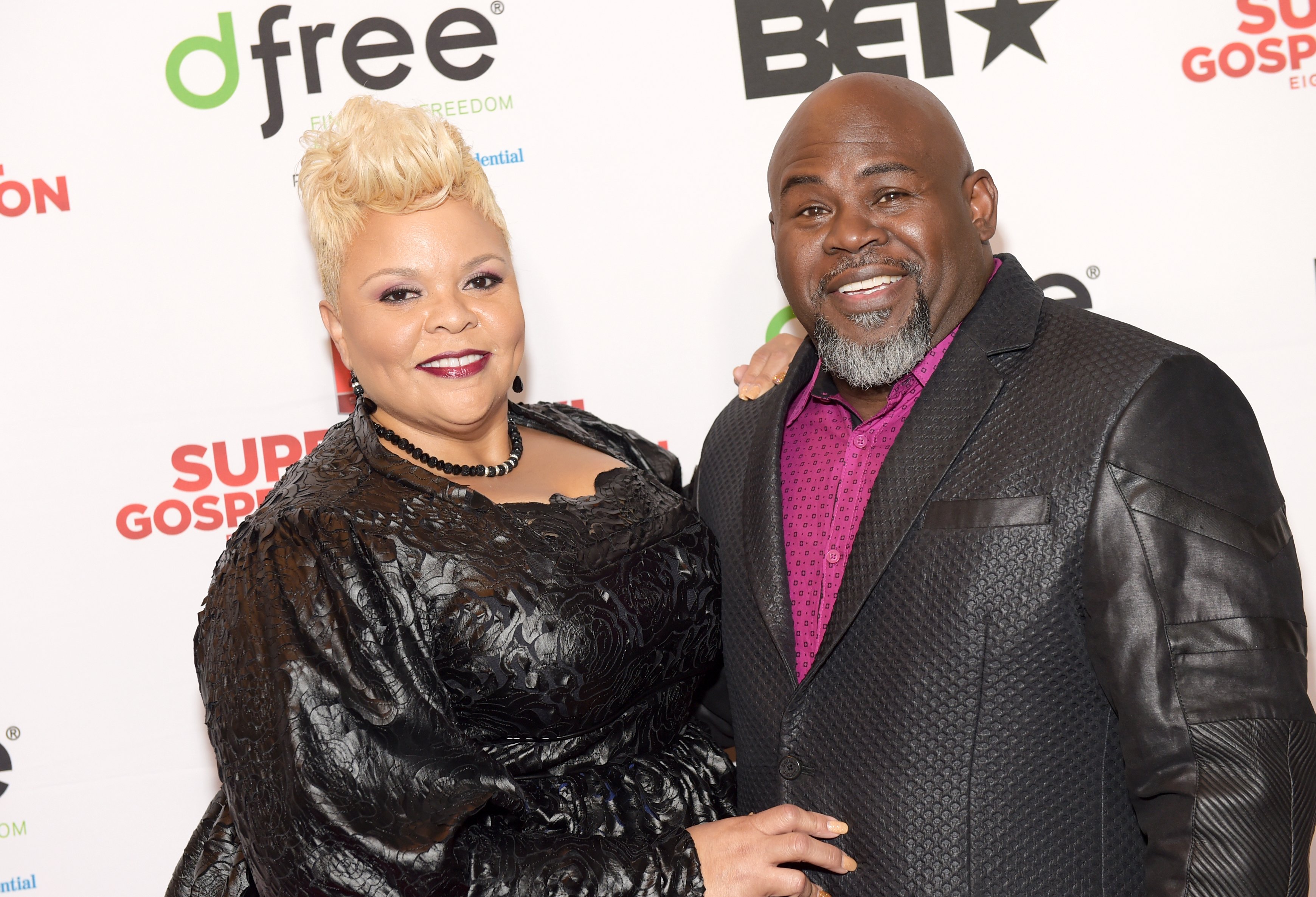 TAMELA MANN LOOKS GORGEOUS 
Yesterday, the mother of two took to her Instagram page to update her fans with a picture of her look for the 2021 Stella Awards. In the photo, Tamela rocked a beautiful Velour tight black dress, which accentuated her curvy physique.
The dress had a lovely design at the shoulder region with a long tail, which was beautifully spread on the floor. Tamela looked breathtaking in her long black hair and sported stunning makeup, which added elegance to the look.
Tamela posed in a hallway with one hand on her waist, revealing her polished white nails and looking at the camera fiercely yet stunningly. The excellent snapshot was accompanied by a caption that read:
"Ended the night in this BEAUTIFUL dress🖤." 
The icon also gave credit to the amazing people responsible for her gorgeous look. In the comments section, several fans serenaded their favorite with words of admiration. A user noted that Tamela looked stunning, while another said the singer radiated God's light even in a black outfit.
INCREDIBLE WEIGHT LOSS JOURNEY 
It is a fact that losing weight requires tremendous sacrifices and dedication. From cutting down on food intake to consistent workout routines, the processes involved in dropping a few pounds can be quite rigorous.
Over time, Tamela has been commended for her good looks and slimmer body, but many are unaware of the songstress' incredible transformation journey. Here is some information on how Tamela achieved her body goals. 
In April 2019, the actress joined celebrities like Oprah Winfrey and Kate Hudson in becoming an ambassador for the "Weight Watchers" community. 
Some months after participating in the community's weight loss program, the award-winning singer revealed via Instagram that she had shed severe weight.
In a chat with WW, Tamela explained that she had learned to portion her meals appropriately. For example, according to the "Meet The Browns" star, whenever she ate turkey sandwiches, she would cut them in half to make them two meals.
The celebrity also stated that she ate eggs without cheese and consumed a higher quantity of fruits. In an episode of the "Yes, Girl!" podcast, Tamela made it known that joining the "WW" community as an ambassador transformed her health for the better.
Tamela's determination to lose some pounds saw her through intense challenges, including her knee replacement surgery. Even though physical activity was a problem during her recovery phase, the singer focused on her nutrition and mental health, which eventually turned out great.
A LOVING HUSBAND 
Most times, achieving a goal could seem like an impossible task; however, with a bit of a push and words of encouragement from loved ones, the sky might be the starting point.
Tamela's weight loss journey cannot be complete without including the support and encouragement of her husband, David Mann. The 55-year-old once thanked God for her amazing husband. 
She added that David loved her at her heaviest— around 365 pounds, and was also interested in joining her on her journey. For the loving husband, seeing his wife focused and dedicated to achieving her goal made him super proud.
TAMELA'S ACHIEVEMENTS 
Tamela is all about body positivity and self-confidence. The star owns a successful clothing business called "Tamela Mann Collection," which specializes in outfits for plus-sized women. 
While preaching positivity with her clothing line, the star also continues to release fantastic music. Three days ago, Tamela announced the pre-order sale of her new album "Overcome" on her Instagram page.
Hopefully, she inspires her fans and the world at large with her new songs, as she has continued to do with her amazing weight loss journey.