Kimora Lee Simmons Reacts to Daughter Aoki's Stunning 1st Paris Couture Show with Supportive Tribute
Aoki Lee Simmons follows her mom's iconic footsteps at her first Couture show in Paris. Kimora Lee Simmons couldn't be more proud of her daughter, who she gushes about on a recent Instagram post. 
Fans of the reality TV show "Kimora: Life In The Fab Lane" may remember little Aoki Lee Simmons. Aoki is the youngest daughter of model Kimora Lee and multi-millionaire entrepreneur Russell Simmons. 
Aoki, who showcased a vibrant personality when she was a child, is now all grown up and as stunning as ever. Her fantastic genes from Russell and Kimora, along with her talent, have also afforded her a career in modeling.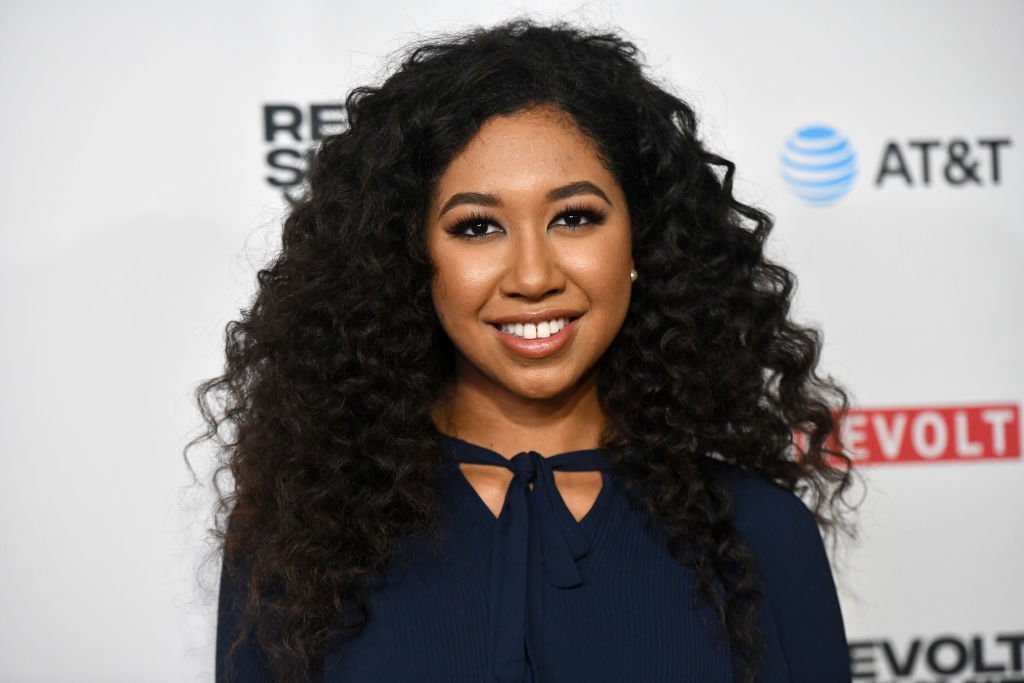 Congratulations are due to the 18-year-old student and model since she just walked a Paris Couture show. Her mother was the first to let the world know of her daughter's big move, celebrating the step on Instagram. 
Simmons posted a picture of her second-born with a colorful variety of butterfly clips accessorizing her hair. Aoki stares into the camera like a true model in the picture, with her eyes defined by a subtle cat-eye eyeliner look.
Although Aoki looks gorgeous in the picture, her mom's caption is what stands out the most. Simmons congratulates her daughter for landing a spot to walk in the Couture Pyer Moss show and showers her with compliments.  
Simmons does not limit the encouraging words to her daughter to before the show, as she shared another post afterward. In these pictures, Aoki is photographed in a block-printed pantsuit embellished with large chess pieces. 
The outfit is from the Pyer Moss Paris Haute Couture show she walked and is a nod to the African American history of Chess. Once again, Simmons gushed at her daughter's career step and praised her performance. 
Simmons also revealed that Aoki was the youngest model to walk that specific runway, making her extra proud. However, this grand entrance into the world of high fashion wasn't Aoki's first taste of the industry. 
In her fashion work, Simmons has included her daughters, Ming Lee and Aoki, since they were babies. That technically means Aoki has been walking runways since she could walk, thanks to her mom. 
However, Simmons' fashion label "Baby Phat" seemed to disappear after the early 2000s, taking the girls off the runway. Thankfully, it wasn't too long until we got to see the young Simmons sisters back in business. 
When Baby Phat relaunched in 2019, Simmons enlisted her trusted daughters to work on the brand with her. The trio is all part of the decision-making, enriching the sisters' independence as explained by Aoki: 
"My mom encourages us to have our voices heard and find what we care about in life and combine our different passions into one..."
Soon, the new Baby Phat campaigns re-introduced the world to Aoki's modeling prowess. Since then, Aoki has booked shoots outside of Baby Phat and even landed a cover feature for Muze Magazine. 
The 18-year-old's modeling achievements are not the only thing Simmons has to be proud about. Aoki proved that she is a beauty with brains after getting accepted to Harvard when she was only 16! 
Of course, Simmons celebrated the news on Instagram like the proud mommy she is. In the post, Simmons' son, Kenzo, read his older sister's admission letter as she joyfully smiled while soaking in the news. 
Simmons also let her followers know that her daughter was also accepted to other prestigious institutions. The institutions included Vassar, Dartmouth, and Barnard; however, Aoki went with Harvard as her final choice. 
The 18-year-old juggles modeling with being a student at an Ivy League school and is doing it fabulously. What more could one expect from the offspring of the fabulous Simmons herself? She got it from her mom.