Fans Stunned by Simone Biles' Toned Abs & Neckline in Elegant Outfits in New Photoshoot
American gymnast Simone Biles turned up the heat with recent posts on her Instagram page where she shared stunning pictures of herself, and her fans were all for it. 
There are no more doubts about American gymnast Simone Biles' talent. Since breaking into the scene, she has become one of the greatest gymnasts in American and world history. 
Besides her incredible talent, Biles is also a beautiful woman, and she is never shy to show off her stunning figure and gorgeousness. Whether it is on social media, outings, or even during her performances, the athlete is ever so graceful when she steps out.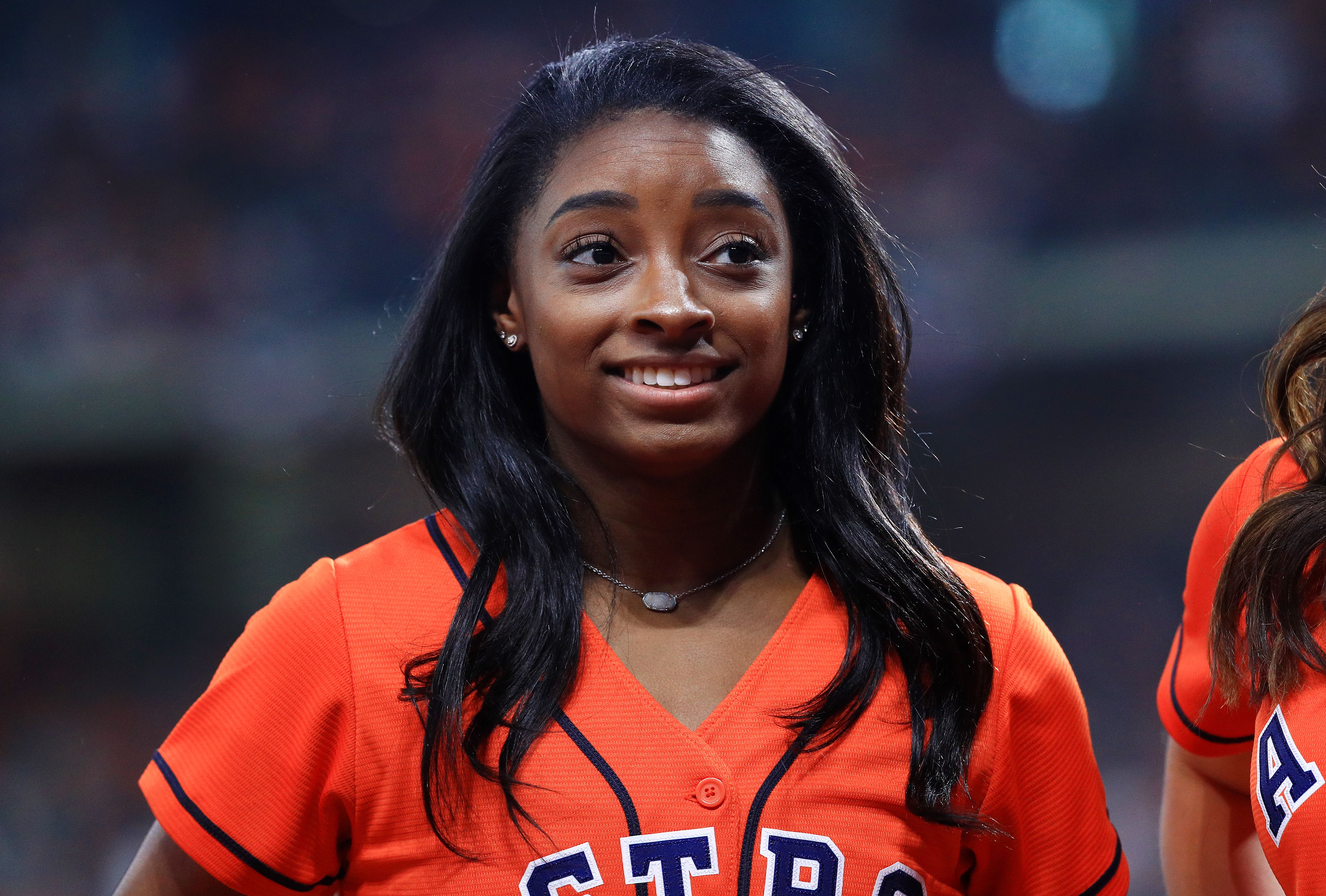 On Tuesday, Biles reminded everyone of her beauty by sharing pictures of herself in several posts on her Instagram page. The photos were from her cover story photoshoot for W.S.J. Magazine's July digital issue. 
In one of the posts, she posed in a maroon suit jacket and matching pants. Biles opened up the jacket, revealing her stunning toned abs and cleavage. She smiled as she posed while her hands were in her pants' pockets. 
In another post, Biles posed in a beige cozy-knit two-piece outfit that featured an off-the-shoulder crop top and matching skirt. She posed on a staircase and rested her back on the wall. 
In a third post, the gymnast shared a picture that showed her posing in a long-sleeved floral dress with a slit. She sat on a chair in the snap and crossed her legs while staring daringly at the camera with a lovely smile. 
A fourth post featured two side-by-side snapshots that showed the beautiful gymnast in a ruffled dress with an off-the-shoulder neckline. She kept a near-serious face in one frame, which turned into the most beautiful smile in the next snap. 
Biles is in a relationship with NFL star Jonathan Owens, who she met after sliding into his DMs because she thought he was cute.
Biles did not caption any of her posts, but her fans could hardly keep hold of themselves as they showed love for her in the posts' comment section. 
One fan who commented on the second post gushed over Biles' chiseled abs, which were also the focus of another impressed fan. A third described her as true grace. 

One of the fans who reacted to the picture showing Biles in a maroon suit described her as a fitness queen and added that she is absolute perfection. Another fan also gushed over her abs. 
Biles' pictures show how she continues to be ever so proud of her body, which has not always been the case. In an article she wrote for Today, she opened up about how she was bullied because of her arms. 

Biles revealed people said mean things to her because of her body and used to call her a "swoldier," which made her feel bad. Hence, she wore sweaters or jackets every time to cover her arms. 
Biles said she had learned to love her muscles much more than when she was younger and revealed she was made fun of a lot for them. She also said she loves her body because it helps with gymnastics and teaches young girls to love their bodies. 
However, with the help of her gymnast friends like Aly Raisman, Biles gained confidence in herself and her body and has not looked back ever since. 
In June, the 24-year-old wrote her name in American gymnastics history books by claiming a record seventh U.S. women's all-around gymnastics title. 
Biles has achieved feats such as that despite a difficult childhood. She and her younger sister, Adria, were raised by their mother's parents after their mom struggled with drugs and alcohol and could not take care of her four children. 
While opening up about her childhood, Biles said her biological grandparents turned adoptive parents were crucial in her success story. 
Biles is in a relationship with NFL star Jonathan Owens, who she met after sliding into his DMs because she thought he was cute. The athletes started chatting with each other and hung out after that. 
However, Adria pushed the lovebirds together after watching them flirt for three weeks. She invited Owens to join them at a lake house. Owens accepted the invitation and got a stamp of approval from Biles' family, who invited him to join their Sunday evening dinners.