Serena Williams Emphasizes Killer Curves in Daring Tight Dress & High Heels Leaning On Table
Serena Williams poured her killer curves into a daring fitted dress and matching high heels as she served a stunning model pose while leaning against a table.
23 Grand Slam champion Serena Williams has proven her credibility as a skilled tennis player so much that it would not be wrong to crown her as the Queen of court.
Alongside her achievements in sports, Williams has explored her fashionable side by introducing a remarkable fashion line known as "S." The brand owner is also great at picking the right threads that sit perfectly on her bold curves.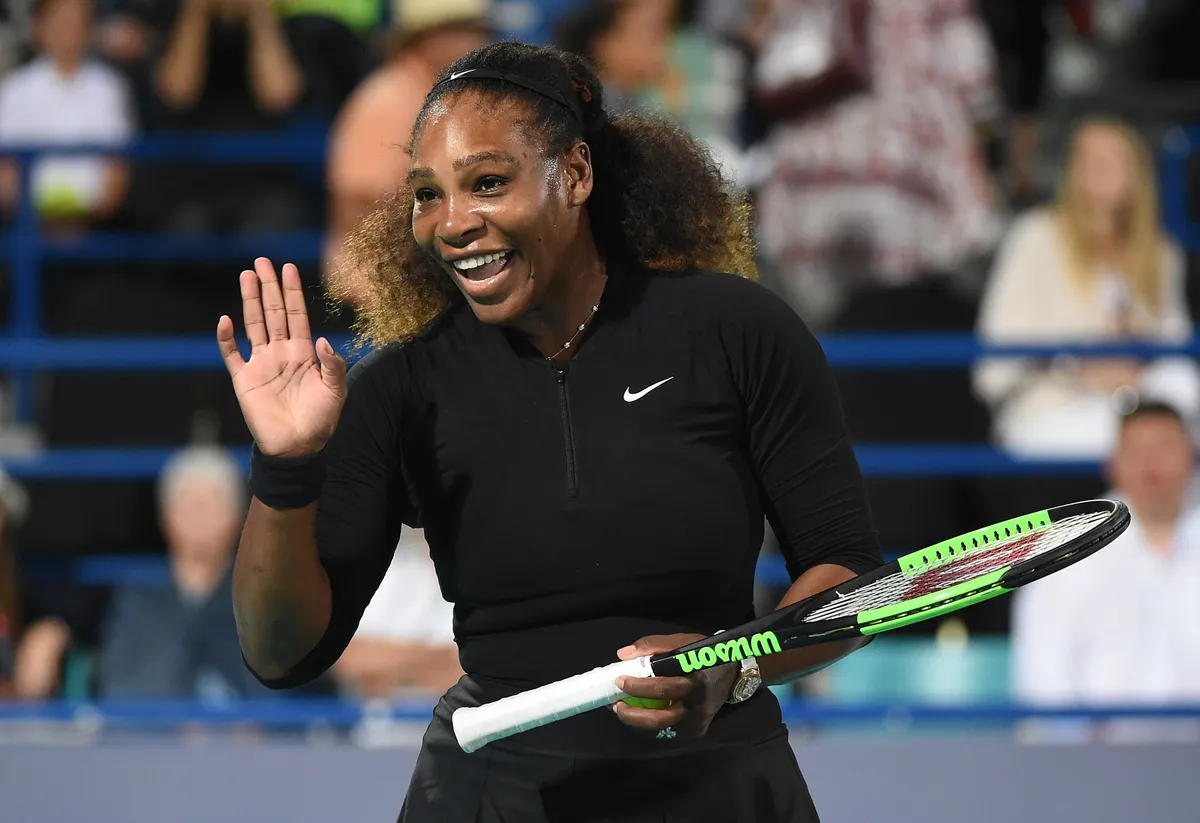 Recently, Williams stunned fans by rocking a uniquely designed thin-sleeve body-hugging midi dress with a pair of matching heels.
The tennis champion's ensemble accentuated her killer curves and offered an avenue for her toned arms and legs to be displayed.
Williams struck a fierce model pose by tilting her hips to one side, leaning slightly on a table behind her, and gazing boldly at the shutters while revealing a blend of sultry makeup and wavy blond hair.
The accompanying caption for the photo signified that she must have hit an official venue with the daring appearance. It read:
"*finishes last meeting for the week*."
Thousands of fans jumped on the heart icon on the post; they went further to express their thoughts via the comment section, applauding the tennis icon's outfit choice and her bold body.  
CONFIDENCE DESPITE BODY SHAMING
Being in the spotlight comes with fame, but most public figures and celebrities get scrutinized too often by the eagle eyes of the media.
Despite Williams' achievements in sports and unbeatable records, the four-time Olympic medalist has fallen prey to critics who comment shamefully concerning her.
These trolls abandon her impressive works and prey on her physique, describing her as masculine. Even her fellow athlete, a past opponent, Caroline Wozniacki, once pulled an unpleasant move by inserting extra padding into her clothes to imitate Williams' body.
The tennis star admitted that these things got to her at some point in her life, especially as she was often compared to her sister Venus, a tennis player who she claims is thin and tall, with a different frame.
Still, the four-time gold medalist has overcome the critics by turning a deaf ear and being happy with her frame. She has impacted many women by inspiring them to accept their bodies with pride, and the athlete has led her audience through her confidence displayed online and offline.
Body-hugging outfits are not the only way that the 39-year-old shows her confidence. She also loves to show some skin now and then.
In 2019, Williams dazzled her audience by sharing bikini snaps and a video where she had some girl time with Venus on a yacht; and fans dropped numerous admirable comments.
THE SUPPORT SHE GETS
Fans are not the only ones who commends Williams' looks or appearance. Her husband, Reddit co-founder Alexis Ohanian, does not stop at complimenting but shows unwavering support to his leading woman.
The entrepreneur claps back at trolls online or anyone with an insensitive comment. After a former Romanian tennis player, Ion Tirac, body-shamed Williams and asked her to retire due to her aging body.
Alexis fired back via a tweet that announced that Ion's opinions do not matter; neither does his record match his wife's.
SERENA AS A ROLE MODEL
Williams and Alexis share a toddler daughter named Olympia Ohanian. While speaking about shutting out the critics, the mother of one mentioned that her child inherited her strong arms and expressed her intentions to teach the tiny minion about appreciating her body.
Since her birth, Olympia has twinned in creative designs with her mom and seems to be the little fashion icon of the century! In March, both mother and daughter debuted their first-ever fashion campaign, "Footsteps To Follow."
It involved the ladies rocking Stuart Weitzman's spring 2021 collection, from catsuits, long dresses, and matching animal print sandals. Olympia appears to be taken by fashion, and like her mom, she is confident when it comes to donning unique designs!