Sylvester Stallone's Daughters Look All Grown Up & Tower over Dad in New Awesome Pic
Hollywood legend Sylvester Stallone and his grown daughters rocked radiant looks in a new social media update. The girls showed off their heights as they towered over their dad. 
Veteran actor Sylvester Stallone had his Instagram fans gushing over a new photo he added on his page. The A-list actor and his grown kids showed off and showed out in stylish wears. 
The three lovely girls stood tall and elegant in the image shared, almost towering over their father. The trio glammed up in eye-catching outfits, complete with some sass for "the gram."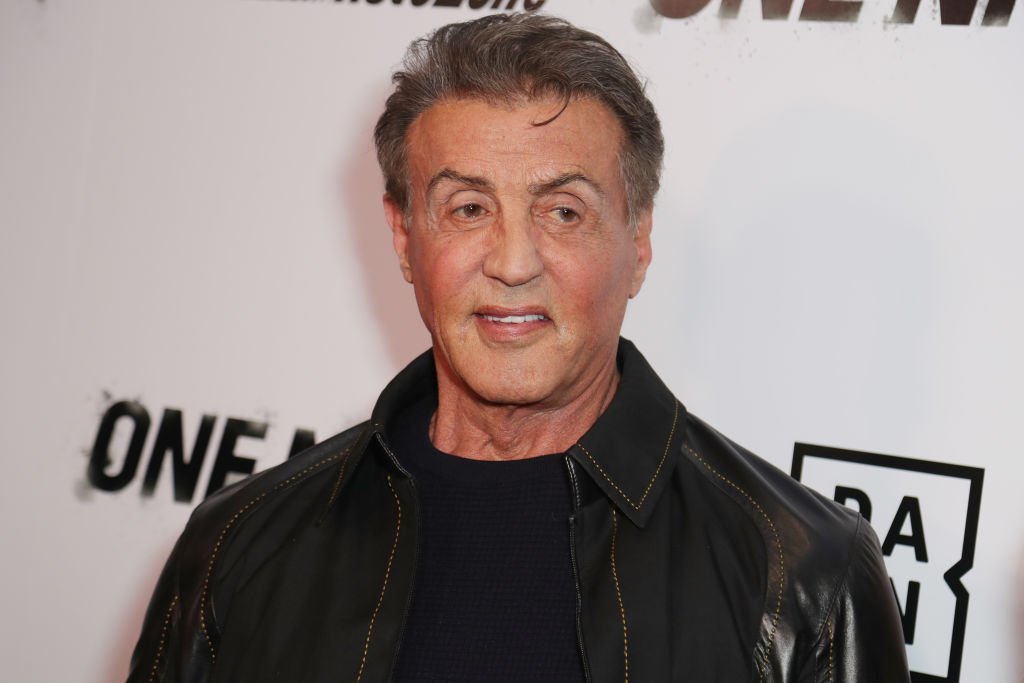 SYLVESTER AND HIS KIDS ARE A GLAM SQUAD
The Stallone family stood outdoors just at the patio of their home, while the background gave fans a glimpse of their luxurious abode. The girls flanked their dad on both sides as they posed for the family snap.
Sophia, 24, and her sisters Sistine and Scarlet donned chic outfits, each showing off their sense of style, complete with perfect makeup. Their star dad stood rocking a dark blue capsule outfit.
He had his hands folded before him as he flashed a sweet smile. The girls flaunted their best expert poses. Sylvester gushed over the girls in his caption:
"I am a very, very lucky man to have such wonderful, loving children who brought me nothing but joy. Now I wish they would stop growing tall! Lol."
THE STALLONE GIRLS WERE OFF TO AN EVENT
Scarlet and her big sister Sophia dressed up to accompany Sistine to the premiere of "Midnight in the Switchgrass," which she starred in. Sistine acted alongside stars like Megan Fox, Bruce Willis, and Emile Hirsch.
Sistine looked gorgeous in a green silk mini-dress that was cinched at the waist with a gold chain. She left her honey-brown hair down her shoulders. The young actress' mini dress featured a slit that revealed part of her thigh. 
Her older sister, Sophia, draped a black blazer jacket over her leather mini-dress. She held her hair up into a high bun and carried a black clutch purse. Scarlet,1 9, rocked a figure-hugging bejeweled dress and left her life tresses down her shoulders too. 
SYLVESTER IS GRATEFUL FOR FAMILY
More often than not, the "Rambo" actor shows that he is pretty smitten with his family. During his 75th birthday celebration, the actor declared that the "best birthday present" was his family. 
He had posted a photo of his beautiful family, including his wife, Jennifer Flavin Stallone. The former model looked ageless, posing with her husband and children.
The family posed in the kitchen with the celebrant rocking a white T-shirt, while his girls matched his elegant glam with their fashionable looks. Jennifer stood close to her spouse in a green wrap dress with a smile as bright as his.
WHO ARE THE STALLONE GIRLS?
When Sistine and her sisters appeared on the red carpet, it was for the Los Angeles premiere of a movie she starred in. However, before she appeared on the big screen, the star worked as a model. 
She was born in 1998, and as a young girl, she had a keen interest in the fashion world. Sistine was signed to IMG Models in 2016 and walked the runway for big fashion brands.
Sistine's debut in Hollywood was in 2019's "47 Meters Down Uncaged." Her proud dad had accompanied her to the premiere of the movie.
Sophia is Sylvester's third child and his first with Jennifer. Before Jennifer, Sylvester was married to Sasha Czack, with whom he fathered two sons. Sophie was born in 1996. 
She attended the University of Southern California and is currently working on owning her own makeup and fashion brands. She co-hosts the "UNWAXED" podcast with Sistine.
The youngest is Scarlett, born in 2002. The teenager is a model and has scores of photos showing her modeling credit on Instagram. Scarlett is also an actress.