'The Departed' Star Mark Wahlberg Enjoys Sunny Day Playing Pool Games with 3 Kids
Mark Wahlberg showed off his doting fatherly side as he enjoyed a fun outdoor day with three of his kids. The renowned actor was all smiles as he played with his kids in the pool.
Mark Wahlberg is a renowned actor known for his stellar performance in movies like "Ted," "Daddy's Home," "Infinite," among others. However, his most prized title isn't being an actor ― it's being a dad.
Away from the spotlight, Wahlberg is a doting father to four lovely children, and he never fails to show them off to his fans from time to time. Such was the case yesterday when he documented a fun day with his mini-mes.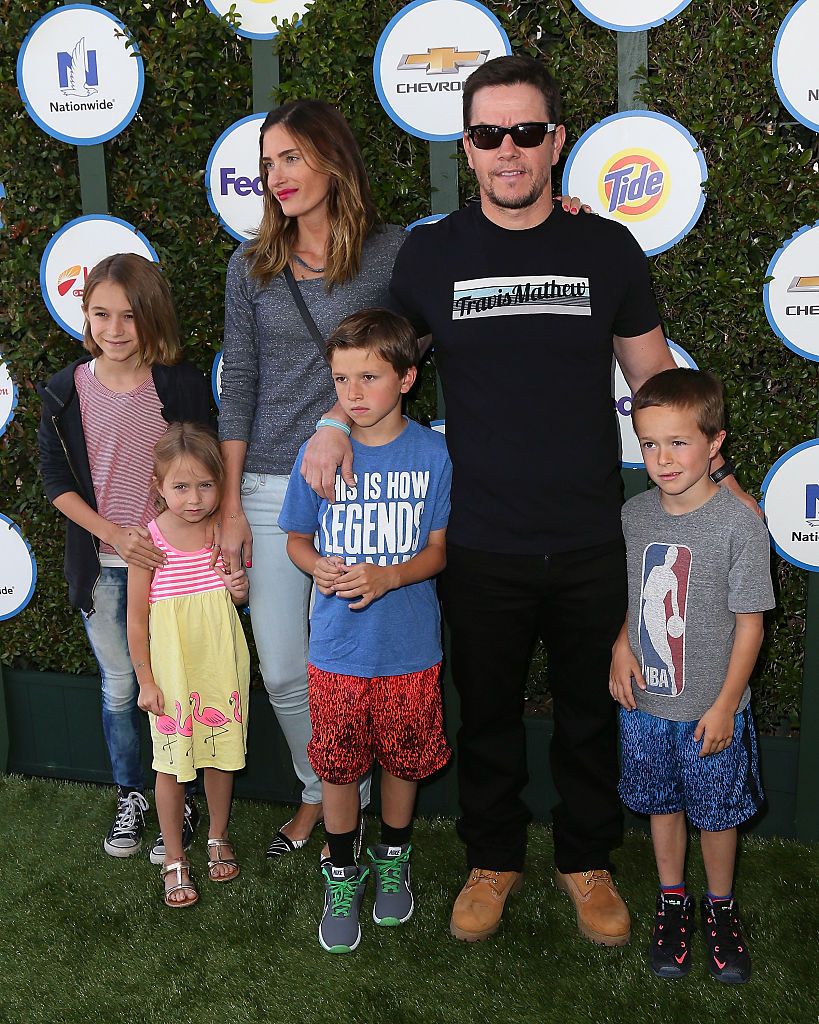 DADDY'S DAY OUT
The "Transformers" star delighted fans with a lovely family photo on Instagram. The image uploaded showed Wahlberg hanging in the pool with three of his kids as they enjoyed a playful time.
The post was particularly heartwarming as all three kids cuddled their father sweetly, their hands wrapped firmly around him. It seems they were trying to overpower Wahlberg but stood no chance.
The kids could be seen trying their best to submerge their dad with wide grins on their faces. Wahlberg was indeed having the time of his life as he gushed in the accompanying caption: 
"They never got me under!"
The comments section was flooded with heart emojis from fans and colleagues who were swooned by the image. Some followers couldn't help but gush about how great a father the actor is.
Wahlberg embodies his role as a father and tries his best not to allow his status as a celebrity to interfere with it.
MEET HIS FOUR KIDS
Wahlberg is a proud father of two daughters and two sons ― Ella Rae, 17, Grace Margaret, 11, Michael 15, and Brendan, 12 ― whom he welcomed with his beloved wife, Rhea Durham.
His oldest child, Ella, was born six years before the couple officially tied the knot. Now a teenager, Wahlberg doesn't hesitate to gush about her life happenings during interviews.
The 50-year-old once opened up about how it felt to see his daughter have a boyfriend. The super protective dad recalled meeting the suitor and how impressed he was by how the young man "one-upped him."
The boys, Michael and Brendan, were also born before their parents got married. Both boys follow in their father's footsteps of being physically active. They sometimes work out with Wahlberg.
The baby of the house, Grace, was born in 2010, a year after Wahlberg and Durham walked down the aisle. At 11, Grace's competitive spirit is evident as she thrives in horseback riding, and her parents couldn't be prouder.
WAHLBERG ON PARENTING 
Despite being one of the highest-paid actors and the recipient of both the Golden Globe and Academy nominations, Wahlberg finds his utmost fulfillment in being a present father to his children.
During an interview with Today, the "Ted" actor revealed that every day starts and ends with his children. He shared that his son always wakes him up, and throughout the day, it's all about being with them. Speaking about fatherhood, he said:
"If I succeed as a businessman but fail as a father, then it's all been for nothing. That's by far the most important role that I'll ever play in my life -- being a parent and being a husband."
Wahlberg embodies his role as a father and tries his best not to allow his status as a celebrity to interfere with it. While promoting his new movie "Joe Bell," he opened up about how he gives his kids a normal life away from the spotlight.
The actor revealed that whenever his kids have football practice, he has to stay behind in the car to watch the game from there because he wants them to have an identity of their own, away from him.
Wahlberg got candid about his sacrifice, noting that at first, he felt terrible that he couldn't support his kids by being there. However, he soon realized that taking some steps back was the best way to show them he loved them.
WAHLBERG AND DURHAM'S LOVE STORY
Wahlberg and Durham have quite an unconventional story, but it has kept them happily married for more than a decade. The lovebirds began dating in 2001 but didn't get married until eight years later.
They exchanged vows in an intimate ceremony held at a Catholic church in Beverly Hills with only family and friends in attendance. Although the pair didn't follow societal rules, their close connection is undeniable.
Wahlberg, who had numerous run-ins with the law as a young man, has publicly credited Durham for helping him escape his past life and become the ultimate family man.