Woman Catches Husband Red-Handed after Finding Video of Another Woman at Her House on TikTok
After being gaslighted for months on end, TikTok user Anna T finally received the validation she was searching for, and she didn't shy away from exposing the perpetrators online.
TikTok user who goes by the name of Anna T and username anabanana5820 caught her cheating husband in the act. This was due to a clip she found of another woman parked at her house.
Anna T came across the video that proved her husband's infidelity on the social media platform itself. She took to TikTok, explaining that she discovered this while traveling for work.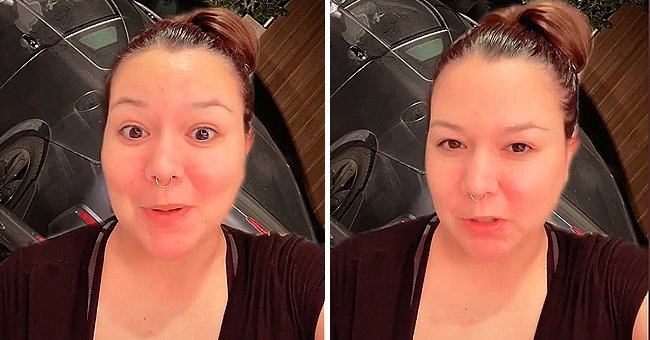 In the clip she posted, Anna T stood in front of a shot from the video of what she claimed is the other woman's car at her house while she was out of town. She told viewers to take their intuition seriously, expressing:
"Ladies, always listen to your [expletive] gut."
As "drivers license" by Olivia Rodrigo played in the background, the TikToker claimed that she and her spouse had been arguing over this woman for months. Anna T asserted that he referred to her as crazy.

The TikTok user expressed that she and her husband would soon be estranged from one another due to this unfortunate turn of events. Anna T's video soon blew up on the internet and went viral. 
Andrea Owen used scissors when she found out her spouse was cheating.
So far, Anna T has received around 612,000 likes and about 4,000 comments. Within these remarks, many individuals were on her side, some sharing similar tales. 

A lot of them also agreed with Anna T's focus on listening to their inner voice. One user, Rossi Stancheva, wrote:
"Agree. We should always listen to our intuition. I know from personal experience."
Many of them sent love her way, showing empathy for the hurt she may be experiencing. Others were dumbfounded at how calm she appeared to be throughout the video. 
Several viewers also asked for a follow-up, which they eventually got in more videos that Anna T shared. She implied that she found the clip on the TikTok account of the woman she was suspicious of. 
The TikTok user professed that she called her spouse to inquire as to what was happening. Once again, she was referred to as crazy, but he hung up on her when she shared the screenshots. 

While Anna T. appeared to remain calm throughout the process, another TikTok user took a more radical approach. Andrea Owen used scissors when she found out her spouse was cheating. 
To an online round of applause, Owen posted a video explaining that she cut holes in her then-spouse's underwear, shorts, and pants. Scissors or no scissors, the truth always comes out.