Daily Joke: Farmer Talks about His Daily Routine Censored for Children
A television crew was on an assignment to interview people in the countryside about their lives and daily work. They soon met with a farmer and explained their mission.
The farmer thought it was a great idea, and he did not hesitate to show them around his farm and explain his daily life. He started by sharing his morning routine with the TV crew.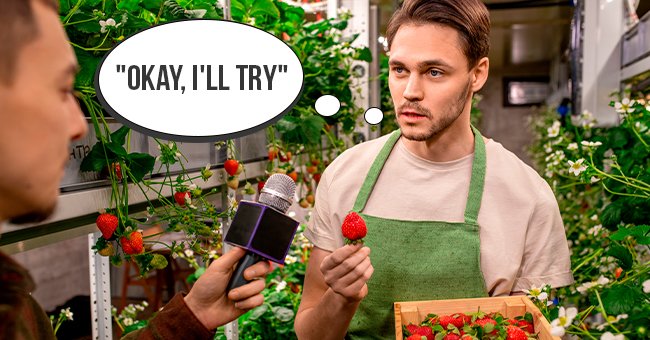 As the camera was set up outside the barn, the man cleared his throat and started speaking. He explained that he would often wake up and take a swig from his bottle of liquor.
The man said it was because he usually felt reluctant to get out of bed. The brandy helped him clear his head from sleep and gave him enough strength to get out of bed.
The farmer explained that he would take two more sips of his brandy to have the energy to open the barn and usher out the sheep. Then he would meet up with his friend out in the field. And while they were on the field, they would get to work while downing two bottles of brandy.
At that point, the director of the TV crew paused the recorder and asked the man to stop speaking for a while. He explained that they wanted the show to be kid-friendly and needed the farmer to omit the drinking part. The director asked him to replace the drinking part with reading instead.
The farmer thought to himself and knew it was a good idea, so the crew started all over. The farmer explained again, this time stating that he would read one page of his book when he woke up. 
At the barn, he would read two pages of his book while releasing the sheep. And when he met up with his friend, who also worked on the field, they would read two books together. 
In conclusion, the farmer narrated: "Finally, at the end of the day, we go to town where my friend has a library, and we read till the morning."
WHAT DOES AN IPHONE DO?
One day a journalist interviewed Tim Cook and asked why Iphones were very expensive. Cook replied by stating a long list of functions and devices that the iPhone had replaced.
He said that the iPhone replaces many gadgets like a phone, camera, watch, video player, music player, voice recorder, GPS navigator, portable gaming console, a calculator, and many others.
The journalist thought to himself for a bit and then asked him, "So why are androids so much cheaper?"
Cook replied, "It's because an android replaces just one device. The iPhone."
If you enjoyed these jokes, you might find this one even more hilarious. It is about a city person who lives on a farm with a mule that had huge ears. There was an issue with getting the mule into the barn.
Sources: Reddit.com, Upjoke.com