Caeleb Dressel's Biggest Win May Not Be Olympic Gold But Rather His Stunning Wife's Heart
Meghan Haila's golden heart makes Caeleb Dressel's Olympic gold medal more than just a trivial victory. The couple enjoys a wonderful relationship, and he praises her constantly.
Swimmer Caeleb Dressel, a multiple world record holder at the 2017 World Championships, took time off this past year from his training to tie the knot with Meghan Haila, his high school sweetheart.
Dressel and Haila became acquainted as teenagers in the same swim club called the Bolles School Sharks in Jacksonville, Florida. The twosome fell in love with each other, and their love story began.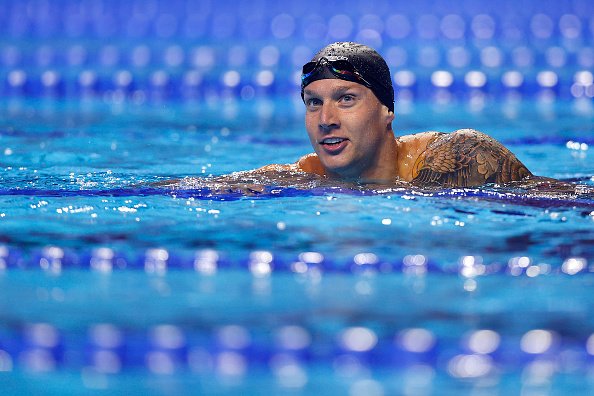 WHO IS MEGHAN HAILA
Haila graduated with a Master's and a Specialist's degree from University Florida. Her undergraduate degree was earned from Florida State, where she studied Bachelor of Science in Family and Child Services and Psychology.
Also a competitive swimmer, Haila won two state titles in the 100-meter breaststroke and competed for Florida State University. In the meantime, Haila focuses on her career as a marriage and family counselor.
THE COUPLE'S ENGAGEMENT
Originally dating since 2013, Haila and Dressel became engaged in November of 2019. He proposed to her in their hometown of Green Cove Springs, slipping a Jack Sutton-designed ring on her finger.
On Instagram, Haila posted photos of him on one knee from the moment he proposed, with the caption "Forever." The jeweler also shared a picture of the proposal with the couple, congratulating them.
Haila remains Dressel's most ardent and loyal fan despite his demanding training schedule.
THE BIG DAY
Following the delay in the Olympics in 2020, Dressel and Haila utilized the COVID-19 quarantine to schedule their wedding. On February 13, 2021, the couple exchanged vows in their home state of Florida.
Dressel and Haila posted pictures of their wedding on Instagram, and the latter described it as one of their fondest memories. Meanwhile, a year before they were officially wed, the couple moved in together.
DIFFICULTIES IN THEIR RELATIONSHIP
In 2016, Haila spoke of her struggles with having a training partner for the Olympics. Although she admitted it isn't always easy, she holds a strong belief that if you want to spend time with someone, it is possible.
"Both of us just make time for each other whenever we can and we've made it work for two years now being across the state," Haila said. "I think because we've had to deal with distance, it's made us stronger as a couple."
Haila remains Dressel's most ardent and loyal fan despite his demanding training schedule and the prolonged period Dressel must spend away from home. She refers to herself as "Team Dressel forever."
Last June, Haila took to Instagram to share a sweet photo of herself and Dressel. She wrote, "There aren't words to describe this feeling." Haila called her husband the "greatest human being" she knows.
ASSUMING LEADERSHIP DUTIES
Since the 2016 Rio Olympics marked the retirement of legendary swimmer Michael Phelps, Dressel has taken on leadership duties for the United States men's swimming team that consists of now young athletes.
A role that comes with being the most decorated Olympian of all time isn't easy to take on. Dressel, however, seems determined to maintain the level of quality established by those who came before him.
In fact, he led the Americans to gold in a 4x100-meter freestyle relay at the 2020 Tokyo Olympics. The United States finished just ahead of silver medalist Italy and bronze medalist Australia with a time of 3:08:97.
With Dressel at the helm, the Americans won the gold behind solid performances from Blake Pieroni, Bowen Becker, and Zach Apple, who had the best anchor split of any American with a 46.06 mark.